Idaho murders: Madison Mogen's stepdad Scott Laramie calls losing daughter 'hardest thing in the world' This article is based on sources and MEAWW cannot verify this information independently
MOSCOW, IDAHO: The grief-stricken father of Madison "Maddie" Mogen, one of the four University of Idaho students who were found murdered, recently opened up about the ongoing investigation and called losing his only daughter the "hardest thing in the world." The 21-year-old and her friends Kaylee Goncalves, Xana Kernodle, and Ethan Chapin were stabbed to death between 3 and 4 am on Sunday, November 13.
Maddie was raised in Coeur d'Alene, Idaho, by her mother, Karen, and stepfather, Scott Laramie, who she loved like her biological father. "It's still hard to believe sometimes. We get up in the morning, and it's like, 'Nah this isn't happening,' then it kicks in," Scott Laramie said in an interview with Fox. "We love her and we miss her, and it's the hardest thing in the world to try to figure out how to live without her. It's the hardest thing to imagine right now."
READ MORE
'Madison Mogen was the target': Psychic makes eerie claims about University of Idaho murders
'Besties forever': Internet heartbroken over childhood pictures of Kaylee Goncalves and Madison Mogen
Mogen, a marketing major, loved sparkling pink things and never tired of watching 'The Princess Bride', her father said. "Everybody just wanted to be near her. She had the world at her fingertips and could have done anything she wanted to do. We were just so proud of her," Laramie added.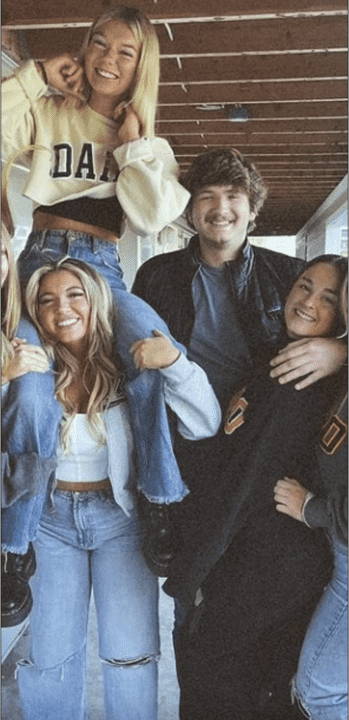 However, more than three weeks after the killings, police are yet to locate the murder weapon or discover any concrete evidence leading to the killer. The Moscow Police Department, which is working with the FBI and the state police to solve the case, recently told Laramie that they don't have any leads yet, he revealed. "They update us every day, we asked them to check in with us whether they have anything or not. We're angry. Anybody would be," he told the outlet. "I'm just hoping they come up with something sooner than later. I just would like to have justice for these kids."
According to her obituary, Mogen, who is being remembered for her warmth and effervescent nature, left behind the love of her life, boyfriend Jake Schriger. "He's all broken up," said Laramie, who has been in touch with Schriger. "He's having a hard time dealing with this too. Those two, they were really good together. They really clicked."
At a memorial service held on Friday, December 2, Schriger for the first time spoke about the loss of his girlfriend of nearly two years. "She was the first person I talked to every morning and the last person I talked to before bed," he said. "She was the person that I loved most."
Mogen's best friend Kaylee's father previously revealed that their ashes rest next to each other. He also noted that the two best friends died in the same room, in the same bed. "These girls were absolutely beautiful. They've been friends since sixth grade … Every day, they did homework together, came to our house together, shared everything," Steven Goncalves said. "And in the end, they died together, in the same room, in the same bed. And it's a shame, and it hurts."
Disclaimer : This is based on sources and we have been unable to verify this information independently.