Hugh Grant reveals his character in 'Glass Onion' is 'MARRIED' to Daniel Craig's Benoit Blanc LOS ANGELES, CALIFORNIA: The secret is finally out and we now know that Benoit Blanc (Daniel Craig) is a member of the LGBTQ+ community in Rian Johnson's 'Glass Onion: A Knives Out Mystery'. Viewers got a glimpse into the mysterious life of the flamboyant detective at the beginning of the second movie when someone knocked on his door while he was playing 'Among Us' with his famous friends.
A couple of hours later viewers are able to revisit the scene through a flashback and get a pleasant surprise when Hugh Grant makes an appearance on the screen as a man named Phillip who opened the door of Blanc's house. Everyone started to make guesses if he was Blanc's friend or a lover. Until now, we only knew that Phillip and Blanc are living together under one roof, but now Grant has unveiled an interesting secret about his relationship with Blanc in the movie and noted that Phillip and Blanc are 'married'.
RELATED ARTICLES
'Glass Onion: A Knives Out Mystery' reigns supreme, sets sixth-biggest debut of all time for Netflix
Who is Benoit Blanc's boyfriend? 'Glass Onion: A Knives Out Mystery' CONFIRMS Daniel Craig's character's sexuality
In an interview with Collider, the 'Love Actually' star opened up about his character's relationship with the detective and noted that they are more than just lovers in the film. During the discussion, the actor finally revealed that Phillip and Blanc are married to each other while making a reference to Craig's run as James Bond.
"It is true, I'm married to James Bond. It's the tiniest little moment. I don't really know why they wanted to do it but anyway, I thought 'Knives Out 1' was brilliant, and so yeah, I thought why not? I turn up for a few hours," Grant said.
There were a lot of theories floating around Blanc's sexuality and viewers wanted to know if they have been right about it. Despite that particular scene with Grant making things official, filmmaker Rian Johnson also confirmed during a Press Conference in London that Blanc is "GAY" and Grant's character is, in fact, the detective's lover. But viewers never knew that they exchanged their vows and are married to each other.
However, Johnson has also made it clear that people might not get a detailed look at Blanc's personal life because he just wants his whodunnits to be more focused on the mysteries that enthrall the viewers rather than getting lost in showing the glimpses of the detective's personal life.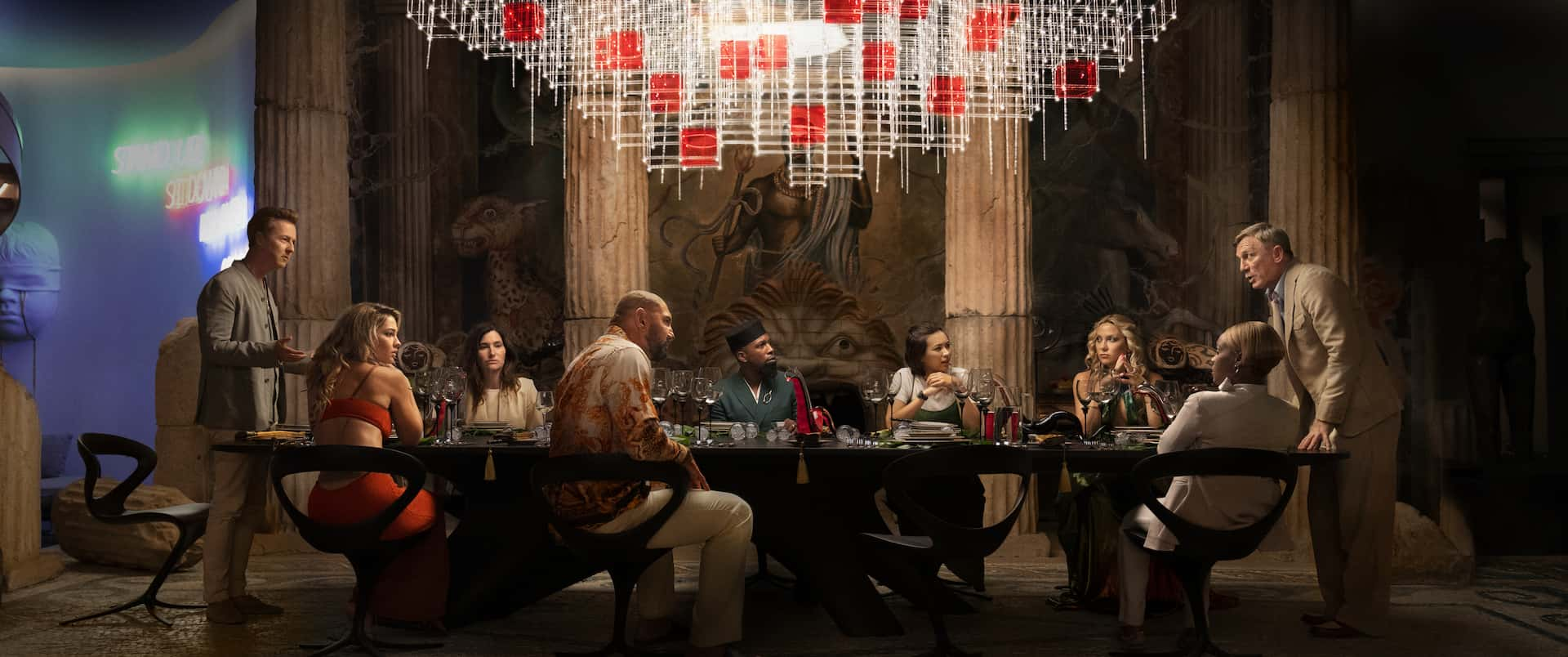 'Glass Onion: A Knives Out Mystery' sees Benoit Blanc (Daniel Craig) returning to investigate another murder mystery in Greece along with his weird accent that became a rage after the original movie. He takes on a new case revolving around a tech billionaire and his old friends. The film opened to a bumper response on Netflix and was watched for more than 82.1 million hours in the first three days of its release, making it Netflix's sixth-biggest film debut of all time.
'Glass Onion: A Knives Out Story' currently holds a rating of 94% on the review site Rotten Tomatoes.