How to dress like Miley Cyrus? Inside popstar's favorite top 10 fashion moments so far LOS ANGELES, CALIFORNIA: Miley Cyrus recently participated in a segment called 'Life in Looks' with British Vogue on Thursday, May 18, where she delved into some of her favorite fashion moments from her career. During the interview, the 30-year-old popstar candidly discussed her love life, took a nostalgic trip down memory lane, and reflected on her transition from the sweet Hannah Montana era to her bold and striking reinvention during the 'Bangerz' era.
Among Miley's standout fashion moments were her infamous 'teddy bear' costume, which she wore for a jaw-dropping performance at the VMAs in 2013, and the stunning golden revenge dress showcased in her music video for the song 'Flowers' released this year.
READ MORE
Who is Pharrell Williams' wife? Singer and fashion icon to soon become Louis Vuitton's new Men's Creative Director
Anna Wintour: 2023 net worth of fashion icon rumored to be dating Bill Nighy
Here are some of Miley Cyrus' notable fashion moments throughout her career:
Hannah Montana dress (2006)
Designed by Jeremy Scott in 2006, Miley's funky Disney-themed dress holds a special place in her fashion journey. The dress represents a significant milestone in Miley's career as it marked her transition from being known as the beloved Disney character Hannah Montana to embracing a more daring and mature image.
Performing in a club in Paris (2010)
During that memorable performance, Miley rocked a heavily cropped tank top featuring the "Cheap Trick" band logo, paired with low-rise leather shorts. Adding a touch of edginess, she layered three belts on top of one another and adorned her wrists with numerous chunky leather and metal bracelets. Embracing the fashion trends of 2010, Miley completed her look with a single hot-pink-and-black feather earring, which gracefully cascaded down her shoulder, blending effortlessly with her "rebellious" dark hair, which consisted of 250 individual extensions.
Met Gala (2013)
Dressed in a figure-hugging Marc Jacobs dress made entirely of fishnet fabric and adorned with oversized Eddie Borgo rings, Miley made a bold fashion statement at the 2013 Met Gala. Her bleached blond hair, styled in a spiked manner reminiscent of Billy Idol, perfectly complemented her edgy ensemble. Miley expressed her admiration for the Sex Pistols, stating that the fishnet look was a fitting choice for the theme that year.
MTV VMAs (2013)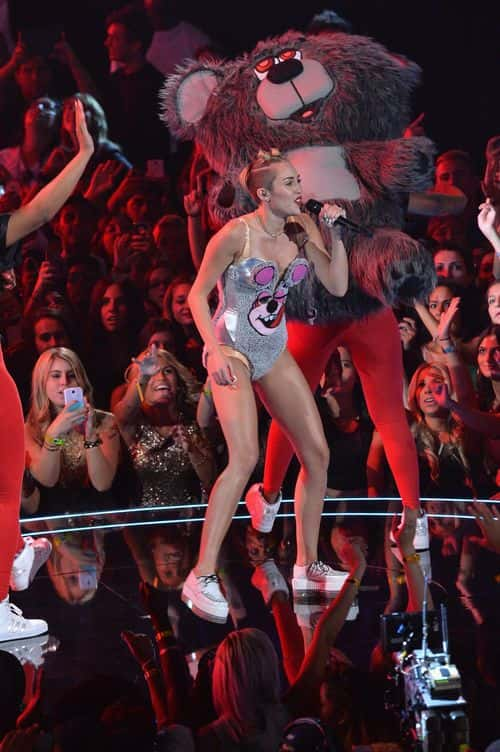 Miley said, "This was inspired by a Todd James sculpture that I had fallen in love with. The bear reminded me of myself for some reason, I thought it was beautiful." "I had my own custom bear by Todd James made for me that I could be inside of and be birthed [at the beginning of her performance], which was what was happening, it was a rebirth," she said.
'Mother's Daughter' music video (2019)
Miley also discussed her music video for 'Mother Daughter', which featured her mother, Tish Cyrus. "We are both in Chanel. Me and my mom love to match. I know that's something you're supposed to outgrow, but I haven't," she said with a laugh. "My mom is the most sexy, most powerful, most strong, smartest woman in the entire world that I know."
'Don't Call Me Angel' music video (2019)
Miley donned a captivating ensemble, transforming into a dark angel boxer. Emitting strong Halloween vibes, she effortlessly embodied the role with her femme fatale attire. Her outfit featured striking black angel wings that added a touch of mystique and drama to her overall look.
Marc Jacobs Fall Runway Show (2020)
Miley sported a sleek black bra top and coordinated it with wide-leg pants, creating a stylish and cohesive look. Adding a touch of glamour, she accessorized with long black leather gloves and topped off the ensemble with a breathtaking zebra-print coat, elevating the overall aesthetic with its eye-catching pattern.
Miley's New Year's Eve Party (2021)
One of the noteworthy photos discussed was Miley's two-piece chain outfit worn during her 2021 New Year's Eve Party. However, it became famously remembered for a wardrobe malfunction that occurred during the event. "This outfit did not stay on very long because the chain in the back broke," she revealed, "but what is a live TV performance with everything going right?"
'Endless Summer Vacation' album cover (2023)
On the cover of her eighth studio album, 'Endless Summer Vacation', Miley swings from a trapeze bar wearing a black vintage Alaïa bodysuit from the '90s. Selected from the archives by stylist Bradley Kenneth, the swimwear-esque piece is made of a silky material and features halter-style straps and two angular side cutouts just above the hips.
'Flowers' music video (2023)
Miley is seen strutting through the streets of Los Angeles in a vintage golden gown as she sings the opening verse of her latest song 'Flowers'. The dress is from YSL's fall 1991 collection and features a draped hood, crisscross waistline, and prominent cutout that exposes her entire stomach. She styled it with rectangular Saint Laurent sunglasses and metallic heels.
These are just a few examples of the diverse fashion moments Miley has experienced throughout her career, reflecting her artistic evolution and willingness to push boundaries.
Share this article:
How to dress like Miley Cyrus? Inside popstar's favorite top 10 fashion moments so far