REVEALED: Why Prince Harry made the outrageous decision to invite his ex-girlfriends to his wedding
The young royal has always been on good terms with all his past flames, and he showed that he had no hard feelings by calling them to his wedding Prince Harry and Meghan Markle(Source:Getty Images)
When Prince Harry wed the love of his life, Meghan Markle, at St. George's Chapel on Saturday, there were two extremely familiar faces in the crowd whom no one expected: Prince Harry's ex-girlfriends Chelsy Davy and Cressida Bonas.
Inviting your ex to your wedding isn't something people would do, but it looks like it was an absolute no-brainer for our beloved Prince Harry. The young royal has always been on good terms with all his past flames, and he showed that he had no hard feelings by calling them to his wedding.
Harry had a pretty much on and off relationship with Davy for several years in his twenties, until they broke up for good in 2011. On the other hand, he dated Bonas for a couple of years before splitting in 2014.
According to reports, both of Harry's relationships ended because his girlfriends could not handle all the unnecessary attention that which came along with their relationship, added to the fact that it was kind of annoying to be under constant harassment and scrutiny because they were dating a royal.
"She's really low-key, sweet and down-to-earth," a friend who studied with Bonas told People magazine after the couple broke up in 2014. "She didn't talk about Harry at all. She wasn't like that."
Apart from being an amicable ex, Prince Harry even runs in the same circles as some of his exes. Bonas, for instance, is a close friend of the royal's cousin sister, Princess Eugenie, and in 2015, the young royal was seen attending some of the plays that his Bonas was performing in.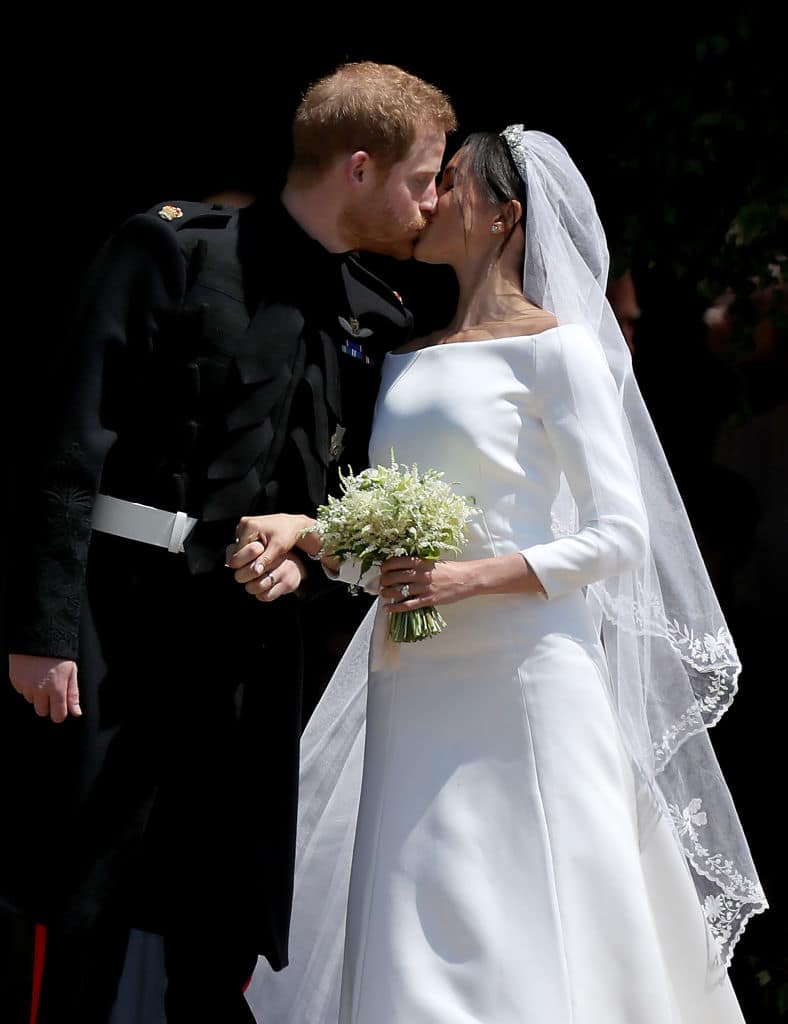 As for his other ex Davy, just a few weeks before Prince Harry met Meghan Markle, Davy had spoken about how she and Harry still kept in touch after all those years of being apart.
"I think we will always be good friends," she told The Sunday Times style section.
Davy's appearance also sparked a whole host of memes. One of her expressions at the event set off meme makers. One person shared a GIF of Harry high-fiving alongside the Queen, writing: "Harry's ex's got invited to the wedding but not the after-party? Man literally said, 'Come and watch my greatness, then go home.'"
While others joked that her face screamed "it should have been me".
Inviting exes can also be seen as a sort of tradition at royal weddings because even Prince William reportedly invited some of his exes at his wedding to Kate Middleton back in 2011, states People. Five of Prince William's ex-girlfriends, Jecca Craig, Rose Farquhar, Olivia Hunt, Arabella Musgrave and Isabella Anstruther-Gough-Calthorpe reportedly attended his big day.
Even Prince Harry's father Prince Charles, invited a couple of his ex-flames to his iconic wedding with Princess Diana. When Prince Charles was getting married to Diana, he invited his now-wife Camilla, Duchess of Cornwall, along with another of his ex-girlfriends Lady Sarah McCorquodale, formerly Lady Sarah Spencer, but that was only because she was the bride's sister.