Here are the 9 ways the royal couple paid tribute to Princess Diana at their wedding
The couple decided to pay tribute to Diana by incorporating subtle things into their ceremony that Diana cared for Princess Diana (Source:Getty Images)
Princess Diana, Prince Harry's mother, and Meghan Markle's late mother-in-law, passed away in a horrible car crash more than 20 years ago but there were many subtle ways that she was remembered at the royal wedding that took place on May 19 at St George's Chapel in Windsor.
Here's how the Duke and Duchess of Sussex paid tribute to her:
1. Her sister gave the reading
---
Diana's elder sister Lady Jane Fellowes was present at the wedding ceremony and even gave a speech. Kensington Palace had announced earlier in a statement: "Prince Harry and Ms. Markle both feel honored that Lady Jane will be representing her family and helping to celebrate the memory of the late Princess on the wedding day."
2. Her two other siblings were also there
Diana's elder brother Charles Spencer and sister Lady Sarah McCorquodale also graced the occasion with their presence. Spencer, who is the 9th Earl Spencer, is the current owner of Althorp, which is the family estate where Diana is buried.
3. The engagement ring had diamonds from her personal collection
While William used Diana's sapphire wedding ring to propose to Kate Middleton, Harry picked two diamonds from his late mother's personal collection and he told BBC "to make sure that she's with us on this crazy journey together."
The two stones on the sides are the ones from Diana's collection while the large one in the middle is from Botswana. The ring was custom made by Cleave and Company, a favourite of the royals to make their rings. Meghan also added: "It's so important to me to know that she's a part of this with us."
4. Meghan had an element of Diana's vows in her own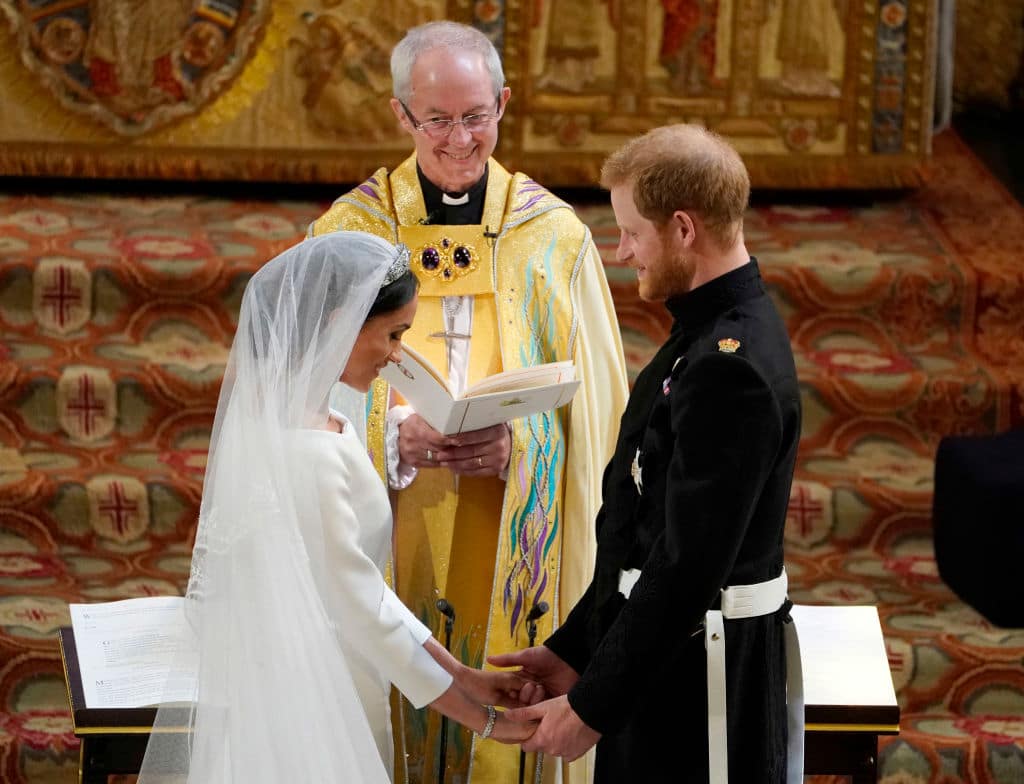 Diana, who was the Princess of Wales, made headlines during her own wedding when she vowed not to "obey" her husband, Prince Charles. After this daring incident, other brides have followed in her footsteps like Kate Middleton for example. Meghan Markle, who is a feminist in her own right, has also done the same by promising to love, care and honour Harry but not "obey".
5. The flowers were symbolic
Philipa Craddock, the florist who made the decorations for the wedding, used flowers like peonies and foxgloves which grow naturally at this time of year. What made the floral decorations really special, however, is the use of white garden roses. Diana loved these flowers and also has a type of white rose named after her. The roses also grow in the White Garden at Kensington Palace which was planted again to honour her. This was also the location of Harry and Meghan's engagement announcement.
6. Her favourite ones were in the bouquet
Kensington Palace announced in a statement that the bouquet that Meghan was carrying had Diana's favourite flower, Forget-Me-Nots. The announcement read: "The couple specifically chose them to be included in Ms Markle's bouquet to honour the memory of the late Princess on this special day."
7. One of the hymns at the wedding was also played at Diana's funeral
The song, "Guide Me, O Thy Great Redeemer", was played in both the funeral and the wedding. William Williams, a Welsh hymn writer, wrote it about 300 years ago.
8. The couple honoured a few of Diana's causes
Harry and Meghan Markle did a wonderful thing by asking all their well-wishers to make donation in the names of the charities that they provided instead of sending them wedding gifts. Two of those charities are Children's HIV Association (CHIVA) and Crisis which is an NGO working to eradicate homelessness. Diana was an ardent philanthropist and she was most notably in the news for doing daring things like shaking the hands of an AIDS patient when people those days assumed the disease was spread through touch. Diana also worked closely with Centrepoint to met homeless youngsters regularly.
9. Meghan wore on of her rings for the reception
Meghan Markle work an aquamarine beauty on her right hand that immediately set the buzz going. Kensington Palace confirmed with BuzzFeed News that the gorgeous ring did in fact belong to Diana. Meghan wore the elegant white dress to the reception at Frogmore House.