Heavily pregnant Kate Middleton attends Easter church service with Prince William as due date approaches
Kate Middleton was seen at the Easter church service at St. George's Chapel at Windsor Castle with Prince William and the rest of the royal family despite her due date nearing Queen Elizabeth, Prince William and Kate Middleton at St. George's Chapel at Windsor Castle on April 1, 2018. (Getty Images)
A heavily pregnant Kate Middleton in her final trimester was seen ariving late along with her husband Prince William and Queen Elizabeth for the Easter church services at St George's Chapel at Windsor Castle on Sunday, April 1. The outing is a rare moment for the Duchess of Cambridge, who is expecting her third child any time now. Since she is on maternal leave, she may not risk another outing until the birth of her third child.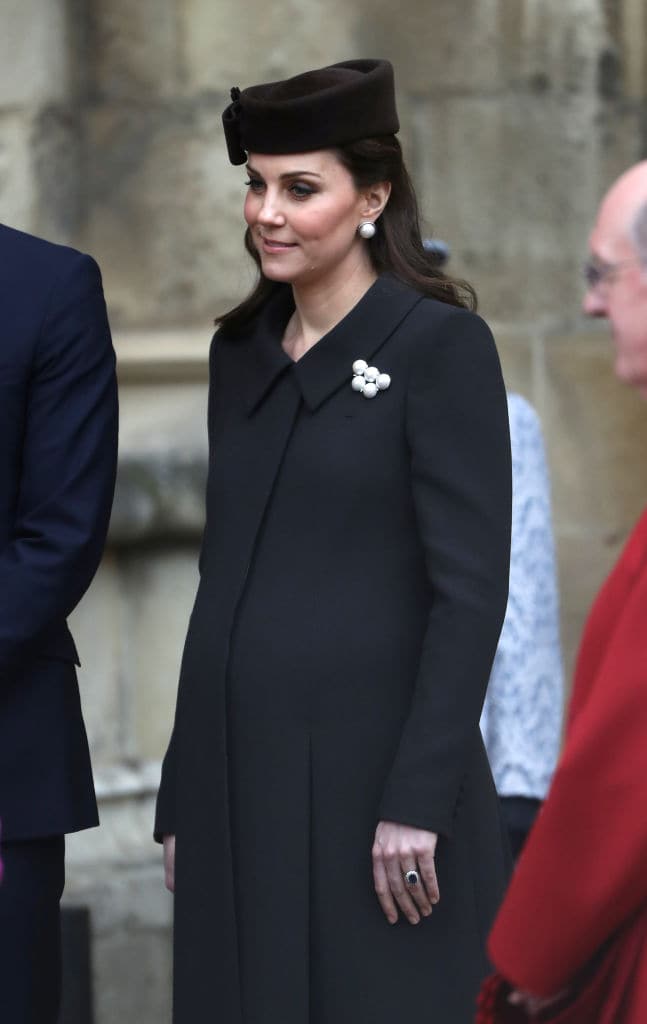 The royal couple joined the other members of the British royal family, who were in attendance at the service on Sunday, at the very same venue where Prince Harry and Meghan Markle will wed one and a half months from now on May 19.
A number of royals were conspicuously absent from the Easter event. Kate and William's children Prince George, 4, and Princess Charlotte, 2, were missing for the second year in a row. Harry and Meghan, the doting couple, decided to spend Easter in private, according to palace officials.
Prince Philip, who is 96, was forced to miss his second event in a week, having skipped another church service on Thursday due to his ailing health. Reports said that the Queen's husband has been suffering from a hip problem, which also leaves his attendance at the royal wedding a big question mark.
Kate donned a black, knee-length coat for the occasion with a hat to match, and she brought along a nude purse to match her heels. The duchess has been on maternity leave since March 22, and this is her first public sighting since then. Security has been amped up and a team of professionals is constantly on high alert as she prepares to have her third child.
The Easter service saw Prince Andrew in attendance along with his daughters Princess Beatrice and Princess Eugenie, who brought her fiancé jack Brooksbank to the event. The royal family was led to the chapel by Princess Anne and her husband Sir Timothy Laurence.
Princess Anne's son, Peter Philips, attended the event along with his wife Autumn Kelly. Also seen were Prince Edward and Countess of Wessex with their children, Lady Louise Windsor and James, Viscount Severn. At the chapel, two six-year-olds whose parents worked at the castle presented the Queen with posies, and Kate and William talked to them about the Easter egg hunt George and Charlotte had been on in the morning.
One of the girls' mothers told reporters that the Queen had addressed the girls, recalling, "The Queen asked, 'Have you had lots of Easter eggs?'" She added, "Prince William and his wife asked, 'Have you lost any Easter eggs yet?' They said there had been great excitement in their house this morning. They said their children will probably still be finding eggs around the house in six months time."