Hailey Bieber flaunts 'natural' plump pout but fans believe she has a 'filler mustache' from lip injections
Fans slam Hailey Bieber for 'lying', saying, 'they really think we stupid' after influencer Dana Omari says her pout is thanks to lip fillers LOS ANGELES, CALIFORNIA: Hailey Bieber's recent Instagram story has promoted influencers to speculate whether the 'Rhode' beauty mogul has used lip fillers. The 25-year-old showed off her lusciously plump lips for her fans while endorsing her Rhode peptide lip treatment. Now, many of her fans are doubting if the influencer was being truthful when she denied getting fillers.
Hailey, who was dressed in a low-key fashionable manner with a gray hoodie over her head, highlighted her glossy lips that shone in the light. It was the socialite's way of spotlighting Rhode's latest peptide lip treatment. But her Instagram Story garnered more attention when popular influencer, Dana Omari, who is known to discuss celebrity cosmetic surgery transformations on her account, deduced that Hailey, Justin Bieber's wife, is using lip fillers. Omari also shared throwback pictures of Hailey to show the difference in her pout, even though the latter had denied using fillers in 2020.
READ MORE
Range Beauty on 'Shark Tank': What is the cost, who is the founder, and how to enjoy makeup even with acne
'We're all going to get old': Lauren Hutton, 78, slams beauty industry's 'obsession with youth'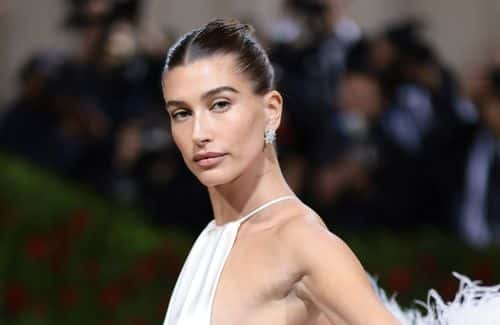 The influencer posted a close-up screenshot of Hailey's pouty face and highlighted a swollen crease over her lip claiming it was a "lip filler mustache" that usually occurs when lip injections go awry. "This is filler outsider her lip line," Omari speculated, and added, "Either the filler was poorly placed outside her lips when trying to define them or the filler has migrated. A good injector would dissolve that filler mustache." Omari claimed people gain a "filler mustache" as the filler "migrate just past the border," which she added was "just a risk of the procedure" and might occur "even with amazing injectors."
"A 'filler mustache' is what we call when there's filler outside the vermillion border (lip line)," she wrote, reported Daily Mail. However, the influencer alleged that Hailey's peptide lip treatment could not give such results and that her "lip fullness, smoothness and plumpness is from filler and not a lip treatment." Omari even added a follow up post, including several old pictures of Hailey highlighting how she did not have the swelling on top of her lips before. "She never had that filler mustache y'all are saying is natural before she started filling her lips (when she was just a teen btw!)," Omari captioned the post.
Even Hailey's fans had mixed reaction, while some defended the star, others claimed the 25-year-old is simply denying the claims. One user, on Instagram, noted that they had a similar filler mustache despite never using fillers. While another added, they could see a dot on Hailey's lip which is an injection sting mark and was never seen before on the star's lip. "They really think we stupid," said the user. "I don't understand why celebrities lie. Like it's not that serious it's plastic surgery. They lie so much it's sad," wrote another user.
Share this article:
Hailey Bieber flaunts 'natural' plump pout but fans believe she has a 'filler mustache' from lip injections