Girls' Generation 'Forever 1': Release date, music video and all about SNSD's reunion
Girls' Generation to make a comeback after 5 years with their seventh studio album 'Forever 1' Girls' Generation went on an unofficial hiatus in 2017 after the release of their last album 'Holday Night' (GIRLS' GENERATION/YouTube)
Girls' Generation aka SNSD is finally making a comeback after 5 years. As one of the leading second-gen K-pop groups, fans were disappointed when they went into an unofficial hiatus after their 2017 release 'Holiday Night'. While the members were working on their solo music and acting projects, fans missed Girls' Generation as an idol group. Well, we have good news. As part of their 15th debut anniversary, SNSD is making a comeback with their reunion album 'Forever 1' in August.

It looks like they are making up for lost time as they are also starring in their own reality show 'Soshi Tam Tam'. They are also appearing on variety shows like 'Knowing Bros' and 'Amazing Saturday'. Girls' Generation will also be holding a countdown live on August 5 to celebrate their anniversary and the release of their seventh studio album 'Forever 1' on their YouTube and TikTok channels at 4:30 pm KST (3:30 am ET). Well, here's everything that we know about SNSD's reunion comeback.

READ MORE
Girls' Generation say they're the 'No 1 girl group', K-pop fans flex 'no one can deny'

Girls' Generation and EXO to be part of SMTOWN Suwon concert, fans rejoice: 'World is healing'
Release date
Girls' Generation's reunion comeback will be released digitally on August 5 at 6 pm KST (5 am ET) along with the music video. The physical album will be released on August 8.
Where to listen
SNSD's seventh studio album 'Forever 1' will be available on all major music streaming platforms like Spotify, Apple Music, MelOn and more.
Tracklist
1. 'Forever 1' - Title track
2. 'Seventeen'
3. 'Villain'
4. 'Lucky Like That'
5. 'You Better Run'

There are a total of 10 tracks. The rest will be gradually released over the coming days. The title track 'Forever 1' is made by long-time collaborator Kenzie and is an upbeat pop dance song. The song is about eternal love for the people who are precious to them. Kenzie had also made SNSD's last comeback lead single 'All Night'. We also had members Tiffany and Sooyoung participating in the writing of two other tracks – 'Seventeen' and 'Villain'.

'Seventeen' is an R&B song with piano sounds. 'Villain' is a fun dance song with bass riffs and a strong drum as the girls sing about reaching their goal even if others perceive them as a villain. The producers shared that Girls' Generation showed off their vocal charms with the pop song 'Lucky Like That' through beautiful harmonies from all eight members. 'You Better Run' is as intense as its title as the girls sing about getting revenge in the electro-pop song full of synths and a groovy rhythm.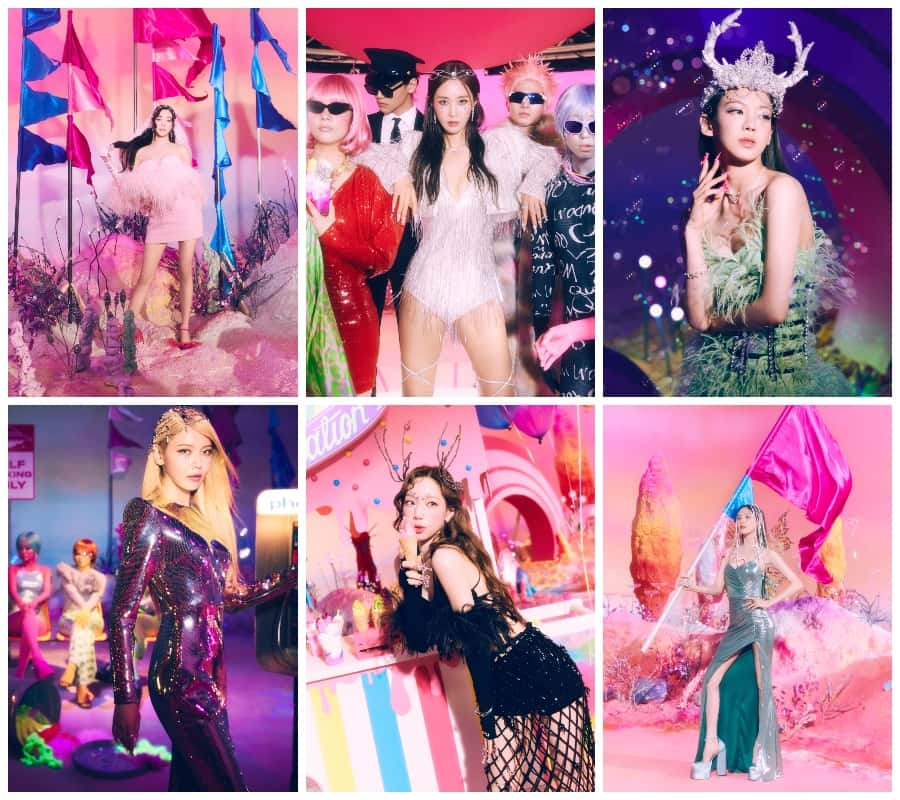 Concept
Fans got two concepts for the album. In the 'Mr. Taxi' concept, we get Girls' Generation as city girls sporting cocktail dresses and posing in a taxi with the backdrop of a cityscape. For the 'Cosmic Festa' concept, we get fantastical teasers as the girls wear sci-fi outfits and pose with extraterrestrials and fantasy props.
Music video teasers
Girls' Generation dropped a mood sampler where we get behind the scenes of the members shooting for the reunion while an ominous sound plays in the back. They sit in a taxi that then leads them to a new world. The camera then pans out to the girls in the 'Cosmic Festa' outfits, channelling their inner but glamorous aliens. Two music video teasers will be released on August 4 and 5 before the digital release.
'SNSD is back'
Fans are excited as one tweeted, "Girls' Generation have always been trendsetters when it comes to concepts, and they've NEVER been scared to try something new. I'm so excited for this comeback, and I'm ready to go into yet another new world with them!" Another fan posted, "Finally Monday, August 1st!!! Only 4 days left for Girls' Generation's comeback after 5 years. How are you feeling?" One commented, "ARE YOU LOOKING AT THEM OMG SNSD IS BACK EVERYONE." Another was surprised that new K-drama fans did not know about the group's idol actors, "Not at this kdrama casting news account with 54k followers introducing snsd actress line along with their drama characters."
---
Finally Monday, August 1st!!!

Only 4 days left for Girls' Generation's comeback after 5 years. How are you feeling? 🤗🤗

— SNSD Charts 🛸 (@SNSDChartsbr) August 1, 2022
---