Beth Chapman's ashes were spread in Waikiki waters on Saturday, June 29, as part of a "secret" paddle-out ceremony to honor her life and legacy.
The 51-year-old wife of Duane "Dog the Bounty Hunter" Chapman, passed away on June 26 after a long and hard-fought battle with cancer, stated our earlier report. According to TMZ, only a select few of her close friends and family were told about the ceremony after the memorial to "spread some of Beth's ashes and flowers in Hawaii's Waikiki waters".
A paddle out is a ritual to honor someone who has died and is usually conducted to remember someone who lost their life while surfing. However, the tradition has now been adopted across the globe. As part of the ceremony, mourners get together on a beach and "paddle out" on a floating device, often a surfboard.
Once the group reaches far out to sea, they hold hands to form a circle or a line and remember the deceased. Furthermore, well-wishers may leave a wreath of flowers on the surface of the ocean as a tribute. Duane Chapman revealed on Saturday that his wife had requested to be memorialized in Hawaii — her favorite place on earth.
"She said, 'Please Hawaiian style… please do this right'," the reality TV star said. "She loved Hawaii and she loved people. The people mostly she loved."
Mourners also performed the traditional Hawaiian "oli" chant, just like Beth wanted. The "oli" is a Hawaiian chant used to make important announcements including births, deaths, and special occasions.
Beth told her family just days before her demise that she wanted her funerals open to the public both in Hawaii and her home state of Colorado. The reality star's battle with cancer inspired her to come up with ideas and plan out her funeral ahead of time.
"Dog and Beth's children had several discussions with her about her memorial arrangements if she died." a source to the Chapman family told TMZ.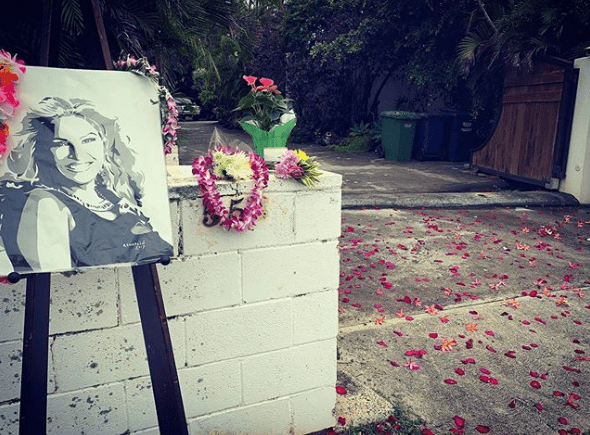 While the date and location of the funeral in Colorado are yet to be announced, the ceremony will be carried out just as Beth had desired.
Beth and Duane were both born in Denver. However, they first met in Honolulu — the same city where she passed on at The Queen's Medical Center. She leaves behind a large family of 12 children, 15 grandchildren, and one great-grandchild,
Share this article:
duane chapman beth chapman spread wife ashes waikiki hawaii waters secret paddle out ceremony