Ashley Jensen is the first actor to join the cast of Disney's upcoming live-action movie remake of its 1955 classic 'Lady and the Tramp'. The movie is set to launch sometime in the Fall of 2019 and will release directly through Mouse House's yet unnamed streaming service. However, what is interesting about the remake is that it will gender swipe the character of Jock, the amiable Scottish terrier, and name it as Jackie to whom Jensen will supposedly lend her voice. 
The remake will blend the live-action actors with CGI animals, a lot like what Mouse House's other live-action remakes of the animated classics have been doing. The film is being considered to be one of the first Disney Originals which will be available across the country through Mouse House streamer, and won't run in any theatres being exclusive to the service that will include film and TV content from Disney, Pixar, Marvel, and Lucasfilm.  It is being written by Andrew Bujalski ('Computer Chess') and directed by Charlie Bean ('The Lego Ninjago Movie') although casting is still in progress, and is being produced by Brigham Taylor.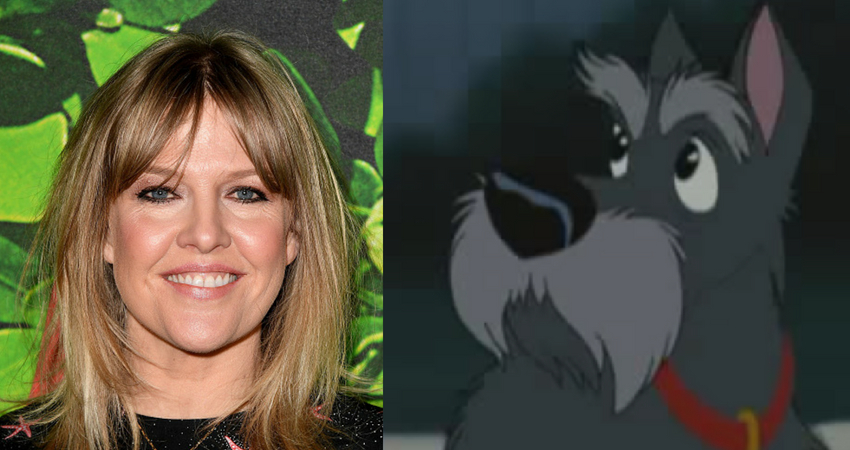 Jensen was reportedly nominated for an Emmy for her role in the BBC-HBO series 'Extras' and she has also been an audience favorite on ABC's 'Ugly Betty', and was much appreciated for lending her voice to Nanette in Metro-Goldwyn-Mayer's 'Sherlock Gnomes'. Her small screen credits include Amazon's original 'Catastrophe', the British sitcom about a newly acquainted couple trying to make it through a complicated pregnancy. She has also featured in the 2011 Romantic Comedy Tanya Wexler's 'Hysteria' and in the 2015 sci-fi drama film 'The Lobster'. She has bagged some top-notch supporting roles in movies like 'Gnomeo and Juliet', 'The Pirates! Band of Misfits' and 'Arthur Christmas'. 
The 1955 original which was itself based on Ward Greene's story 'Happy Dan, The Whistling Dog' revolved around the tale of a downtown cocky mongrel (Tramp) falling in love with an upper-class cocker spaniel (Lady), and their romantic adventure which includes the iconic spaghetti smooch dinner scene.
However, 'Lady and the Tramp' isn't the only original Disney movie which is being remade. As Mouse House has been actively developing most of the Disney contents for its upcoming streaming service, it is also re-working on Disney's classic tale about a young Arthur in 'The Sword in the Stone'. The film will be directed by  Juan Carlos Fresnadillo and will probably begin shooting by September this year in Belfast, Ireland. 'Lady and the Tramp' is also expected to start shooting some time during that time and both movies will probably be released next year. However, the specific time and date are yet to be mentioned.  
Share this article:
Disney Lady and the Tramp gender swap reboot casts Ashley Jensen as one of the firsts