'Demon Slayer: Kimetsu no Yaiba the Movie: Mugen Train': Who is Enmu? 'Demon Slayer: Kimetsu no Yaiba the Movie: Mugen Train' follows Tamado Tanjiro as he tries to find and end the demon king Muzan. Seeing that Tanjiro's lineage makes him the only one capable of killing the demon king, Muzan massacred his entire family and turned his sister, Nezuko, into a demon. Tanjiro joins the demon slayer corps, an organization determined to end demons and Muzan himself. In this movie, Tanjiro and his sister Nezuko and their companions, Insokue, Zentisu and the Flame Hashira Rengoku Kyojuro, take on two demons that fall under Muzan's commanding ranks. Among them is Lower Moon One, Enmu, who is the primary cause behind all the disappearances and deaths aboard a train.
If you're looking for more anime like 'Demon Slayer: Kimetsu no Yaiba', consider checking out -- 'Yasuke', 'Record of Ragnaorok', 'The Seven Deadly Sins' and 'Castlevania'. Season 1 of 'Demon Slayer: Kimetsu no Yaiba' is also available on Netflix if you want to binge-watch it before the movie. Also, Demon Slayer Season 2 has been announced for this year.
READ MORE
Netflix 'Seven Deadly Sins: Dragon's Judgement' Full Cast List
Netflix 'Godzilla Singular Point': Air time and how to live stream anime
Who is Lower Moon One, Enmu?
As a demon, Enmu appears as a young man with blue eyes, with the kanji 'Lower Rank One' etched into his left eye, implying that out of the lower moon ranks that serve the demon king Muzan Kibutsuji, Enmu is the strongest.
In Season 1 of the anime, Muzan summons all the lower moons, believing that they are not doing enough to further his cause of destruction. While the other fiver lower moons either protest, beg or run for their lives, Muzan ruthlessly kills them all. When it's finally Enmu's turn, he doesn't fight his fate and expresses that it would be a joy for Muzan to kill him personally. However, Muzan has a change of heart and injects him with his blood, which is the key ingredient to changing any human into a demon and what makes demons all-powerful. He then orders him to kill the Demon Slayer Corps Hashiras and places a special target on Tanjiro.
Enmu's bloodlust fuels him to do so with the prospect of getting even more powerful, which serves as the primary plot of 'Demon Slayer: Kimetsu no Yaiba the Movie: Mugen Train'.
Enmu's human form
As with all demons, Enmu was a human. However, he had a very terrible childhood, which led to heavy drug abuse and hallucinations, blurring the lines between the real world and his dreams. He often dreamed about riding the train with his father. At 17, Enmu nearly died at the hands of a demon, until he was saved by a demon slayer who then admitted him into rehab. Enmu began to get better and eventually decided to learn a demon slayer fighting style, known as a breath style in the series.
He studied under the Breath of Mist and also studied medicine, began misusing his learnings by using hypnotic therapies and conducted several medical malpractices within the Demon Slayer Corps. Enmu was not turned into a demon deliberately, as with Upper Moon Three, Akaza, who Muzan sought out. Enmu happened to be Muzan's victim, seeing that the demon king was feeding off him.
When Muzan noted that Enmu felt no pain, he had already consumed his guts, seeing that he often drifted between dreams and reality. In fact, in these dying moments, Enmu praised Muzan, as his heart and brain stopped working. Muzan converted Enmu into a demon purely on a whim and had little regard for who he was, which resulted in Enmu working his way through the Muzan's ranks to be noticed.
Enmu's powers
Enmu's powers, namely his Dream Manipulation, is one of the biggest plot points of the movie, seeing that it is the primary cause behind the disappearances, as he uses it as an effective way to kill humans. As the name suggests, this technique allows him to enter people's dreams and kill them, by destroying their spiritual core. By destroying their spiritual core, he destroys their mind, which results in their body turning into vegetative state.
Enmu doesn't even have to be the one to enter the dream, his technique allows him to create a gateway through which anyone can enter a victim's mind. Although an extremely powerful technique, which renders the victims unconscious in real life and vulnerable in their subconscious mind, it's not without its flaws. A victim's psyche can affect the infiltrating their dream, which is exactly what happens to Enmu's agent, when he enters Tanjiro's dream to kill him. Tanjiro's kindness causes him to lose the will to kill him.
While Enmu doesn't enter dreams himself, in order to avoid being compromised, it allows him to mastermind the situation from the outside. His technique is also physically tethered to him -- in order to enter someone else's dream, one would require a unique rope made from Enmu's flesh, which acts as a harness, allowing the user to enter a victim's mind.
Similarly, in order to trap all the passengers aboard the train, Enmu mixes his blood with the tickets -- all those who come in contact with them are then subject to his power.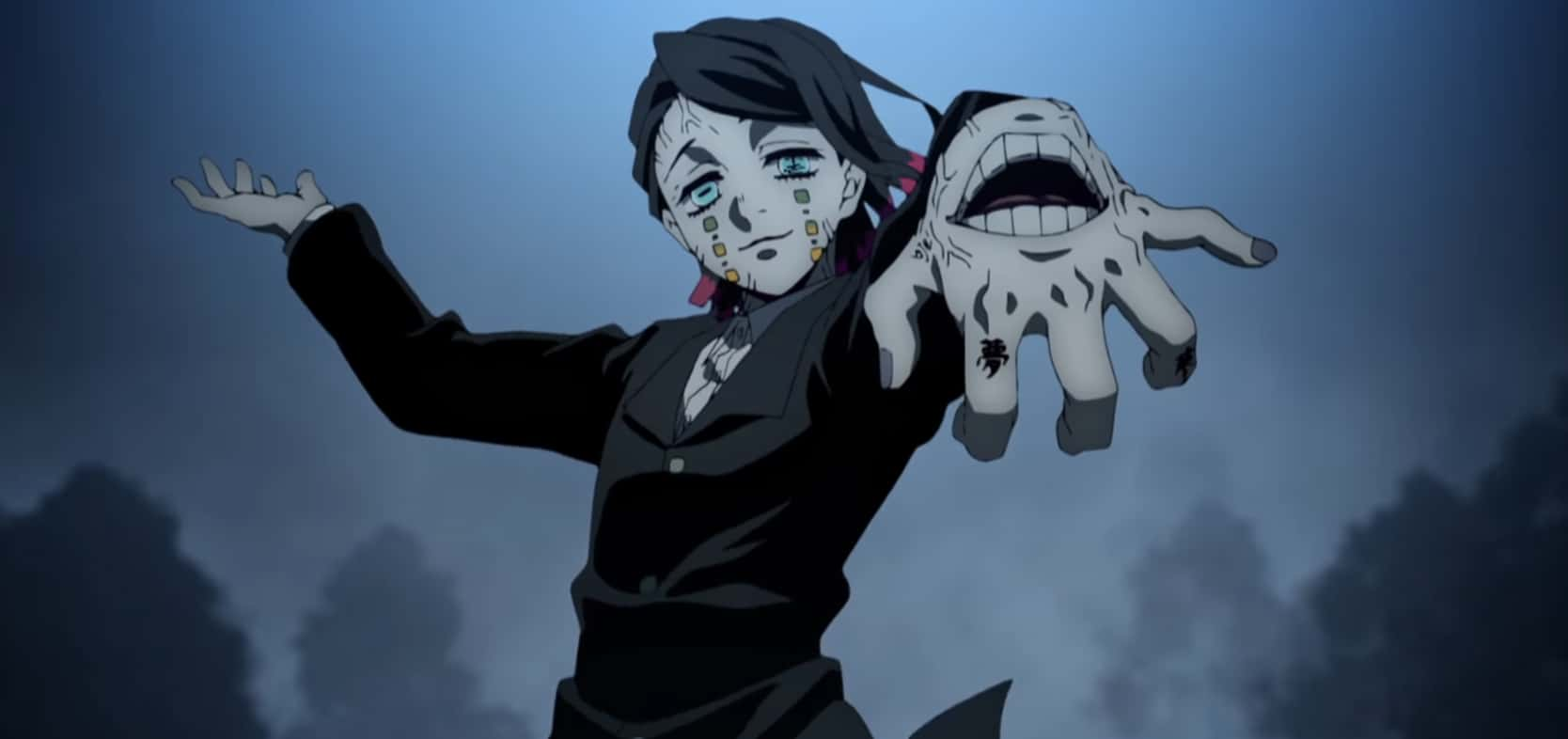 'Demon Slayer: Kimetsu no Yaiba the Movie: Mugen Train' is now streaming on Funimation. You can also watch season 1 of the anime on Netflix.