How Daniel Craig and Rachel Weisz kept relationship private as duo makes rare appearance at BFI gala LONDON, UK: Former 'James Bond' actor was recently spotted with his wife Rachel Weisz in a rare moment. Daniel Craig was pictured at the 'Glass Onion: A Knives Out Mystery' premiere. The critically acclaimed 2019 crime mystery film's sequel was the closing event for BFI London Film Festival on Sunday, October 16, and the actor was joined by his co-stars.
The 54-year-old actor was seen wearing a 007-esque tuxedo as he was joined by actress and singer Janelle Monae, 36, who wore a unique red sheer puff dress. Craig was also joined by director Rian Johnson. Soon after, the actor, playing Detective Benoit Blanc in the movie, headed inside for the main event and was tapped with the 'Black Widow' actress Rachel Weisz, 52. The moment was further solidified as Craig and Weisz were pictured alongside 'James Bond' producer Barbara Broccoli, marking a reunion after the 2021 movie 'No Time To Die'.
READ MORE
66th BFI London Film Festival: From 'The Whale' to 'Pinocchio', here are the six most anticipated movies
BET Awards 2022: Janelle Monae says 'F**k you, Supreme Court', divided social media calls her 'classless'
Craig and Weisz are notoriously famous for keeping their relationship private. Hence, the moment was a feast for fans of the power couple. The couple married in 2011, only six months after dating. They welcomed their first child in 2018 and have still not revealed her name. Weisz is also mother to Henry, 16, with former partner Darren Aronofsky, and Craig is father to daughter Ella, 30, with ex-wife Fiona Loudon. Having a child at 50 was seemingly difficult for 'The Favourite' actress.
In a conversation with Harper's Bazaar, she said, "I'm more tired than I was last time, this car has more miles on it. But I'm really having fun, I'm really enjoying it, it's a real blessing." The actress continued reflecting on her age, "We tried to go for a walk yesterday, and I had a plan about where we were going to go, but we only made it two metres, because first there was an interesting stick, and then we discovered a moth."
Craig and Weisz knew each other way before either of them became famous. The couple attended the same university and they even worked together in the 1994 stage production 'Les Grandes Horizontales'. At the time, they took different paths as Craig went on to marry fellow actor Fiona Loudon in 1992 and Weisz married filmmaker Darren Aronofsky. Fast forward to 2010, both of them reconnected when working on the movie 'Dream House'.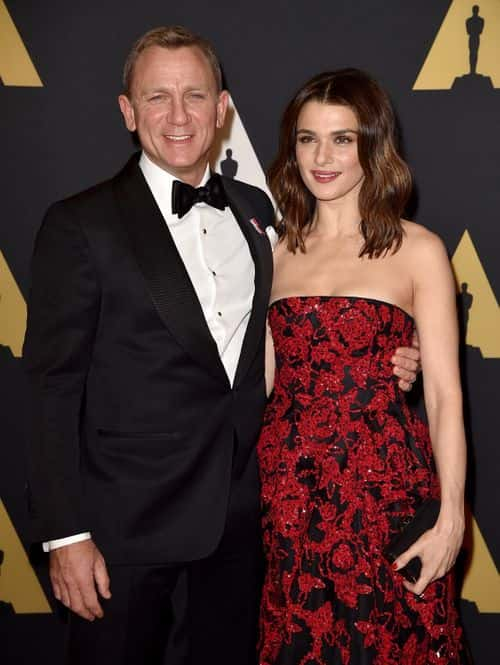 The actress, speaking to ES Magazine in 2018 , revealed why both parties liked to keep their relationship private. She referred to their marriage as an institution. Weisz said, "I mean, I wear a ring all the time. I wear my ring with pride. I'm taken. You don't join the institution like it's the Rotary Club. You make it your own. It's very personal. It's very private. I don't think mine's particularly exceptional apart from that we're both in the public eye. I never thought I would get married. It was not an ambition of mine. It was the opposite. I couldn't relate to romantic comedies, marriage seems to be the whole point of them. Then it just happened, happily, at a more mature moment." Craig and Weisz are actively raising their child while relentlessly giving blockbusters.
Share this article:
How Daniel Craig and Rachel Weisz kept relationship private as duo makes rare appearance at BFI gala