'Chasing Waterfalls': Live stream, release date, plot, cast, trailer and all you need to know about Hallmark's spring romance film 'Chasing Waterfalls' is a romantic film that is looking to put a spring into the steps of all the romantics out there. As part of Hallmark's 'Spring Fling' lineup, 'Chasing Waterfalls' follows photographer Amy (Cindy Busby) who travels to a remote lodge to find a mythical waterfall.
Helping her on her search is handsome guide Mark (Christopher Russell). As they look for the mystic waterfall, they discover that their feelings also run deep. Fans are looking forward to the film not just for the stunning scenery but for the chemistry between the lead pair who have starred together previously in 'Love in the Forecast'.
RELATED ARTICLES
'It Was Always You' Review: This beautiful Hallmark romance shows love finds a way when you least expect it
Kathie Lee Gifford hails Hallmark for making movies for Americans who are 'not offended by faith'
Release date
'Chasing Waterfalls' premieres on Saturday, March 20, at 9 pm/8 c on the Hallmark Channel.
Plot
Aspiring photographer Amy gets the big break of her career when a famous magazine asks her to shoot one of North America's most fabled waterfalls if she can, in fact, prove it exists. It's a task that Amy obviously needs help with and that's where her handsome guide Mark comes in. As they trek to remote areas, Amy and Mark find themselves falling in love.
Amy also forms a bond with Mark's young daughter. But things become complicated when Amy has to choose between love and her career. Will she reveal one of Mark's most treasured secret places to get the scoop of her career or will she keep it their secret?
Cast
Cindy Busby
Cindy Busby is something of a Hallmark regular. She has starred in several Hallmark movies such as 'Royal Hearts' and 'Marrying Mr Darcy'. She also had a recurring role on Hallmark Channel's 'Debbie Macomber's Cedar Cove'. Cindy Busby has also had recurring roles on many TV shows such as 'Supernatural', 'The LA Complex' and 'The Secret Circle'.
Christopher Russell
Christopher Russell's numerous television credits include recurring roles on shows such as 'Girlfriends' Guide to Divorce', 'Men in Trees' with Anne Heche, 'Flashpoint', 'The Listener', 'Murdoch Mysteries', 'Nikita' as well as the TV movies such as 'Love, Again,' 'Midnight Masquerade', 'The Boy Next Door', 'Seduced By Lies' and 'Catch A Christmas Star'. Russell recently filmed the lead role of Madison in ABC Family's pilot 'Gorgeous Morons'.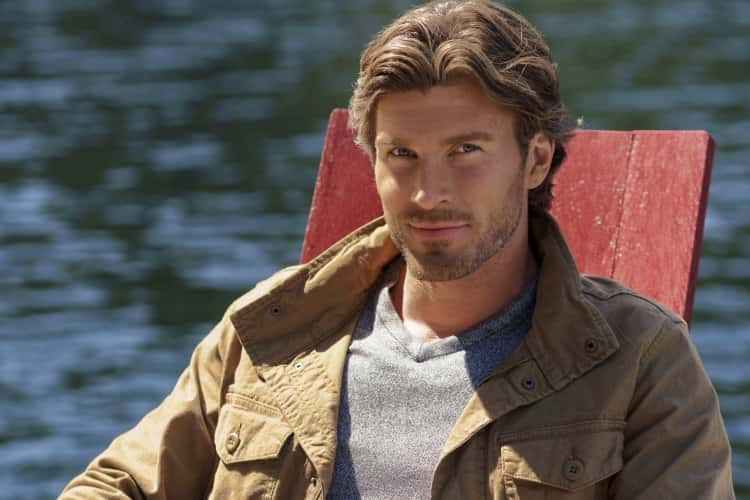 Creators
'Chasing Waterfalls' is written and directed by Christie Will Wolf. Other writers in the film include Tamara Junkin and Jason Bourque. Christie Will Wolf also serves as executive producer along with Michael Vickerman and Timothy O Johnson.
Trailer
If listening to TLC's 'Waterfalls' and looking at some gorgeous scenery is your idea of heaven then you'll definitely enjoy the trailer of 'Chasing Waterfalls' below.
Where to watch?
'Chasing Waterfalls' premieres on Saturday, March 20, at 9pm/8 c on the Hallmark Channel.
If you like this, you will love these:
'It Was Always You'
'Marrying Mr Darcy'
'Love in the Forecast'
'The Nature of Love'
'Royal Hearts'