Charlie Sheen and Denise Richards: How a 20-year saga of 'gay porn', abuse, and torment ended in a lasting friendship
Counting all the bumps and bruises, here's a recap of Denise Richards and Charlie Sheen's relationship history from 2000 to 2020 Two decades. A marriage, divorce, umpteen legal soups, reconciliation and co-parenting. Isn't that a lot to gather? That sums up the tumultuous times for Charlie Sheen and Denise Richards ever since they met on the set of 'Good Advice' in 2000.
Counting all the emotional bumps and bruises, here's a recap of their relationship history, the bitterness that swallowed their marriage and how they overcame their old scuffles with a new-found love and friendly vibe.
The couple's paths crossed again when Denise guest-starred on 'Spin City' in 2001. Sparks flew and by the second date, Denise was sure he was "the one." From there on, things moved at a much faster pace. The couple were engaged on December 26, 2001, and got hitched the very next year, on June 15, 2002. "I fell in love with who he was when I met him: A strong man who could admit his weaknesses and work through them," Denise said in an interview.
They were blessed with two daughters, Sam and Lola, but by 2005, there was trouble in paradise. In March that year, Denise laid charges against Charlie, for alcohol and drug abuse and violent threats. When Denise was six months pregnant, the pair released a statement: "We are deeply saddened by the recent events and out of our love and concern for our daughter Sam, our unborn child and each other, we ask that you respect our privacy during this difficult time."
She filed for divorce and it was finalized by November 2006. However, their differences soon became a tabloid scandal with a lot of name-calling and legal woes. While Denise blamed him for violent mood swings, compulsive gambling, and watching gay porn, Charlie called her a "traitor and loser whore" in an indirect tweet aimed at her. Charlie went on to marry his third wife, Brooke Mueller in 2008 and by 2011, Sheen was living together with a number of women, including porn star Bree Olson and model Natalie Kenly.
In 2012, Charlie and Denise went on a Mexican vacation with their daughters, and while there were rumors about how they were back together, the couple clarified as per The Huffington Post, "We've actually become like brother and sister, we really have. Nothing more than that. We've become very, very good friends."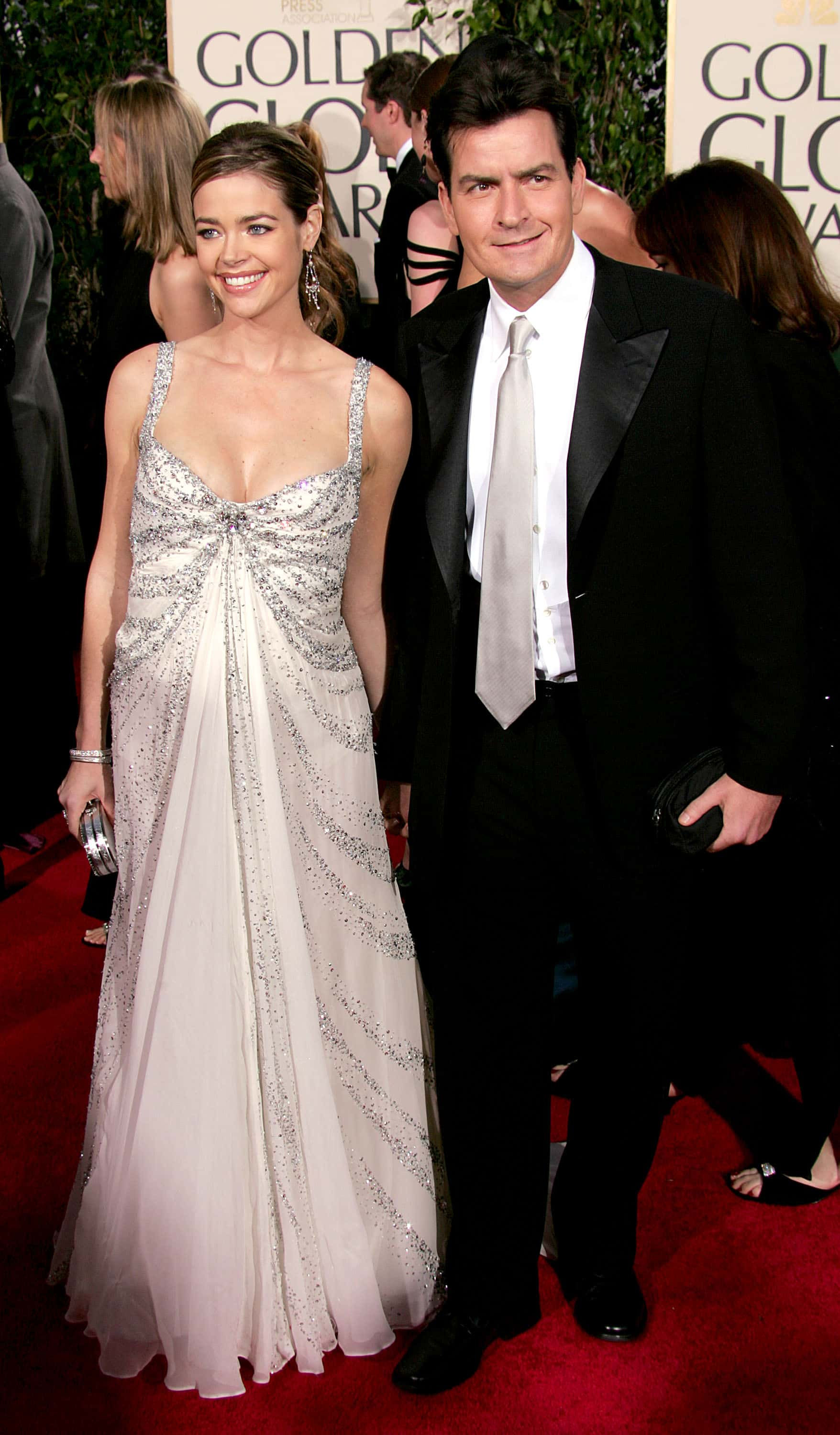 Three years later, Charlie was back at it again. On Twitter, he insulted Denise labeling her as the "worst mom alive" and an "evil terrorist sack of landfill rash" who "couldn't act hot in a fire or wet in a pool." Denise, however, kept her cool all times and responded with tweets like: "Happy Dad's Day! @CharlieSheen have a great trip in Mexico! Kids were disappointed u weren't here for it—Hey we'll celebrate when u r back!", "@CharlieSheen U done ranting? Keep it classy dude" and "Our kids don't need to be privy to this, U are welcome 2 spend xmas w/ us Hope u still come."
In 2016, Denise sued Charlie for $1.2 million for allegedly evicting her and kids from home. Sheen's lawyer, Martin Singer, however, told People that the lawsuit is about "nothing more than money, money, money." He also said, "Denise Richards is not satisfied that she has received $660,000 tax-free each year for almost 10 years," adding, "It is not enough money for her, besides the approximate $10 million she has received from Charlie under her short marriage."
Denise shot back on Twitter, saying, "Mr Singer according to your calculations your client owes me an enormous balance. Wow thank u!"
A year later, Denise shared an Instagram post of the family having dinner together. "We've had a colorful year ...at the end of the day we're still a family..." her caption read.
In 2018, the 48-year-old actress got married to Aaron Phypers on September 8, 2018, in an intimate outdoor ceremony held on a private Malibu estate overlooking the ocean. She even invited Charlie. "No matter what's gone down with Charlie and I, I invite Charlie to anything having to do with the kids and I," Richards told audiences on Tuesday's episode of 'Real Housewives of Beverly Hills', which featured footage of the 'Wild Things' star's special day. "Even if he did bring a prostitute as his date, I wouldn't care," she joked. "It's just, it is what it is."
It's actually wonderful that the pair have found a way to agree to disagree and have built a new co-parenting relationship, which is healthy for their kids too.
Share this article:
Charlie Sheen and Denise Richards: How a 20-year saga of 'gay porn', abuse, and torment ended in a lasting friendship