Terrifying video shows plane CRASH LANDING on California roadway and erupt into flames
The heart-stopping video shows the plane crash land in the middle of traffic, leaving a trail of burning jet fuel in its wake CORONA, CALIFORNIA: Terrifying videos show the moment a plane crash landed on the eastbound lanes of the 91 Freeway in Riverside County near Lincoln Avenue on Tuesday, according to the California Highway Patrol. Footage shows the plane erupt into flames. A truck containing three civilians was also damaged by the aircraft. The plane had three people on board, who were safely evacuated. The unfortunate incident took place in Corona​, which is about 50 miles east of Los Angeles.
"The pilot claims to have experienced possible engine failure on their final descent to Corona Municipal Airport," stated CHP Capt Levi Miller. The tragic occurrence was videotaped by several passing civilians. The heart-stopping video shows the plane crash land in the middle of traffic, leaving a trail of burning jet fuel in its wake.
READ MORE
I-90 crash: 5 children among 7 killed after wrong-way driver collides head-on into van in McHenry County
3 youngsters die in fiery crash as 'impaired' driver hits guard rail in high-speed chase with police
More video revealed Corona Fire Department personnel putting out big flames. According to the Federal Aviation Administration, the plane carrying two occupants made an emergency landing on the 91 Freeway in Corona at around 12:30 PT.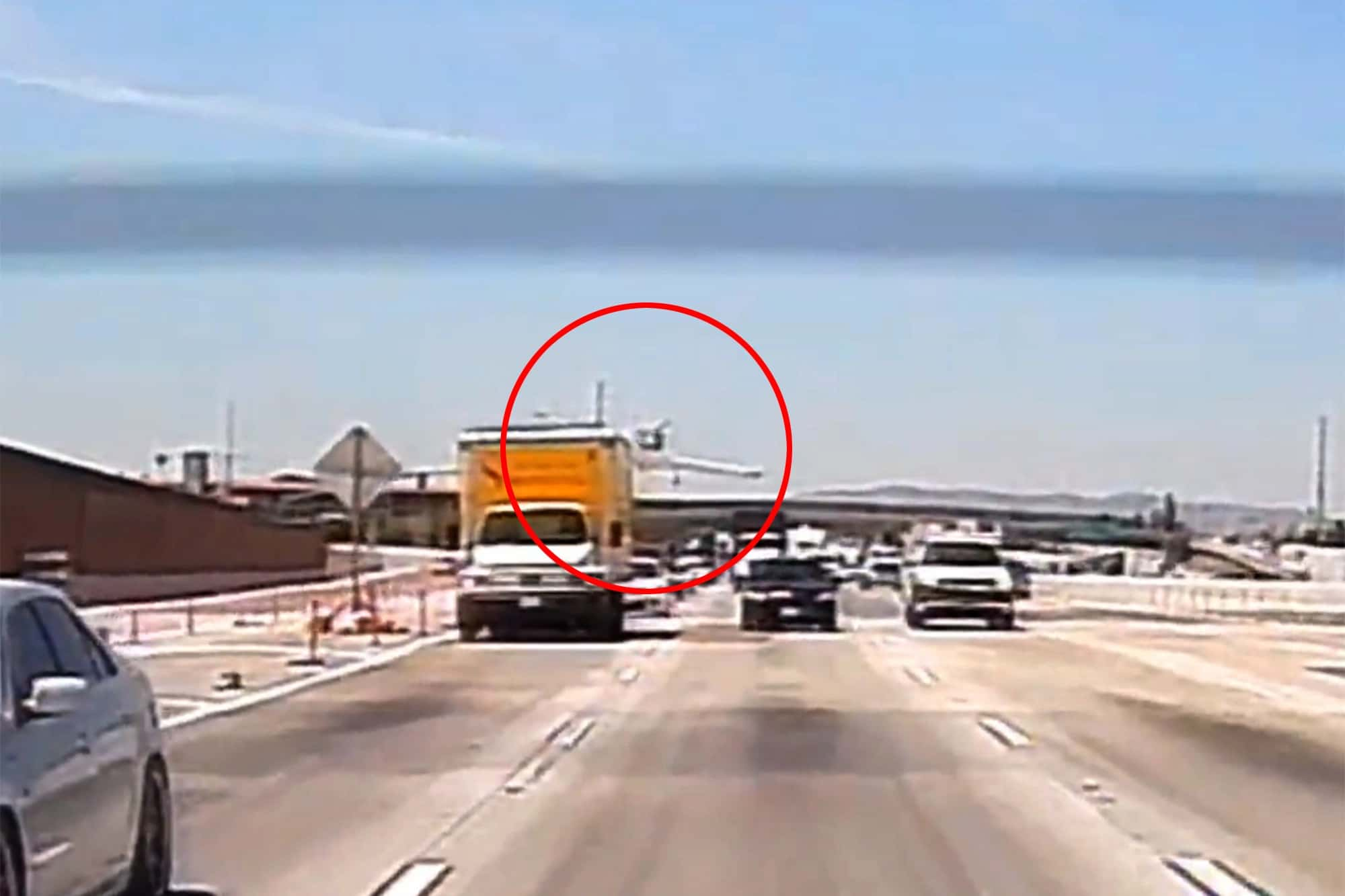 Both the pilot and a passenger were able to safely exit the aircraft, according to CHP. The truck driver and the passengers were also unharmed.
The Corona Fire Department has released a video that shows the jet engulfed in flames and spewing enormous plumes of smoke before a firefighter puts out the fire. The incinerated aeroplane wreckage is seen on the highway in a different departmental photo.
"(We're) very fortunate today that the traffic was light, and the pilot appears to have made some good landing navigation that avoided what could have been a very bad tragedy," CHP Capt Levi Miller said to KTLA.
Major traffic delays resulted from the highway's eastern lane being blocked off while officials investigated the collision and cleared the scene of debris for many hours. The FAA will look into what happened to cause the plane to crash.
Several videos have been posted by various other news channels on their social media pages.
Share this article:
Terrifying video shows plane CRASH LANDING on California roadway and erupt into flames