Princess Charlotte and Prince George lead Princess Eugenie's adorable posse of bridesmaids and pageboys
The pageboys and bridesmaids at Eugenie's wedding not only had to brave the windy Windsor day but also conquer the steps of St George's Chapel in windy conditions While the bride and groom went through their own share of spotlight-worthy moments at their glorious wedding, Princess Eugenie's pageboys and bridesmaids had a lot of fun at the family event as they joined the couple at St George's Chapel, according to reports by the Daily Mail. 
Savannah Phillips, the daughter of the Queen's grandson Peter Phillips and his wife Autumn, clearly kept the young lot entertained as they waited to walk down the aisle with the bride this morning. In a few pictures captured at the venue, it even looks like the youngsters are mocking the trumpet fanfare to announce the arrival of the Queen.
There is another picture which shows both George and Savannah in fits of laughter, probably because of the trumpet noise itself. The pageboys and bridesmaids at Eugenie's wedding not only had to brave the windy Windsor day but also conquer the steps of St George's Chapel in windy conditions.
And although Prince George, his sister Princess Charlotte and their mischevious cousin Savannah deftly made their way up the stairs without taking anyone's hand and waving to the crowds. However, one pageboy, Louis de Givenchy, took a tumble on the steps while being led inside by Prince Edward's daughter Lady Louise.
Louis is the son of Frenchman Olivier de Givenchy, a senior banker at JP Morgan, and his Australian wife Zoe, who are also friends with Robbie Williams and Ayda Fields, whose daughter was a bridesmaid at the royal wedding.
Eugenie also enlisted several other youngsters to act as her flower girls including sisters Savannah, Isla Philips, Mia Tindall, Maud Windsor, and most surprising six-year-old Theodora Williams, the daughter of Robbie Williams and Ayda Fields.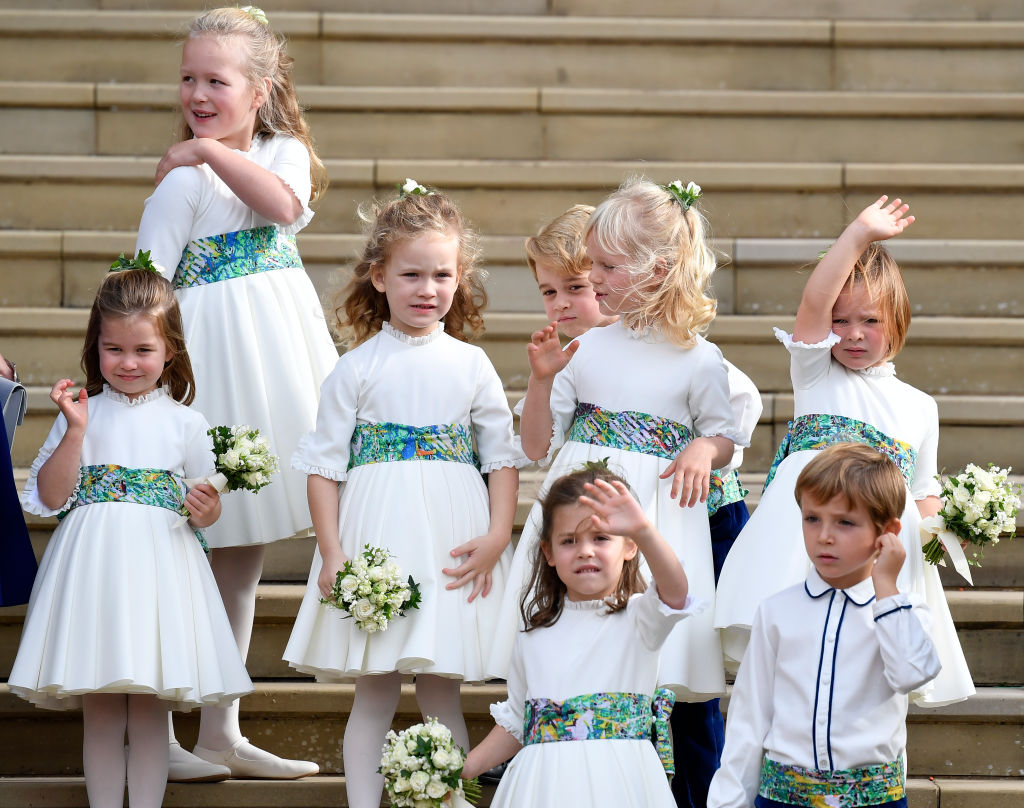 According to reports, the bridesmaids' dresses and pageboys' uniforms were designed by Amaia Arrieta of Amaia Kids. The girls wore white dresses with flute sleeves and the neckline with colorful sashes, which incorporated the Mark Bradford artwork, included in the Order of Service.
Pageboys Louis and George wore white shirts with blue trim, teamed with navy velvet trousers and cummerbunds also featuring the colorful artwork. 
Share this article:
Princess Charlotte and Prince George lead Princess Eugenie's adorable posse of bridesmaids and pageboys