'Billions' writers want David Fincher to direct 'Mindhunter' Season 3 after THAT serial killer reference 'Billions' is not just known for its perpetual dick-swinging contests or its big bucks. The Showtime series wins its way into viewers' hearts with popular fiction references or even historical innuendos. This week's episode 'The Chris Rock Test' had one such reference that will take your mind to a popular serial killer.
Bobby Axelrod (Damian Lewis), Mike Wagner (David Costabile) and Taylor Mason (Asia Kate Dillon) are having a conversation. Bobby tells Taylor about how they will use the new business titan Mike Prince (Corey Stoll). "Prince has gone deep on psycho-ceuticals and we are about to go deeper," he says.
Wags adds, "There's a man that can secure it." Taylor gets it, "Simon Shenk from Errix. Soon to be of the FDA. He'll need to divest. And you'll be there to assume his shares."
Spilling a spoonful wit and wisecrack, Wags is quick to add a quirky resemblance with the serial killer, "Like Ed Kemper inhabited his victims' souls."
Breaking down where that comes from, 'Billions' Writers Room tweeted, "Ed Kemper was 16 when he murdered his grandparents. He later killed 8 women, including his mother. He also loved playing "Electric Chair" as a kid (yikes!)."
Well, it isn't so hard to remember Kemper. Especially, if you've seen Netflix's chilling series 'Mindhunter'. Sadly, the show was touted to have been canceled or "indefinitely put on hold" after its brilliant Season 2 run. Making a sincere request, they added, "The writers of Billions would really like to encourage Mr. David Fincher to make another season of Mindhunter."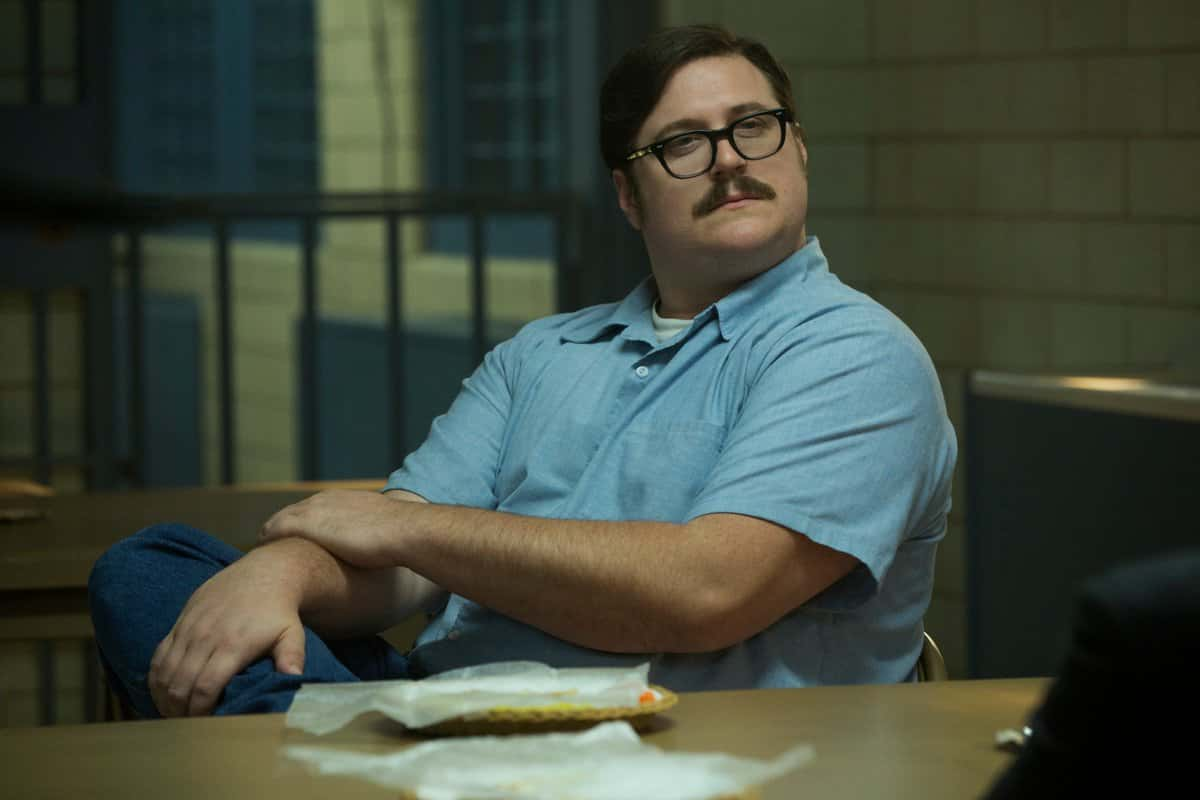 Fans were overjoyed to hear it. "Oh I agree!!" one said and another posted, "Yes Yes Yes!!!" One wrote, "Agreed. I second that. BTW, love your tweets. And of course, #Billions!" And one fan went on to say, "We definitely STAN with your petition guys and with your show #Billions having many more seasons to come."
Many fans are still wondering what will happen to the future of 'Mindhunter'. "I wonder what the future holds for the next season of Mindhunter? I'm sure there will be some more interesting cases to solve and killers to interview," one said and another wrote, "We want another season of #Mindhunter!!"
So will Fincher listen to this sweet appeal and start working on another season? Only time will tell. For now, catch more episodes of 'Billions' on Showtime every Sunday at 9 pm ET.
Share this article:
Billions Season 5 The Chris Rock Test Mindhunter Season 3 David Fincher Serial killer Ed Kemper