Ahead of his latest Netflix venture, The Day Of...we rank every Adam Sandler film, from worst to best Adam Sandler's new show on Netflix is being tomtommed as his comeback vehicle, but will it work, or is it simply too little too late?
The show, which also stars Steve Buscemi and Chris Rock, revolves around two fathers with opposing personalities come together to celebrate the wedding of their children. They are forced to spend the longest week of their lives together, and the big day cannot come soon enough.
Here we look at all his films and rank them from worst to best. Do you agree?
#31 The Cobbler
(IMDb)
Plot: A cobbler, bored of his everyday life, stumbles upon a magical heirloom that allows him to become other people and see the world in a different way.
#30 Pixels

(IMDb)
Plot: When aliens misinterpret video feeds of classic arcade games as a declaration of war, they attack the Earth in the form of the video games.
#29 The Ridiculous 6
(IMDb)
Plot: An outlaw who was raised by Native Americans discovers that he has five half-brothers; together the men go on a mission to find their wayward, deadbeat dad.
#28 The Do-Over
Plot: Two down-on-their-luck guys decide to fake their own deaths and start over with new identities, only to find the people they're pretending to be are in even deeper trouble
#27 Bedtime Stories
(IMDb)
Plot: A hotel handyman's life changes when the lavish bedtime stories he tells his niece and nephew start to magically come true.
#26 Jack and Jill
Plot: Family guy Jack Sadelstein prepares for the annual event he dreads: the Thanksgiving visit of his twin sister, the needy and passive-aggressive Jill, who then refuses to leave.
#25 Blended
(IMDb)
Plot:After a bad linddateoman find themselves stuck together at a resort for families, where their attraction grows as their respective kids benefit from the burgeoning relationship.
#24 Just Go with It
(IMDb)
Plot: On a weekend trip to Hawaii, a plastic surgeon convinces his loyal assistant to pose as his soon-to-be-divorced wife in order to cover up a careless lie he told to his much-younger girlfriend.
#23 You Don't Mess with the Zohan
(IMDb)
Plot: An Israeli Special Forces Soldier fakes his death so he can re-emerge in New York City as a hair stylist.
#22 I Now Pronounce You Chuck & Larry
(IMDb)
Plot: Two straight, single Brooklyn firefighters pretend to be a gay couple in order to receive domestic partner benefits.
#21 That's My Boy
(IMDB)
Plot: While in his teens, Donny fathered a son, Todd, and raised him as a single parent up until Todd's eighteenth birthday. Now, after not seeing each other for years, Todd's world comes crashing down when Donny resurfaces just before Todd's wedding.
#20 Grown Ups 2
(IMDb)
Plot: After moving his family back to his hometown to be with his friends and their kids, Lenny finds out that between old bullies, new bullies, schizo bus drivers, drunk cops on skis, and 400 costumed party crashers sometimes crazy follows you.
#19 Little Nicky
(IMDb)
Plot: After two of the devil's three sons escape Hell to wreak havoc on Earth, the devil must send his third son, the mild-mannered Nicky, to bring them back before it's too late.
#18 Big Daddy
(IMDb)
Plot: A lazy law school grad adopts a kid to impress his girlfriend, but everything doesn't go as planned and he becomes the unlikely foster father.
#17 Bulletproof
(IMDb)
Plot: Two criminals, Keats and Moses, end their friendship, when Keats turns out to be an undercover cop. Many years later, the two are forced to work together when Keats is assigned to protect Moses as a witness.
#16 The Waterboy
(IMDb)
Plot: A waterboy for a college football team discovers he has a unique tackling ability and becomes a member of the team.
#15 The Longest Yard
(IMDb)
Plot: Prison inmates form a football team to challenge the prison guards.
#14 Sandy Wexler
(IMDb)
Plot: Sandy Wexler (Adam Sandler) is a talented manager working in Los Angeles in the 1990s, diligently representing a group of eccentric clients on the fringes of show business. His single-minded devotion is put to the test when he falls in love with his newest client, Courtney Clarke, a tremendously talented singer whom he discovers at an amusement park. Over the course of a decade, the two of them play out a star-crossed love story.
#13 Mr Deeds
(IMDb)
Plot: A sweet-natured, small-town guy inherits a controlling stake in a media conglomerate and begins to do business his way.
#12 50 First Dates
(IMDb)
Plot: Henry Roth is a man afraid of commitment up until he meets the beautiful Lucy. They hit it off and Henry think he's finally found the girl of his dreams, until he discovers she has short-term memory loss and forgets him the very next day.
#11 Spanglish
(IMDb)
Plot: A woman and her daughter emigrate from Mexico for a better life in America, where they start working for a family where the patriarch is a newly celebrated chef with an insecure wife.
#10 Anger Management
(IMDb)
Plot: Dave Buznik is a businessman who is wrongly sentenced to an anger-management program, where he meets an aggressive instructor.
#9 Click
(IMDb)
Plot: A workaholic architect finds a universal remote that allows him to fast-forward and rewind to different parts of his life. Complications arise when the remote starts to overrule his choices.
#8 Grown Ups
(IMDb)
Plot: After their high school basketball coach passes away, five good friends and former teammates reunite for a Fourth of July holiday weekend.
#7 The Wedding Singer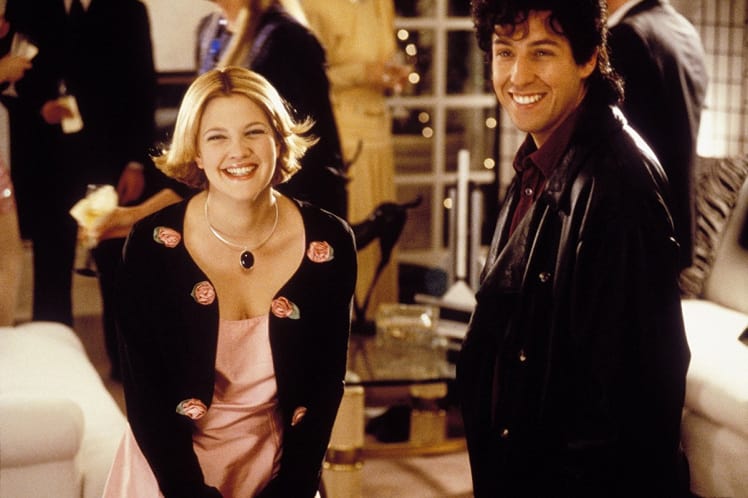 (IMDb)
Plot: Robbie, a singer, and Julia, a waitress, are both engaged, but to the wrong people. Fortune intervenes to help them discover each other.
#6 Funny People
(IMDb)
Plot: When seasoned comedian George Simmons learns of his terminal, inoperable health condition, his desire to form a genuine friendship causes him to take a relatively green performer under his wing as his opening act.
#5 Reign Over Me
(IMDb)
Plot: A man who lost his family in the Septemberack on New York City runs into his old college roommate. Rekindling the friendship is the one thing that appears able to help the man recover from his grief.
#4 Billy Madison
(IMDb)
Plot: In order to inherit his fed up father's hotel empire, an immature and lazy man must repeat grades 1-12 all over again.
#3 Happy Gilmore
(IMDb)
Plot: A rejected hockey player puts his skills to the golf course to save his grandmother's house.
#2 Airheads
(IMDb)
Plot: Three band members hoping for a big break head to a radio station to play their demo tape and wind up holding everyone hostage with plastic guns when the head DJ refuses to play them.
#1 Punch-Drunk Love
(IMDb)
Plot: A psychologically troubled novelty supplier is nudged towards a romance with an English woman, all the while being extorted by a phone-sex line run by a crooked mattress salesman, and purchasing stunning amounts of pudding.