Ben Affleck serves orders at Medford Dunkin' drive-thru before delivering donuts at neighboring fire station MEDFORD, MASSACHUSETTS: Oscar winner Ben Affleck was spotted handing out Dunkin' Donuts orders at an outlet in Medford, Massachusetts, on Tuesday, January 10. The 'Justice League' actor was recording an advertisement for the company and surprised customers as he served them their food. The 50-year-old was later seen enjoying a chocolate donut.
Customer Lisa Mackay, who was fortunate enough to get her morning coffee from Jennifer Lopez's husband, snapped a quick photo of Affleck as he served up her iced coffee via the drive-through window. She told local NBC reporter Darren Botelho that the 'Batman v Superman: Dawn of Justice' star was "incredibly funny and quick-witted." "He was super nice and very quick-witted," Mackay said, adding, "Of course, handsome too!"
READ MORE
Ben Affleck hugs and kisses wife Jennifer Lopez's son in cute 'stepdad' moment while leaving LA studio
LOVE AND LATTES: Ben Affleck and Jennifer Lopez pack on the PDA as they enjoy romantic Starbucks date
After the shoot, the father of three brought numerous boxes of donuts and assorted caffeinated drinks to first responders while still sporting an 'America Runs on Dunkin' t-shirt underneath a black coat.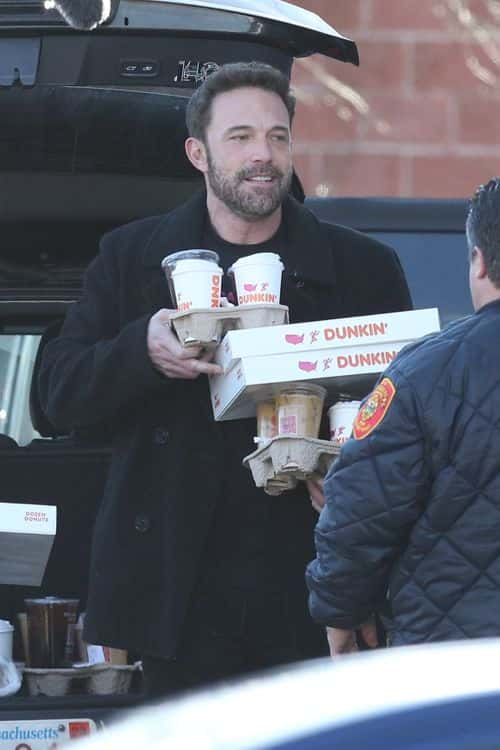 He spoke to firefighters in Medford, Massachusetts, approximately five miles from his house in Cambridge, as a TV team followed him around and recorded him handing out iced coffees. Affleck was reported to be "heavily involved in the commercial as he pitched the script, is directing and starring in it." "Ben has loved Dunkin' for years and this partnership couldn't be more perfect. He's been very hands-on with the whole process and is excited for everyone to see," a source told ET.
Another insider said, "Ben is excited about it and has been very into the campaign and commercial. Ben is really funny and charismatic. He has been making everyone laugh on set." His wife Jennifer Lopez is said to think the project is "awesome and has been so supportive."
While filming the commercial, 'The Accountant' actor also handed out drinks to customers. Mackay told ET that she was "surprised and nervous when" Affleck took her order. "I handed him a $10 and he threw it right back at me and handed me my iced coffee." "I didn't see JLo, but I heard she was inside," she added.
Affleck was later seen inside with his wife, 53, who gave him a hug and praised staff members for guiding him through the process behind the counter. The 'Not Your Mama' singer sipped on a cold coffee with whipped cream while donning a white padded jacket. In an interview with Collider in 2019, Affleck said he has "Dunkin Donuts everyday. It's very weird, I have it every day."