5 Ateez performances that support the K-pop group's answer to whether they lip-sync While a lot of fans like to boast that their favorite idols or groups have never lip-synced, the reality is that many do due to certain program requirements. Many music shows and award shows prefer if the artists lip-sync because the general public is turned off by raw vocals, heavy breathing due to the exhaustive choreography and so on. Several times while the artists do sing live over the MR (recorded music), their mic volume is turned down. But that doesn't seem to be the case for Ateez.

Ateez has often been recognized as 'performance kings' from their rookie days due to their fierce expressions, powerful choreography and strong vocals. During a segment of WIRED's Autocomplete Interview, the K-pop group acknowledged that it was from their 'Hala Hala' performance that fans and non-fans started acknowledging them for their live performances. They also answered a lot of trivia questions that no one knew like how Wooyoung was the last member to join Ateez.

READ MORE
Aespa slammed for lip-syncing on 'The Nick Cannon Show' as they win MAMA performance award

Ateez Wooyoung slams sasaeng for calling Jongho during live stream, fans hail professionalism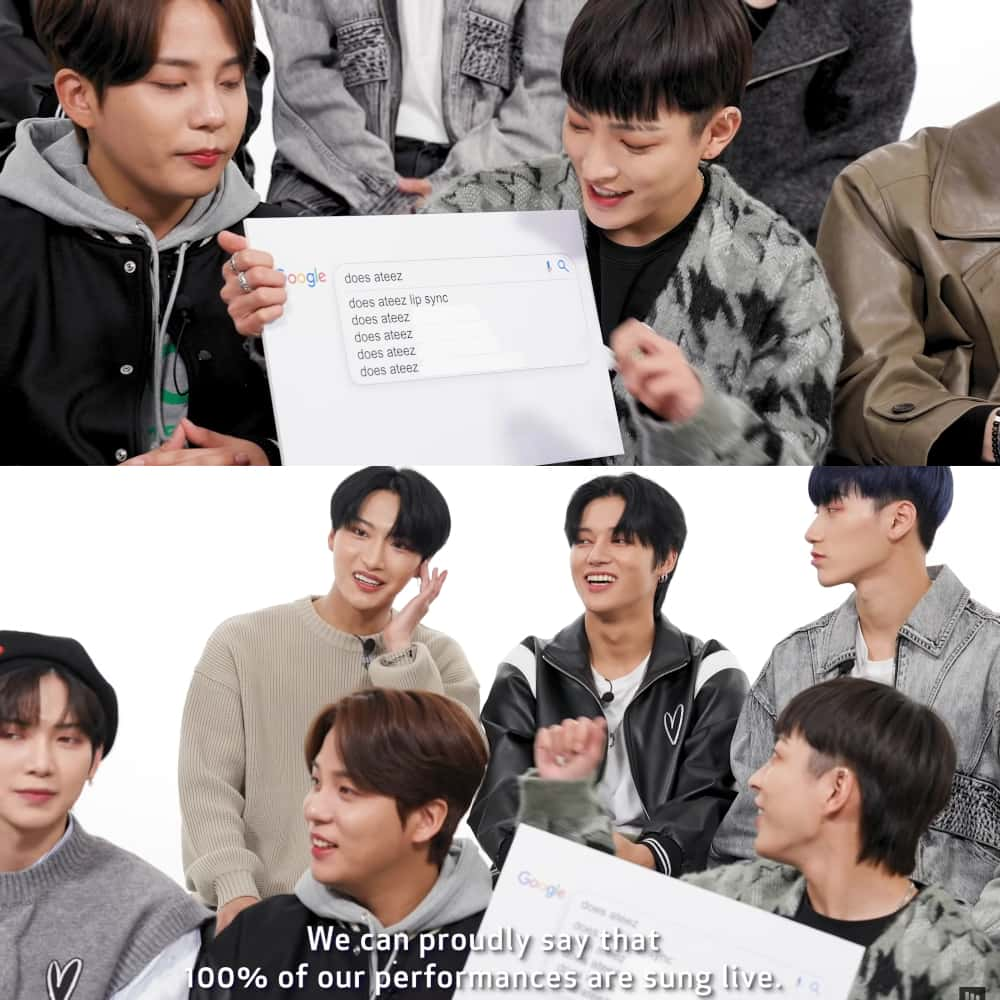 Does Ateez lip-sync?
Jongho also jokingly shared that he ended up getting his English name John due to the Starbucks waiters' constant misunderstanding of his name. But there was one question that had everyone rising up indignantly. One of the questions on the board was -- does Ateez lip-sync? All of the members hilariously clamored, "Hey! What are you asking?" We had Yunho sarcastically asking, "Am I lip-syncing now? No, right?" Leader Hongjoong asked Seonghwa who had the perfect answer, "We can proudly say that 100% of our performances are sung live."
Watch the whole WIRED interview below.
5 best Ateez performances
Here are 5 of the best Ateez performances that prove that they sing live.
Hongjoong's adlibs and Jongho hitting his high note till B5 is just one of the highlights of their 'Wonderland' performance in 'Kingdom'.
With Wooyoung being the biggest ARMY he must have felt immensely proud to sing a BTS song live in front of BTS themselves at MAMA 2019.
Ateez's performance of 'Inception' at the 2020 Asia Song Festival definitely stands out from the rap line's verses to Seonghwa's falsetto.
They always go hard for their 2019 song 'Hala Hala' and their latest performance of it at the 2021 SBS Super Concert was no different.
With Ateez themselves acknowledging that 'Answer' is one of their popular songs here's why.
'These vocals are no joke'
Fans loved the group's response to the question as they made tweets like, "Each member's reaction to" does ateez lip sync?" Question they got so offended and said it's not in our vocabulary." Atinys especially found vocal powerhouse Jongho's reaction the funniest, "Does ateez lip sync? Jongho : LMFAO." Atinys also brought back moments from Ateez's tour that they are on now, "Does Ateez lip sync?..... THESE VOCALS ARE NO JOKE." Another posted, "Lip sync?? not on ateez vocabulary look at their confident reactions purr."