Does Armie Hammer love 'sexy' raw meat and pigs head? Truth behind shocking posts on his 'cannibal' fetish WARNING: DISTURBING CONTENT
Actor Armie Hammer has been the subject of intense social media controversy, ever since he allegedly showcased his weird "Cannibal" taste and professed his love for "sexy BBQ meat".
Hammer has repeatedly posted about his love for meat online. His social media is full of images of raw meat, pigs' heads and knives, it has been revealed, days after leaked messages said to be from the star, show him claiming to be "100 percent a cannibal". The 34-year-old's Instagram handle shows several pictures of raw and grilled meat. In one of the snaps which display barbecuing meat, he had written: "Have you ever seen anything sexier?"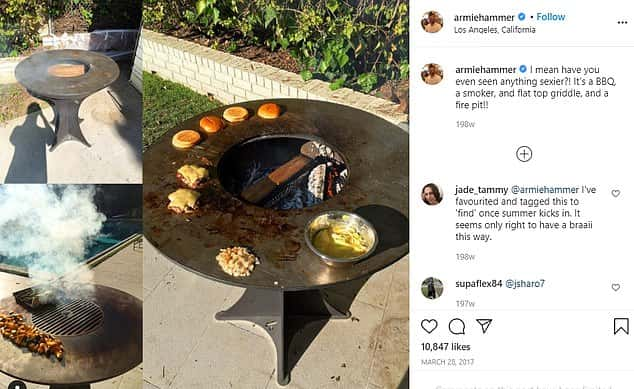 In another post he shared a photo of a pig's head alongwith the caption: "He's smiling."
According to Page Six, Hammer "loves grilling" and would frequently host barbecues for friends and family but the rumors of his alleged cannibalistic fetishes have come as a shock. Sources also stated that his estranged wife Elizabeth Chambers knew nothing of the "weird sh*t" he did and that people thought they were in an "open marriage" because of the way he would "run around" with other women.
It all started last week when the Instagram account @houseofeffie posted a series of screenshots of direct messages that said Hammer had sent women from 2016 to 2020. The messages in the screenshots, which are unverified, seemed to display fantasies of rape, domination and cannibalism.
Among the texts, later amplified by the Instagram gossip page @deuxmoi, which has more than 590,000 followers, referred to the recipient as "kitten" and Hammer asking to drink the person's blood. Other messages show the Hammer telling the recipient he wants to "bite pieces off of" her and eat her heart.
Another passage of messages shared by @houseofeffie said: "I am 100% a cannibal. I want to eat you. F**k. That's scary to admit. I've never admitted that before." In one of the texts, Hammer also said that he wishes to "cut off one of your toes and keep it with me in my pocket."
On Wednesday, January 13, Hammer stepped down from a coming rom-com called 'Shotgun Wedding', in which he was set to play the lead opposite the star and producer Jennifer Lopez.
"Given the imminent start date of 'Shotgun Wedding', Armie has requested to step away from the film and we support him in his decision," a production representative confirmed to Insider. The role will be recast.
In a recent statement to People, Hammer said: "I'm not responding to these bullsh*t claims, but in light of the vicious and spurious online attacks against me, I cannot in good conscience now leave my children for 4 months to shoot a film in the Dominican Republic. Lionsgate is supporting me in this and I'm grateful to them for that."