"Grateful to have him in my life...regardless of how our relationship changes," Ariana Grande on Mac Miller after their break-up Ariana Grande and late rapper Mac Miller dated for two years and were so much in love and we all wished that they ended up together, but fate had other plans. Although the two never really had a bitter split, it was surely a painful one. It is unclear how they met but their first appearance together was back in 2012, when the two collaborated on a cover of 'Baby, It's Cold Outside'. It was for Ariana's YouTube channel. The collab must have gone great as both collaborated again soon after in 2013 - this time on Ariana's single, 'This Way'. Although it wasn't really apparent on the outside, there was a love just blossoming between the two.
Proof of this was when Ariana was promoting her single, her Instagram Stories indicated that she was indeed close to him. She called him one of her "best friends in the world, like in the whole world." Then Ariana dropped the music video for 'The Way' and that's when fans wondered if they were just BFFs. In the video, the two frolick around the set, with Miller holding a camera and Ariana all smiles and butterflies. Then, in the end, the two lock lips and it is pretty evident that they were totally into it. Plus, there's tongue.
Miller however spiked the rumors, saying there was nothing cooking and claimed it was just for the cameras.
"That's the homey," he told MTV News the same year, "She's got a boyfriend and everything. Obviously, that [kiss] made everyone talk. I didn't even know that was going to happen, and then we were shooting and the director was like, 'This should happen,' and I'm like, 'All right.'" Ariana was dating Ricky Alvarez at the time.
Two years passed. Then in 2016, she and Alverez split up. She found comfort in Miller and the two spent time in Disneyland along with her friend Victoria Monet. Then came the social media acceptance. At first, it was a few Snapchats stories and then, she posted a picture on Instagram of her cuddling Miller with the caption, "Babyyy".
Their love was going strong. The two artists collaborated again and this time it was for his track - 'My Favorite Part' which released the same year. It was from the album, 'The Divine Feminine'.
He told People at the time, "I wrote that love song before I saw her. We're very good friends first and foremost. We made that song and started becoming close again. It's very dope and I like how that worked out. It was great. There was no awkwardness or weirdness, it was how it always was. Just both of us older, more mature and more sure of ourselves. When we first recorded together we were young and figuring it out, which we still are, but now seeing her growth and my growth — it's great.. We hung out for a long time and everything just happened organically. We love making music together – we do that always. But she's my best friend in the world."
Speaking about her, he had said, "She's just very warm and comforting. She's very caring but, also, we have a lot of fun. We go on adventures. Adventures can be driving around in the car aimlessly. It's great to be able to do nothing and be doing so much." Aww.
All was well - they were spotted at Coachella getting cozy. Then, the Machester bombing happened in May 2017. A suicide bomber killed many fans outside Grande's concert at Manchester Arena in the U.K.
Mac was her solid foundation after the tragedy and even joined her when she got back on her feet and decided to do the One Love Manchester performance the very next month on June 4.
Then came the split - the couple was rumored to have parted ways on May 9 this year but they ended things on friendly terms. One day after the split, Grande said, "This is one of my best friends in the whole world and favorite people on the planet. I respect and adore him endlessly and am grateful to have him in my life in any form, at all times regardless of how our relationship changes or what the universe holds for each of us! Unconditional love is not selfish. It is wanting the best for that person even if at the moment, it's not you," Grande added. "I can't wait to know and support you forever and I'm so proud of you!" The picture featured the two of them in happier times.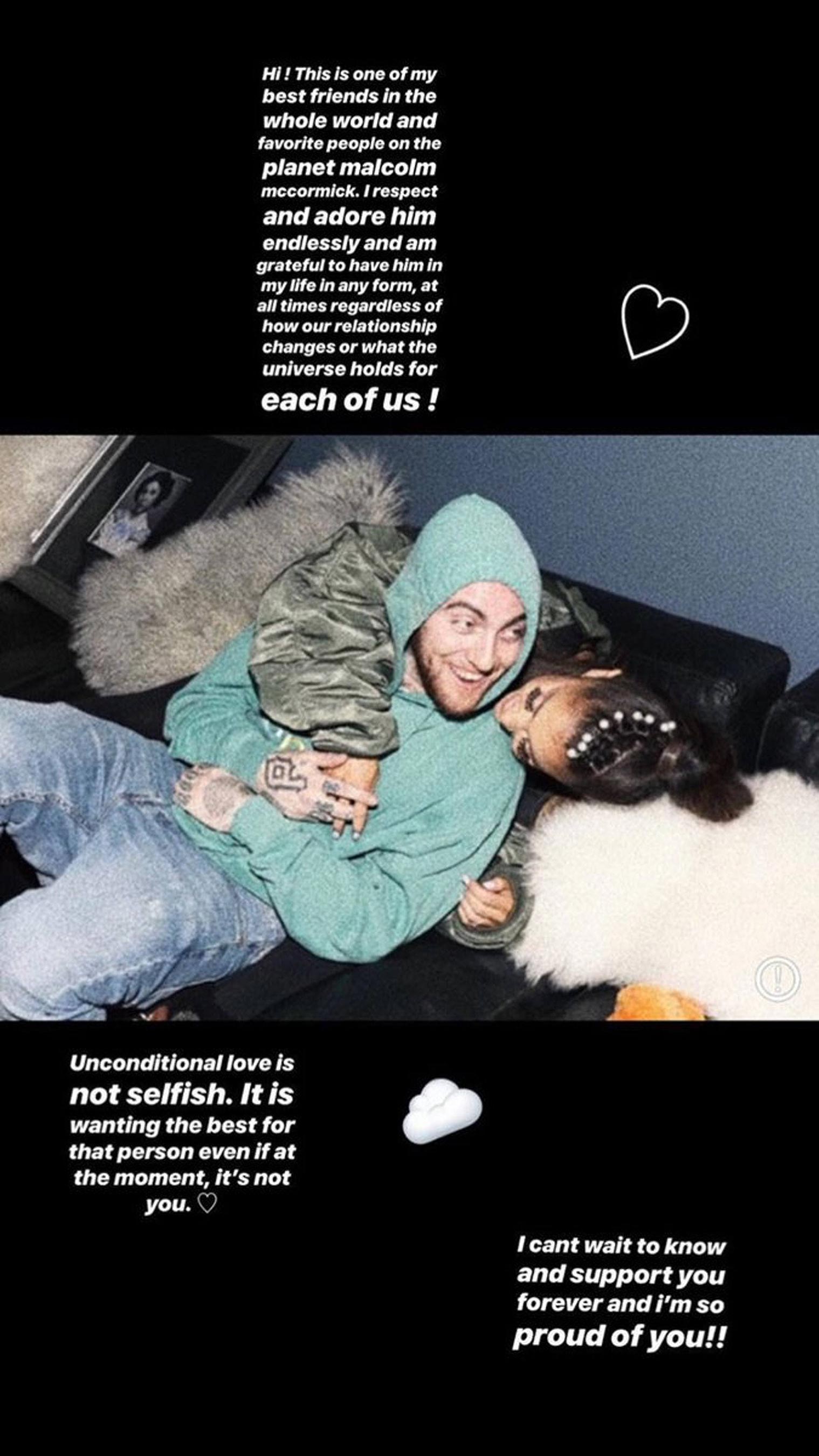 The same month, Miller was charged with DUI regarding a hit and run case When a Twitter user quipped that maybe it was because of Ariana, she shut down the argument saying, "How absurd that you minimize female self-respect and self-worth by saying someone should stay in a toxic relationship because he wrote an album about them, which btw isn't the case (just Cinderella is ab me). I am not a babysitter or a mother and no woman should feel that they need to be. I have cared for him and tried to support his sobriety & prayed for his balance for years (and always will of course) but shaming / blaming women for a man's inability to keep his s— together is a very major problem."
"Let's please stop doing that. of course i didn't share about how hard or scary it was while it was happening but it was. i will continue to pray from the bottom of my heart that he figures it all out and that any other woman in this position does as well," she said.
Miller spoke about Grande in a later interview. He said, "I was in love with somebody. We were together for two years. We worked through good times, bad times, stress and everything else. And then it came to an end and we both moved on. And it's that simple." He also wished only good things for her when speaking about Arian's latest relationship. Ariana had moved on with comedian Pete Davidson and was also engaged by the time. "It's all positive energy. I am happy for her and [the fact that she's] moving forward with her life, just as I'm sure she is with me."
Rapper Mac Miller has died at age 26 of an apparent overdose on Friday.