Ahgases furious as ARMYs use GOT7's Yugyeom to drag Jay Park for posing with Jungkook
GOT7 fans lash out at toxic ARMYs who are bringing in Yugyeom to hate on Jay Park as he met with Jungkook of BTS GOT7 fans lash out at ARMYs who are using Yugyeom to troll Jay Park for meeting Jungkook of BTS (Twitter, @jungkook.97, @yugyeom/Instagram)
The '97 line among K-pop idols can be called one of the most popular inter-group friendships in the industry and it has every reason to be. 1997-born idols include BTS' maknae, Jungkook, GOT7's maknaes Bambam, and Yugyeom, Seventeen's Mingyu, DK and The8 (Minghao) as well as Astro's Cha Eunwoo and NCT's Jaehyun. The group was last heard of when some of the '97 liners were seen eating out in Itaewon, South Korea before the start of the Covid-19 pandemic just as nationwide curfews were slowly starting up.
While not much is known about how close these idols are at present due to their own busy schedules, fans are aware that the group was practically started because of Jungkook and Yugyeom's close friendship. This close bond is something that was talked about a lot after Jungkook was featured in one of Jay Park's photos. Fans are aware that after GOT7 ended their contract with JYP Entertainment, each of the seven members departed to newer labels while not disbanding the boy group. In the case of maknae Yugyeom, he joined rapper Jay Park's label AOMG Entertainment.
READ MORE
Is Jungkook OK? Fans trend #JKhostagesituation in jest after he poses for pic with Jay Park
GOT7 'Yugyeom meets Germany: The Tour': Dates, tickets and all about his first solo concert
BTS fans use GOT7's Yugyeom as Jungkook meets Jay Park
Now as Jungkook was seen with Jay Park, toxic ARMYs who did not support Jay's past actions started trolling the rapper on Twitter. These fans (called Armchairs on Stan Twitter) claimed that Jungkook was at the AOMG studio only to meet his 'bestie' Yugyeom and Jay Park had held the BTS member "hostage" in the ordeal. Not much is known about Jungkook meeting GOT7's Yugyeom on April 20 but fans who saw the post that Jay Park made on Instagram and Twitter started using Yugyeom as a crutch to support the idea that Jungkook would never voluntarily visit Jay Park.
Fans of BTS are furious at Jay for his racist, islamophobic, and homophobic comments in the past, his hate for K-pop idols - particularly BTS - as well as his comments discrediting BTS' hard work over the years. But despite their reasoning behind their hate for Jay, Ahgases are not happy about BTS fans picking up Yugyeom as and when they like. Fans of GOT7 claim that Yugyeom, who has a great relationship with his former CEO and friend Jay Park, is being brought into the drama for the sake of a joke some ARMYs are trying to make.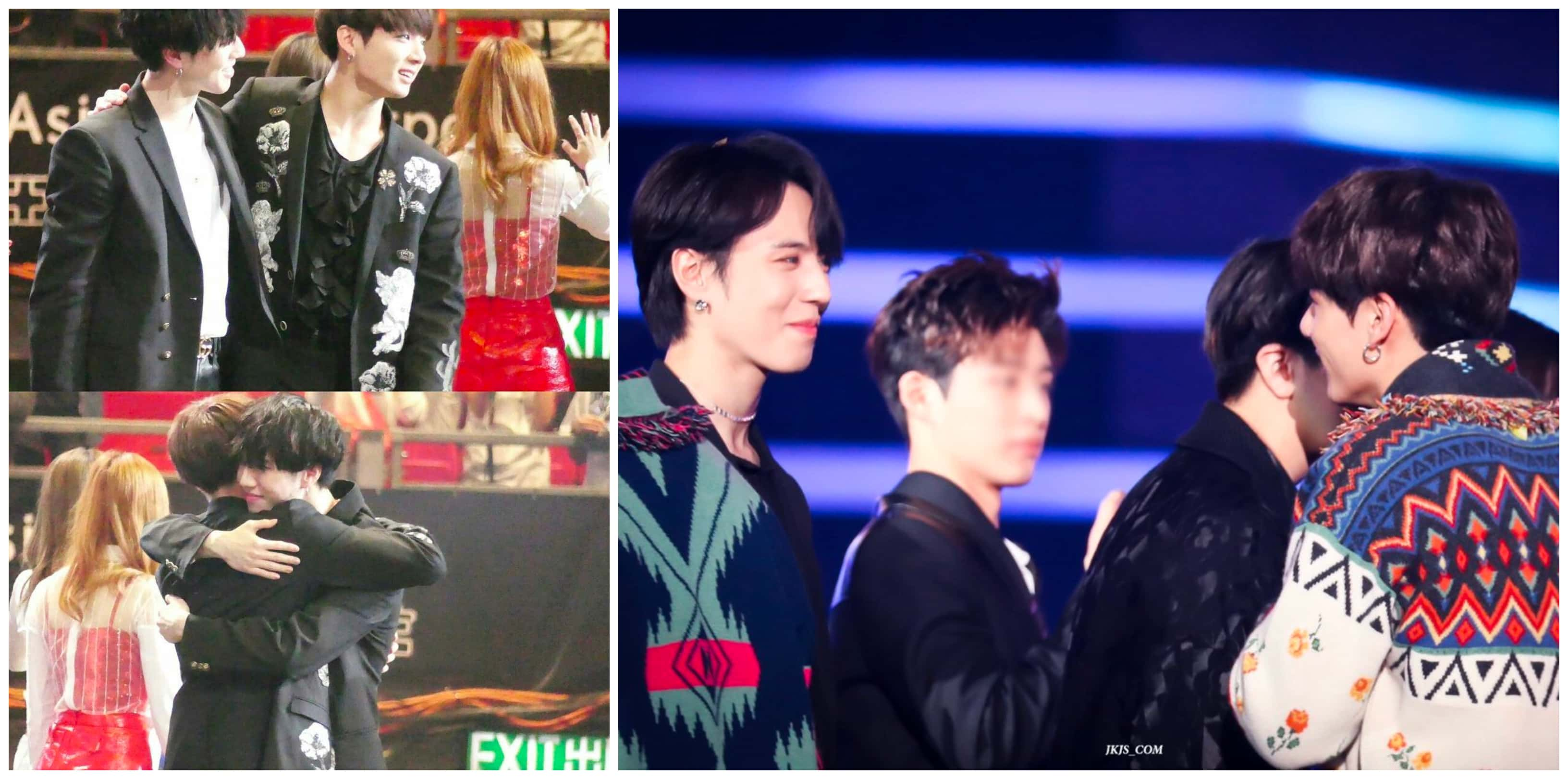 'Keep Yugyeom's name out of y'all's mouths'
This has Ahgases pointing out that there had been many occasions of ARMYs trolling and bringing Yugyeom down due to his friendship with Jungkook. They claim that 'Armchairs' are conveniently using the singer to support their hate for Jay Park. One BTS fan blamed Yugyeom saying, "Jungkook hanging out with jay park is yugyeom's fault," while another responded, "It's probably jungkook fault for taking a picture with someone his fans hate with all their heart. Why yugyeom in the middle?" One fan said, "They dragged yugyeom for coincidentally wearing the same jacket as him & then when yug received a gift from his "friends" on his birthday yeah I didn't forget keep yugyeoms name out of y'all's mouths."
OP also said, "Also didn't forget how y'all X'd yugs face out of that 97 liner dinner calling him u*ly y'all can fuck off now leave my mans alone thanks." One fan added, "And when they joked that yugyeom was actually the one who planned that itaewon trip and they said he must be blamed!!?! fck y'all i will never forget that, he's not even there!!" Another said, "Keep yugyeom out of ur mouths." One fan chimed in, "Exactly this!! They dragged him for everything…cropping him out of group pics, even that meetup they did and HE WASN'T EVEN THERE! No! Stay away from him! We don't want anything to do with your idols so keep our boys away from it!"
---
I'm convinced he actually went to the company building to see yugyeom and then jay asked him for a pic and obviously jungkook is too nice to say no

— kinza 🫠 (@tenIoveIy) April 20, 2022
---
---
Jungkook hanging out with jay park is yugyeom's fault

— madison (@sftorbit) April 19, 2022
---
---
Oh I was just making a joke because jungkook and yugyeom are best friend that's probably how jay park and jungkook got in contact

— madison (@sftorbit) April 20, 2022
---
---
They dragged yugyeom for coincidentally wearing the same jacket as him & then when yug received a gift from his "friends" on his birthday yeah I didn't forget keep yugyeoms name out of y'all's mouths

— Heli (@AhgaseAmongUs) April 19, 2022
---
---
and when they joked that yugyeom was actually the one who planned that itaewon trip and they said he must be blamed!!?! fck y'all i will never forget that, he's not even there!! https://t.co/DPqTImEi80

— mogu (@K00JUNGM0) April 20, 2022
---
---
Exactly this!! They dragged him for everything…cropping him out of group pics, even that meetup they did and HE WASN'T EVEN THERE!

No! Stay away from him! We don't want anything to do with your idols so keep our boys away from it!! https://t.co/RPpI5WNoRQ

— ♪♪ ᕕ( ᐛ )ᕗ ♪♪ (@pabojaebeommie) April 19, 2022
---