'Mommy mode': '90 Day Fiance' star Shaeeda reveals pregnancy plans as Bilal proposes in Tell-All Part 3 NEW YORK CITY, NEW YORK: '90 Day Fiance' couple Shaeeda Sween and Bilal Hazziez will finally be revealing their pregnancy plans in Tell-All Part 3. Bilal will be seen sitting on one knee and proposing to Shaeeda to have a baby together. He gifts Shaeeda a onesie in the most romantic way.
TLC recently dropped a sneak peek of '90 Day Fiance' Season 7 Tell-All Part 3. And, it seems romance and emotions are about to take up the majority of the storyline. Bilal and Shaeeda want to welcome a new phase of their life, parenthood. It's clear that the couple is already planning their pregnancy and eagerly looking forward to it.
RELATED ARTICLES
When will '90 Day Fiance: Happily Ever After?' Season 7 Episode 9 be out? Bilal isn't keen on growing family with Shaeeda
Are '90 Day Fiance' stars Bilal and Shaeeda still together? A glimpse at the couple's 'rocky' relationship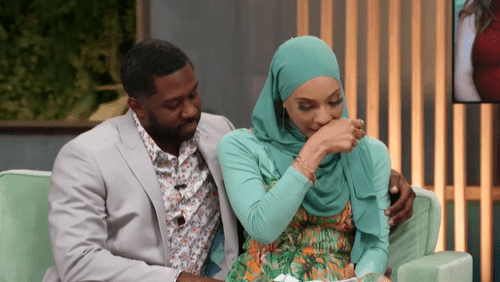 In the upcoming episode, we will see Bilal taking Shaeeda to the center of the sitting area of Tell-All by holding her hands. He then takes out a onesie from his suit and sits down on one knee. As the other cast members react shocked, Bilal asks Shaeeda, "Would you have my baby? Will you want to go half on a baby?" This cute gesture of Bilal's grabbed a lot of cheering and appreciation from other cast members.
Shaeeda shows the onesie to all the other cast members. It has written on it, "If you think I'm cute you should see my mommy." Shaeeda then hugs and says "yes" to Bilal's proposal with tears in her eyes. Shaeeda then turns towards pregnant Libby and says, "I might join you soon." Indeed, hinting that Shaeeda and Bilal are planning a baby together and might announce the news sometime soon.
After the proposal, '90 Day Fiance' Tell-All host Shaun Robinson asks Shaeeda, "Does this change the timeline at all for you." Shaeeda claims, "I think so." When further asked how she feels, Shaeeda claims that she hopes, "to be able to be a mom and not have to wait too long for it." The other cast members cheered her saying, "you will be the best mom." TLC released this sneak peek with the caption, "We're not crying, you are! Shaeeda's in mommy-mode."
'90 Day Fiance' Season 7 Tell-All Part 3 is scheduled to release on January 15, 2023, at 8 pm ET on TLC.
Share this article:
'Mommy mode': '90 Day Fiance' star Shaeeda reveals pregnancy plans as Bilal proposes in Tell-All Part 3