Will there be 3 subunits for BTS 'Proof'? Fans theorize after 'Yet to Come' teaser poster drops
BTS is all set to release 'Proof' and fans are wondering if there will be three subunits for the upcoming new singles ARMYs wonder if the single 'Yet to Come' will be made of a new subunit with Suga and Jin as they analyze members' Instagram profiles (BTS/ibighitmusic.com)
It's never easy for K-pop fans when comeback season nears but when it comes to BTS, ARMYs go the extra mile of analyzing every single teaser that comes from the septet. BTS announced their highly anticipated comeback with their first-ever anthology album, 'Proof' which drops on June 10. In preparation for its release, the boy group also announced their official comeback schedule for 'Proof'. Fans have had their share of doubts about BTS' new comeback being an anthology album.
Retrospective albums are not the norm when it comes to active K-pop groups and is only planned after a group decides to disband or when an artist is trying to relive their glory days with a 'Best of...' compilation album after a long hiatus. Fans of BTS however are sure that the boy group will not disband so soon and even after nine long years in the industry, the members have more stories to tell with their music. Despite the ongoing chatter about BTS' military enlistment, fans have decided to go on what they are calling a BTS LOCKDOWN as they are taking no comments from antis and trolls and putting a lockdown on everything else but BTS' upcoming comeback.
READ MORE
Will BTS disband after their anthology 'Proof'? Fans wonder why it feels like the end
K-pop fans furious as Culture Ministry considers a military exemption for BTS
BTS' announces 'Yet to Come' for their album 'Proof'
Fans were expecting a full-album comeback from BTS this year which is very significant for the boy group as their military enlistment era could start if they are not granted an exemption. On May 7, BTS released the official comeback schedule for 'Proof' as well as the new title track for the lead single from the album. Initially, it was reported that considering that the BTS comeback was an anthology album, the boy group would release old tracks from all their discography. Starting from their very first 2013 single album, '2 Cool 4 Skool' upto their 2021 single, 'Permission to Dance'.
While fans were initially worried that there would be no new music from the boys, BTS reassured fans that they would release three new tracks which will be revealed on May 9, 10, and 11. But to tease fans a bit more, the boy group revealed the title of the lead single from 'Proof'. BTS is all set to drop their anthology album 'Proof' with the lead single, 'Yet to Come'. The upcoming single will be a continuation of BTS' 'The Most Beautiful Moment' series. The cover for 'Yet to Come' was revealed to be a calming blue, which matches the cover of BTS' fourth mini-album, 'The Most Beautiful Moment Part 2' which was released in 2015.
Will BTS 'Proof' have three subunits?
The cover for the upcoming single, 'Yet to Come' resembled one of BTS' older albums from the HYYH (aka Hwa Yang Yeon Hwa) album series titled, 'The Most Beautiful Moment Part 2'. Meanwhile, there are two other albums from the same series titled 'The Most Beautiful Moment Part 1' and The Most Beautiful Moment: Young Forever' which were released in 2015 and 2016 respectively. With BTS being extremely creative with the storylines for their albums over the years, fans have gotten smart at analyzing and theorizing BTS' next move.
The pre-orders for BTS' 'Proof' also revealed that the upcoming album will have three concepts with one being blue, the other being pink and the third being grey. Fans initially co-related the new comeback album with BTS' HYYH trilogy and now, with the announcement of 'Yet to Come', some of the fans' theories are already in place. On top of that, fans now believe that the three new singles from BTS' 'Proof' will be released as three subunits. Fans believe that BTS' personal Instagram profile photos are hints at possible subunits.
Members Jin and Suga have identical blue profile photos while members Jimin and J-Hope have similar profile pink-toned profile photos and finally members RM (Namjoon), Jungkook, and V (Taehyung) have similar grey-tone profile photos. The profile photos of BTS members officially correspond to the concept colors on 'Proof' which is why fans believe that the album will have three subunits for the three singles.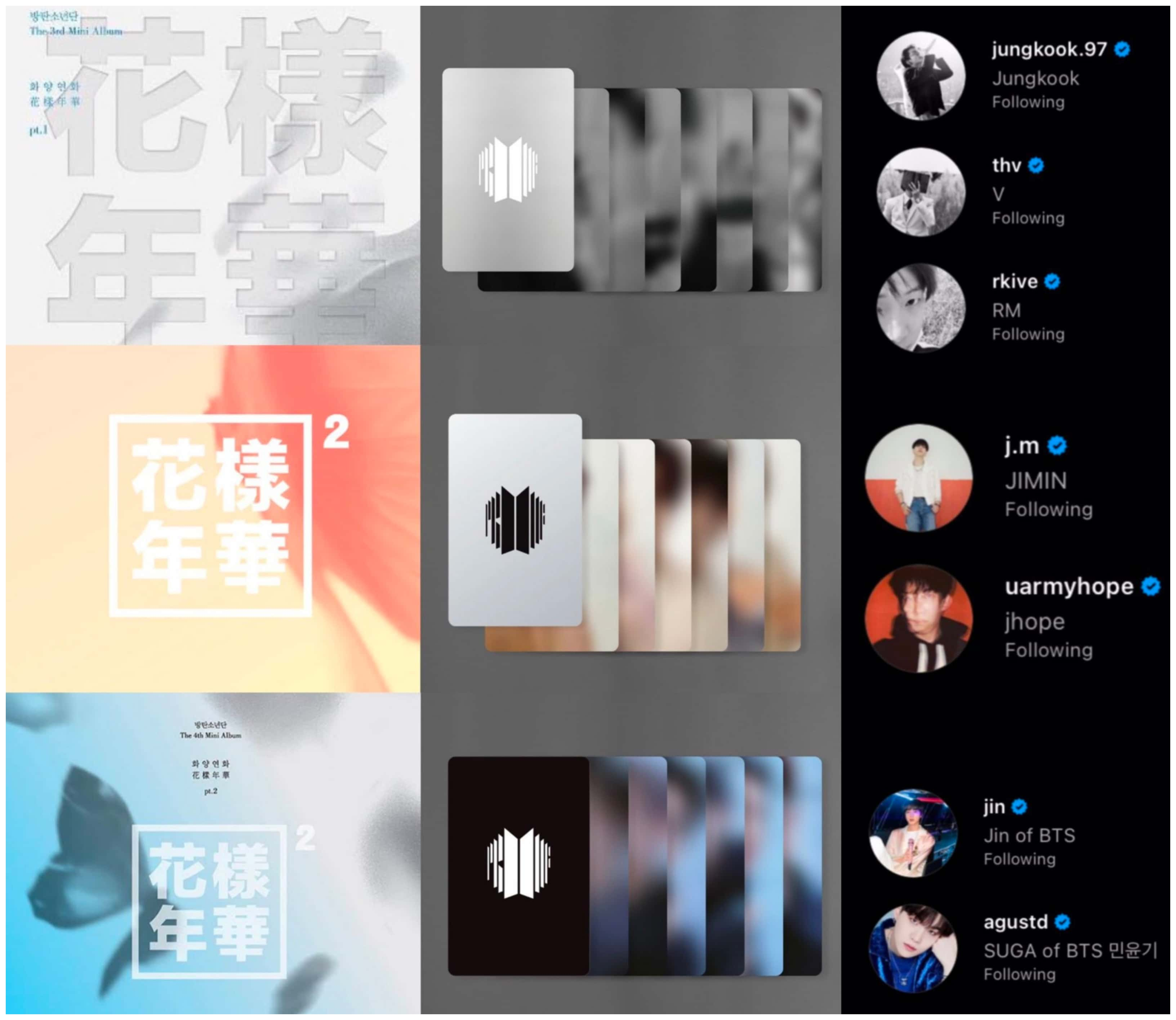 'It might be the end of HYYH era'
One fan said, "SO IT IS REALLY A HINT or what if the three new songs will be the three subunits?? yoonjin, taekookjoon and jihope." Another fan said, "And if this.. the 3 subunits." One more fan said, "Y'all, they carefully planned everything... HYYH." One fan declared, "ITS OFFICIALLY BTS LOCKDOWN Y'ALL." One more fan added, "A little but firm reminder that we are officially in BTS lock down!" Another fan reported, "Don't bother us, we're on a BTS lockdown."
One fan said, "THE BTS LOCKDOWN IS UPON US." One more fan said, "One reason why i did not let hyyh go is bcs bts never changed their soundcloud profile pic from hyyh." One fan said, "It might be the ending of hhyh era." One fan wondered, "If hyyh era is back… are we getting orange jimin and mint yoongi back too?" Another fan said, "Hyyh all this time he was trying to give us hint I'm crying."
---
it might be the ending of hhyh era

— ray⁷ (@_fairyoonie) May 6, 2022
---