Who is Leonna Hale? Pregnant Black woman suspect shot 5 times and then HANDCUFFED by Kansas City police Warning: The article contains graphic content
KANSAS CITY, MISSOURI: A pregnant Black woman was shot as many as five times by Kansas City police as they searched for a stolen vehicle on Friday, May 27. Officers in two vehicles were reportedly following up on a call about an armed carjacking just before 8 pm. They had been given a description of the vehicle and license plate.
At the parking lot of a Family Dollar store at Sixth and Prospect Avenues in Kansas City, the officers reportedly spotted the car with two suspects inside. As they approached it, the male driver fled northeast and two officers pursued him. Meanwhile, the victim, 26-year-old Leonna Hale, allegedly stepped out of the car and told the officers there was a gun inside the vehicle. Not much is known about Hale except that she was pregnant at the time of being shot.
READ MORE
NYC woman CRUSHED between 2 parked cars in front of daughter after hit by stolen truck
Who was Patrick Lyoya? SHOCKING video shows cop kneeling over Black man shoot him in the head
According to authorities, two officers then fired at Hale. She was seriously injured and had to be taken to a local hospital, and is reportedly in a stable condition now. Video taken by a witness, Shé Danja, shows Hale lying on the ground in a pool of blood. More officers arrive on the spot, and one of them handcuffs her as she lies on the ground. The male suspect was also caught and brought to a local hospital for an unrelated medical issue.
The shooting is now under investigation by the Missouri State Highway Patrol. As per protocol, an outside agency must investigate officer-involved shootings. The Daily Mail reported that the two officers involved in the shooting have been placed on administrative leave.
---
A witness named Shédanja says Kansas City police shot a Black pregnant woman five times even though she was unarmed and had her hands up. The victim was identified as 26-year-old Leonna Hale. She was in stable condition on Friday, according to KCTV.

Shédanja recorded this video pic.twitter.com/esOQnCRyB4

— David Edwards (@DavidEdwards) May 30, 2022
---
However, Shé Danja's account of the incident is different. In a Facebook post, she said that Hale initially stepped out of the car and raised her hands to show she did not have a weapon. She then apparently began running, scared as the cops came "towards her with guns in her face". That is when she was shot, the witness said.
"Breaking news KCPD KANSAS CITY MISSOURI shot this woman multiple times in front of me and my kids and put her in handcuffs !!!! When she got out the car she put her hands up and was talking to them to show she didn't have a weapon in her hand!!! She did run 3 steps away when she got scared at them all coming towards her with guns in her face . That's when she was shot that many times ! Keep in mind they chased her BF who jumped out of the vehicle and he was captured unharmed … while she was left there in the street literally still near the vehicle she got out of," Shé Danja wrote on Facebook, sharing the video. "Then told me to leave my kids and vehicle! Literally just happen Family dollar On 7th and Prospect I'm literally in shock the whole video ! I'm a whole medical assistant and it's literally not how you handle a gunshot victim who's pregnant".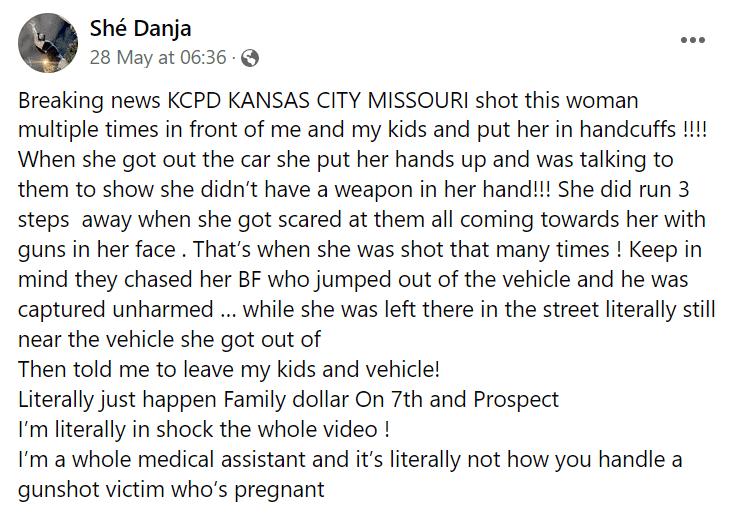 In a similar incident on April 27, shocking body camera footage had captured the moment a White Houston police officer gunned down a Black suspect after a car chase. In the video, Narcotics Officer Shane Privette could be seen getting out of his patrol car after his partner reported that the suspect was running. Privette yelled at the suspect, 29-year-old Jalen Randle: "Let me see your hands". As he spilled out the last word of his command, a gunshot was heard and Randle collapsed. He dropped a bag and a sandal as he fell to the ground. As in Hale's case, the man was handcuffed as he lay face down on the ground.
After the shooting, Randle's family said that he did not get any time to react. "In a matter of seconds, as soon as he got out of the car, he was shot," his father said. "He's never got a chance to even hear commands." He added, "He'll never get to go to his daughter's graduation from pre-school. It's terrible."