Ibram X Kendi: Author under fire for saying White students lie about race to get INTO college
Kendi posted and then later deleted a tweet stating white college applicants pretend to be non-white in an attempt to gain acceptance Kendi is the director of Boston University's Center for Antiracist Research (ibramxk/Instagram)
Controversial anti-racism author Ibram X Kendi posted and then later deleted a tweet that promoted an article stating white college applicants pretend to be non-white in an attempt to gain acceptance. The Boston University professor's critics claimed that the article he shared contradicts his own theories about white supremacy and 'privilege'. Kendi posted the tweet but subsequently deleted it.
Kendi tweeted an article from The Hill. "More than a third of White students lied about their race on college applications, and about half of these applicants lied about being Native American," he tweeted. "More than three-fourths of these students who lied about their race were accepted."
READ MORE
Floyd Mayweather called 'homophobic goblin' for shaming young fan with painted nails
'Karen' neighbors harass Black family over Limo they'd hired for father's funeral
The Hill story cited a survey by Intelligent, as per which 34 percent of white students falsely claimed they were a racial minority, and that 81 percent of those students lied to improve their chances of getting accepted. Some of them reportedly also confessed that they lied to qualify for minority-focused financial aid. Apparently, 48 percent of these students claimed and wrote on their application that they were Native American. While 13 percent said that they were Hispanic, one in ten students claimed they were Black. Nine percent also said they were Asian or Pacific Islander.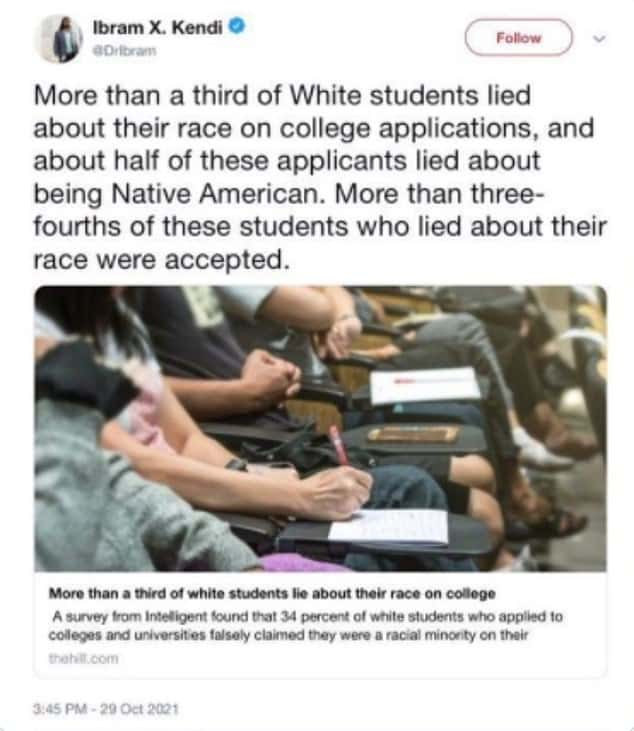 Who is Ibram X Kendi?
Ibram X. Kendi was an assistant professor of history in the department of Africana and Latino Studies within the department of history at State University of New York at Oneontais from 2008 to 2012. He was an assistant professor of Africana Studies in the department of Africana Studies as well as the department of history at University at Albany, SUNY, from 2012 to 2015. He is now the director of Boston University's Center for Antiracist Research, and is also the author of the three bestselling books, one of them being 'How to Be an Antiracist'. The book gained popularity in the wake of George Floyd's murder last year in Minneapolis.
Kendi was named as one of the most influential people in the world by TIME magazine. Born Ibram Henry Rogers, he changed his middle name to Xolani. The word Zolani means 'Peace' in Zulu. He also changed his surname from Rogers to Kendi, which means 'loved one' in Meru, after he got married and chose the new name together.
Kendi expertises in 'anti-racism', which has been mentioned in the same breath as 'critical race theory'. Critics say that this theory is taught to children in an attempt to indoctrinate them about the evils of being White. According to critics, Kendi deleting his tweets points at the fact that he has admitted that his philosophy is false and that the country does not oppress those who are not White.