Matthew McConaughey hailed for 'responsible gun ownership' plea, urges pols to act on gun control Actor Matthew McConaughey moved the audience at a White House press briefing on Tuesday, June 7, as he called for gun reforms in the wake of the Uvalde massacre. In an emotional speech, McConaughey told stories of the children who were gunned down by deranged shooter Salvador Ramos.
A deadly massacre unfolded at Robb Elementary school in Uvalde on May 24 when 18-year-old Salvador Ramos barricaded himself inside a classroom and slaughtered 19 students and two teachers. Police faced sharp criticism for allegedly failing to stop the shooting quickly enough and come to the victims' rescue on time. Ramos was shot dead by an off-duty Customs and Border Protection agent from an elite tactical unit.
READ MORE
Arnulfo Reyes: Injured Uvalde teacher PLAYED DEAD for an hour to survive Salvador Ramos' carnage
Cody Briseno: Uvalde funeral worker saw Salvador Ramos FIRST, feels guilty he couldn't stop him
"Camila and I came here to share my stories from my hometown of Uvalde. I came here to take meetings with elected officials on both sides of the aisle. We came here to speak to them, to speak with them, and to urge them to speak with each other -- to remind and inspire them that the American people will continue to drive forward the mission of keeping our children safe, because it's more than our right to do so, it's our responsibility to do so," McConaughey said. "I'm here today in the hopes of applying what energy, reason, and passion that I have into trying to turn this moment into a reality. Because as I said, this moment is different. We are in a window of opportunity right now that we have not been in before, a window where it seems like real change -- real change can happen."
"Uvalde, Texas, is where I was born. It's where my mom taught kindergarten less than a mile from Robb Elementary. Uvalde is where I learned to master a Daisy BB gun. I took that -- that took two years before I graduated to a 410 shotgun. Uvalde is where I was taught to revere the power and the capability of the tool that we call a gun. Uvalde is where I learned responsible gun ownership," he added.
Matthew McConaughey is a native of Uvalde. He and his wife, Camila Alves, spent most of the past week with the families of the victims of the shooting. At the briefing, he held up pictures of their artwork. He also carried with him the green Converse shoes one girl was wearing when he was killed. She had drawn a heart on one of the shoes.
McConaughey went on to tell the stories of the children who were murdered, and with whose families he spent some time after the tragedy. Speaking of victim Alithia, the daughter of Ryan and Jessica Ramirez, McConaughey said, "Now, Alithia -- her dream was to go to art school in Paris and one day share her art with the world. Ryan and Jessica were eager to share Alithia's art with us, and said if we could share it, then somehow maybe that would make Alithia smile in heaven. They told us that showing someone else Alithia's art would in some way keep her alive." Flashing an artwork, he said, "Now, this particular drawing is a -- is a self-portrait of Alithia drawing, with her friend in heaven looking down on her drawing the very same picture. Her mother said, of this drawing -- she said, "You know, we never really talked to her about heaven before, but somehow she knew.""
"We also met Ana and Dani- -- Danilo, the mom and the stepdad of nine-year-old Maite Rodriguez," he continued. "Maite wore green high-top Converse with a heart she had hand-drawn on the right toe because they represented her love of nature. Camila has got these shoes. Can you show these shoes, please? Wore these every day. Green Converse with a heart on the right toe. These are the same green Converse on her feet that turned out to be the only clear evidence that could identify her after the shooting. How about that?"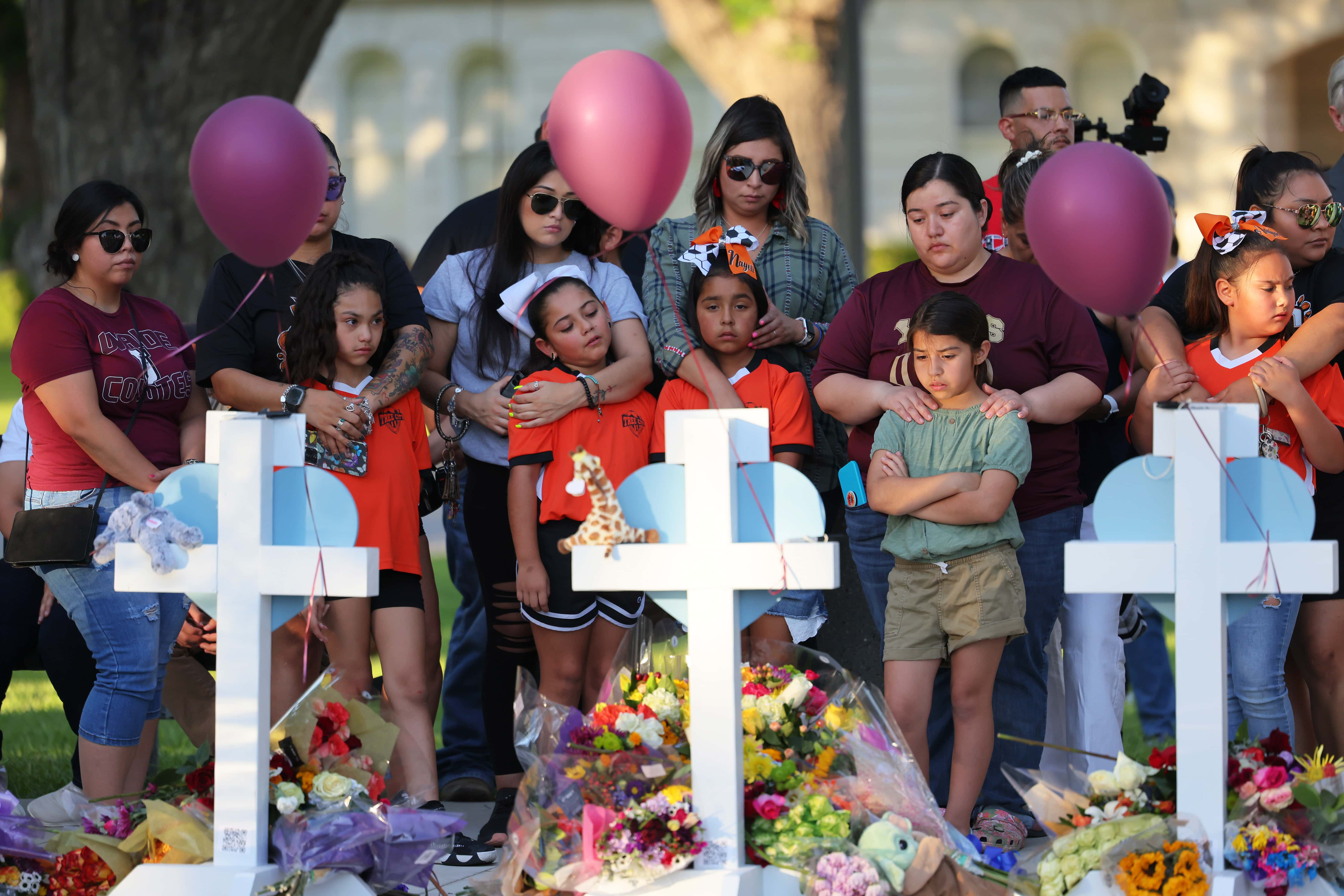 After narrating stories of other victims, McConaughey said, "Enough with the counterpunching. Enough of the invalidation of the other side. Let's come to the common table that represents the American people. Find a middle ground, the place where most of us Americans live anyway, especially on this issue." He added, "We can't truly be leaders if we're only living for reelection. Let's be knowledgeable and wise, and act on what we truly believe. Again, we got to look in the mirror, lead with humility, and acknowledge the values that are inherent to but also above politics. We've got to make choices, make stands, embrace new ideas, and preserve the traditions that can create true -- true progress for the next generation."