Unruly couple refuses to exit Frontier Airlines over unpaid baggage fee, forces ALL pax to deplane LOS ANGELES, CALIFORNIA: It's not everyday that an in-flight experience becomes very uncomfortable and inconvenient to the point of it being rude but a recent incident on a Frontier Airlines plane was just that! One couple had run into the plane with no boarding passes and had managed to evade and scream at the crew members who tried to stop them.
New York Post reported that they refused to get off the plane when asked to do so and the whole incident ended with every passenger aboard the flight having to get off of it to aid law enforcement in dealing with the situation.The video of the incident has been posted on Instagram, where one of the two people who were causing the disruption were heard saying, "We're tired!" One of the co-passengers revealed that the couple had intended to avoid extra baggage fee and that's probably why they dashed onto the plane amid a rush of Thanksgiving flyers and then refused to leave.
READ MORE
Angry woman WITH DOG kicked off plane after she hurled bottle at co-flyer and abused flight attendants
Internet horrified as woman explains how back of her head 'exploded' while she was mid-air on a flight
It is unclear where the flight was headed to, or where the flight was departing from. The crew members can be heard saying, "You guys need to come out or we're gonna have to deplane the entire plane." One of the two people who had slipped into the plane said "We're tired! We've been flying for 20 motherf*****g hours with our money. You don't know what the f**k we've been through." She goes on to say, "We paid for our ticket just like y'all. We paid just like y'all. I'm not getting off the plane."
With the couple causing a nuisance on the flight, all the passengers were then requested to get off to allow the authorities to deal with the situation. Many of the flyers can be seen visibly upset about their flight being delayed and inconvenienced, with them all coming together to ask the pair to get off the plane to avoid them all from being asked to deboard. A passenger had spoken to the media about the incident too and she said, "This couple bolted through and skipped bag measures and boarding pass scanning. Refused to get off the plane. Cops came on after we deplaned and escorted them off… They went on the no fly list."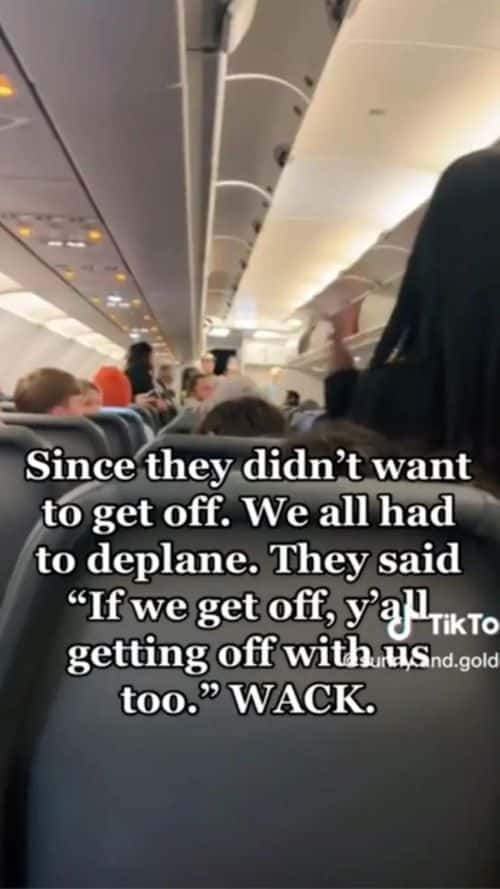 Another TikTok user had also posted footage from the bizarre flight experience saying, "Since they didn't want to get off. We all had to deplane. They said 'If we get off, y'all getting off with us too. WACK.'"
Share this article:
Unruly couple refuses to exit Frontier Airlines over unpaid baggage fee, forces ALL pax to deplane