Who is Jake Schriger? Idaho victim Madison Mogen's BF devastated, mom says 'his world turned upside down'
'Her and Jake were like peanut butter and jelly,' said mom of Jake Schriger, whose girlfriend Madison Mogen, 21, was one among the four students brutally killed on November 13 POST HALLS, IDAHO: The boyfriend of one of the four murdered University of Idaho students is having a hard time coping with the loss. He is left devastated ahead of the holiday weekend the young lovers were due to spend together. Jake Schriger's mother, Stacy Schriger, said that his "world has been turned upside down" after his girlfriend Madison Mogen, 21, was brutally murdered with a knife in a random act of violence on the night of November 13.
Schriger said to the NY Post that she had been looking forward to seeing Mogen next week, and added, "Her and Jake were like peanut butter and jelly. We were expecting her for Thanksgiving." Schriger said that Mogen was like part of her family, "Whenever we talked on the phone, she always said I love you."
READ MORE
University of Idaho MASSACRE: 2 other roommates who were home during carnage called 911 NINE HOURS later
Man in 'all-black' carried out a 'knife attack' at University of Idaho weeks before quadruple murder
Schriger described the deceased college student as "the most beautiful person, inside and out." "She was motivated and made things look easy. She was a beautiful young lady. All of the young adults involved in this were amazing young people," she added.
Four University of Idaho students were discovered dead in an off-campus accommodation on Sunday, November 13. Mogen's roommate Kaylee Goncalves, 21, and their friends Ethan Chapin and Xana Kernodle, both 20, also died in the quadruple stabbing. Authorities initially said that they thought the attack was "targeted" and that the neighborhood was not immediately in danger, but they later changed their stance. The county sheriff, state police, and FBI are currently involved in the hunt.
Additionally, it has been established that two housemates, Bethany Funke and Dylan Martensen, were upstairs when the murders took place. However, police have stated that neither is currently a suspect, and the remaining friends have been assisting in the investigation. A neighbor, Heather Tetwiler, 22, claimed that neither she nor her boyfriend Dakota Sparks saw anything unusual the night of the murder. "The group of students would have small parties, but they were usually quiet by 10 pm. For us it was shock. We wondered if we had just turned our heads and looked, could we have helped?" she said. Sparks, 21, added, "I didn't go to bed until two or three and I didn't hear anything."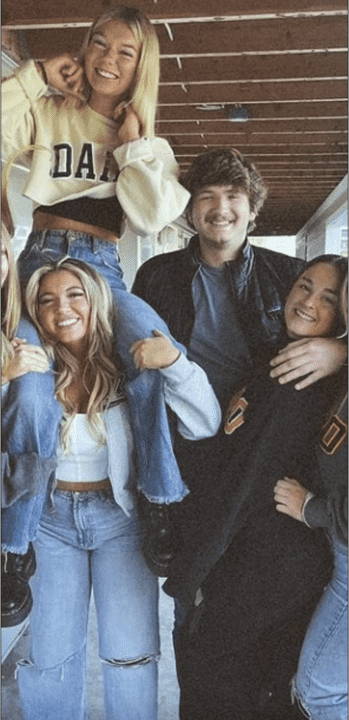 The news has also left Scott Greene, the school's president, and his wife inconsolable. He said in a statement, "Words cannot adequately describe the light these students brought to this world or ease the depth of suffering we feel at their passing under these tragic circumstances. No one feels that loss more than their families and friends. The university is working directly with those affected and is committed to supporting all students, families and employees as this event undeniably touches all of us." Additionally, he said that he is requesting that all teachers "be empathetic, flexible and to work with our students who desire to return home to spend time with their families." "We do not know the investigation timeline, but we will continue to communicate to campus as we learn more."
Share this article:
Who is Jake Schriger? Idaho victim Madison Mogen's BF devastated, mom says 'his world turned upside down'