'True Story' Ending Explained: Kid's extreme attempts to protect his fame cost him dearly Spoilers for 'True Story'
When you work really hard for all your successes and accomplishments, it's understandable that you'd want to protect it. But how far can one go to protect it? This is the question that pops up in our minds while watching Netflix's latest mini-series 'True Story'. Featuring Kevin Hart as world-famous comedian Kid and Wesley Snipes as his good-for-nothing older brother, Carlton, the Netflix series keeps you engaged with its well-paced seven episodes.
Kid is an extremely successful celebrity who is shown enjoying the fruits of his labor. In the opening scene, we see that his film is about to hit billion dollars box-office record, and he is certainly at the peak of his career. Kid decides to tour the country to promote his standup comedy as well, and during his tour stop in his hometown Philadelphia, his world turns upside down when he crosses paths with Carlton. Although the series bears some resemblance to Kevin's real-life (successful comedian, Philadelphia hometown, and even troubled relationship with his older brother), that's where the similarities and the reality is blurred. While Kid is shown as an extremely successful celebrity, his brother Carlton is portrayed as the unsuccessful one. Despite trying his luck at several business ventures, unfortunately, lady luck doesn't seem to be smiling at Carlton, which leads to him piggybacking on his younger brother's successes.
RELATED ARTICLES
Wesley Snipes gets jail for tax evasion while Trump 'paid just $750 a year', Internet says 'shame on you IRS'
Is Kevin Hart canceled for 'slut-shaming' daughter? Comedian says he only called out her 'hoe-like activity'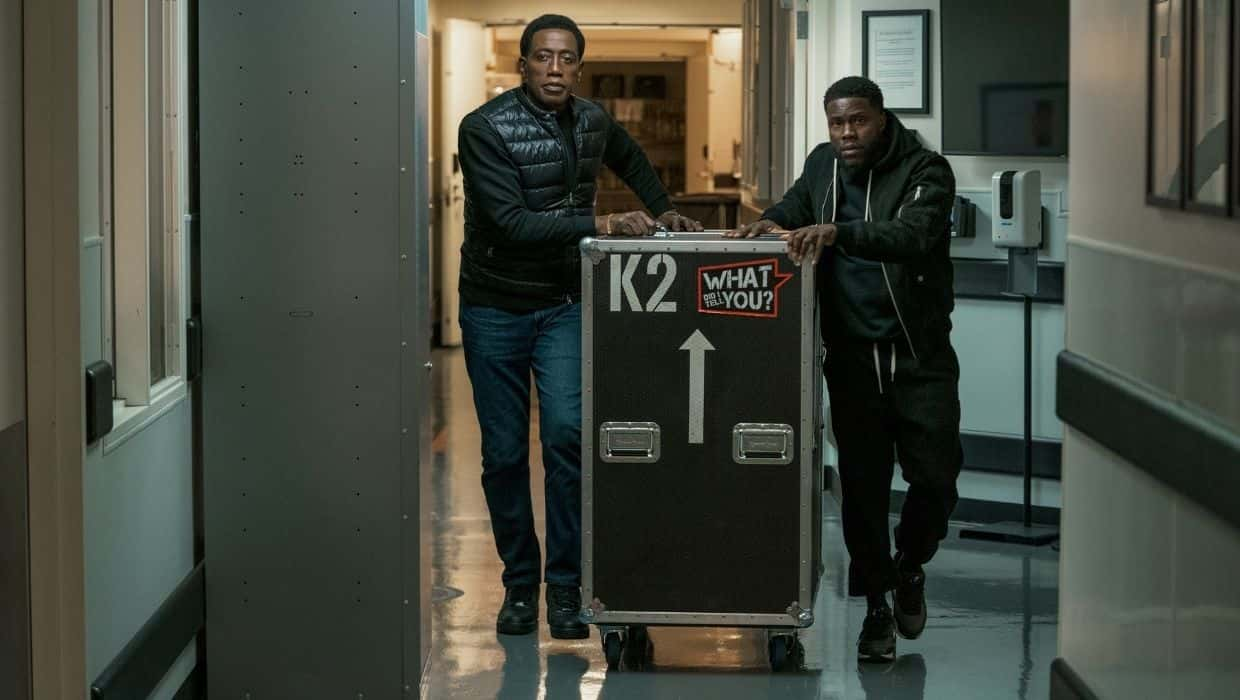 Kid and Carlton try really hard to put their differences aside and enjoy each others' company. For Carlton, this means throwing a wild party to celebrate his younger brother. Although Kid tells Carlton that he can't drink as he has been six months sober, his older brother pressurizes him into drinking. The next thing we know, Kid is woken up in the middle of the night by his brother. Carlton points out that the girl Kid brought back to his hotel room died of a drug overdose. Kid gets extremely worked up and immediately begins to wonder what his fans will think of him, what his young son might think of him, and also how his career and everything he has worked really hard for will just go down the drain. Carlton steps in and tries to help out Kid by saying that he'll handle the whole situation to make sure Kid's reputation and career remain squeaky clean.
Carlton ropes in a Greek mob boss named Ari (Billy Zane) to help dispose of the body. Things get messy when Ari demands Kid to pay $6 million in exchange for his services. Kid initially agrees, but once the body is disposed of, he changes his mind. In a shocking turn of events, Kid strangles Ari and kills him as he didn't want to pay up the hush money. Kid then asks Carlton to dispose of Ari's body. Ari's mysterious disappearance put his brothers, John Ales and Chris Diamantopoulos, looking for the person behind it. Calton and Kid go to great lengths trying to cover up their tracks after they dispose of Ari's body.
Unfortunately for them, one of Kid's die-hard fans- Gene (Thoe Rossi) captures the duo disposing off the body on his camera. This once again brings the brothers back to square one trying to cover their tracks. But this time around, they approach the situation differently. While Carlton wants Gene dead to wipe out any future risks, Kid wants to do it in a nice way by persuading Gene to delete the video and not kill anybody else.
Although Kid's method works out and Gene deletes the video clip, Carlton still gets Gene killed. Despite being upset over Gene's passing, Kid accepts the fact that maybe it was in everybody's best interests to get rid of Gene. The brothers get drunk to honor Gene, and later that night Kid discovers something very shocking about his brother. He realizes that his brother set him up from the beginning and that the girl in his bed didn't die but was very much alive. Kid is further taken aback when he learns that Carlton was the mastermind behind the entire operation.
The series ends with Kid shooting his brother and Ari's brothers. He manages to get out scot-free by accusing Ari's brothers of killing his brother and everybody dying in a gunfight. Kid points out how his brother always said he needed to be protected from the world, but as it turned out the person who Kid needed the most protection from was his brother all along. The series concludes with Kid giving an emotional interview about his brother's death and how he survived extortion. His career continues to thrive and the Hollywood and fans love him more than ever due to his personal tragedy.
'True Story' is available for streaming on Netflix.
Share this article:
true story netflix mini series thriller ending explained kevin hart kid wesley snipes carlton kill