Trisha Paytas slams Nikita Dragun for being 'friends with 3 admitted pedophiles' in vicious Twitter battle
'Trisha haven't u done enough to the Trans community? there's no need to downplay mine or any Trans woman's accomplishments. happy #TransDayOfVisibility' Nikita Dragun had tweeted Nikita Dragun and Trisha Paytas are involved in a petty Twitter battle (Getty Images)
If Twitter battles are your thing, you're missing a good one. It would seem that YouTuber and singer Trisha Kay Paytas (@trishapaytas) and YouTuber and make-up artist, Nikita Dragun (@NikitaDragun) are having quite a vicious Twitter battle. The duo has been tweeting, subtweeting, name-calling and getting riled up with each other for over two hours now. Meanwhile, there have also been fans that are retweeting the insults the duo is making. The insults went from ones that you wouldn't be shocked to hear all the way up to 'pedophiles' and even transphobia discussions.
Paytas retweeted an article by Def Noodles (@defnoodles) on March 28 that read "CLAP BACK: Nikita Dragun says "cancel me as many times as u want... my show is still running." This as the second season of her reality show premieres on SnapChat." She said "On Snapchat [laughing emoji]". Now, it's hard to say if this is where it started, but the beef definitely began getting heated from here.
RELATED ARTICLES
Is David Dobrik's 'afraid' of Trisha Paytas? YouTuber slammed for turning off comments in apology video
Who is Nikita Dragun? Here's why Internet is slamming YouTuber for controversial race tweet: 'Stop blackfishing'
Dragun replied to that tweet recenty writing, "30 million viewers and a billboard on sunset... but anyways let me go back to filming my Netflix show [Cat face with tears of joy emoji]" She also added, "Trisha haven't u done enough to the Trans community? there's no need to downplay mine or any Trans woman's accomplishments. happy #TransDayOfVisibility @trishapaytas."
Things took a significant turn when Paytas decided to tweet back. She replied to Dragun's last tweet more than once saying many different things. "Has nothing to do with you being trans sweetie. U r sick af to even bring that into it. Ur just a disgusting human who stays defending pedophiles and spreading covid. U trying to drag a whole community into your ugly piece of hell u live in .... is gross. Setting back so much," Paytas wrote in one tweet. Another read, "How bout wear a mask ? U r a trash human during this whole pandemic - Ur makeup ain't that cute."
While it seemed that Dragun didn't have as much to say as Paytas, the latter kept tweeting more on Dragun's "Trisha haven't u dont enough..." tweet. "Nikita loves her pedophiles. Trash supporting trash pt 2," tweeted Paytas with two screenshots of google search with Dragun and the Lopez brothers and James Charles. Dragun tweeted writing, "Where did i talk shit? i love trisha. she had my back when u were still worrying if i photoshopped my ass or not. i was simply stated that downplaying a Trans persons accomplishments on #TransDayOfVisibility is harmful to my community," she replied to a user. To this Paytas replied, "U using ur being trans as an excuse for why ppl despise u makes u trash. Ur just a shit human. No one cares about anything else except for the fact that u have the most destructive behavior and still support pedophiles in 2021. U r trash."
Answering to another user Dragun tweeted, "Downplaying or mocking the success of a Trans woman is incredibly toxic for the community. countless women, men, and nonconforming ppl have paved the way for someone like me. so a small win like a show on Snapchat, that's watched by millions, is huge. this isn't about me." To this Patays went all out writing, "Sis thinks everyone is downplaying her "success" cause she's trans. No, ur cocky as hell attitude is being checked for putting ppl in danger , pandemic, and ur minor fans. U bragging about a Snapchat show thinking ur thriving is laughable. Ur a huge problem in society."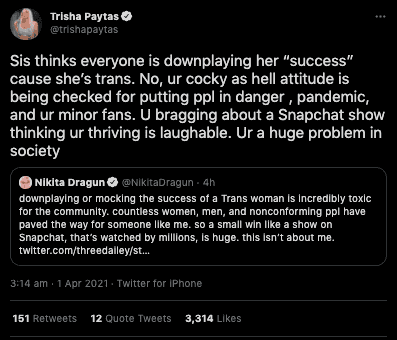 Things took a vicious turn when Paytas slammed Dragun for being 'friends with 3 admitted pedophiles'. Her series of tweets read, "Nikita trying so hard to stay relevant she hangs out with 18 year olds but old af. She creepy as hell. And delusional as shit thinking 30 mil ppl watch her Snapchat show. Also anyone who uses their gender as a mask for why ppl hate them is setting back the movement." She added, "She's actually so dumb and trying so hard I can't. Ah poor girl. Never had a name of her own. Just the ultimate leech. Nikita ur getting a little too old for that, let's try having a personality and heart." Lastly she added, "Nikita dragun:: pays a model to hang out with her then publicly shames him he doesn't want to date her. Nikita dragun: friends with 3 admitted pedophiles. Nikita dragun: never seen once with a mask the whole pandemic Nikita dragun: setting back trans equality by weaponizing."
Dragun's last tweet on the matter read, "Trans people have been pushed to the side since the dawn of time. Never getting acknowledged or rewarded for the impact we have had on society as a whole. We are here and we have always been here. Human to the core. This is not a choice! #TransDayOfVisibility." Paytas added, "Im not even trying to cancel Nikita dragon because,by the tweets, I think she's the only person online more hated than me. at this point I just feel sad.She needs to humble herself/reflect on why so many people have distaste for her SPOILER it has ZERO to do w her gender identity."