Thousands flee to escape California's severe weather, one dead, child missing in 'parade of cyclones' MONTECITO, CALIFORNIA: Californians are yet again facing the brunt of severe weather conditions as they enter into another challenging week. As per official reports, one person has lost his life, and a child is missing, while tens of thousands of utility customers remain without power on Tuesday morning, January 10.
In what is being called a 'parade of cyclones', moderate to heavy rains are expected to continue all through Tuesday. It is due to a fresh low-pressure system over the state, where a series of rescue operations kicked off on Monday, January 9, itself. Many homes were flooded, streets turned into rivers and cars were swamped and submerged. The person who died due to bad weather was reported to be a resident of Avila Beach, which is almost 180 miles north of Los Angeles. The mishap took place when a vehicle drowned in water, said Anita Konopa, an official with the San Luis Obispo County Office of Emergency Services, to NBC News.
READ MORE
Viral videos show 'monster' tornadoes devastating Texas and Oklahoma
Who was Brian Crick? District judge among 80 killed in tornadoes that ravaged Kentucky

Scott Jalbert, an agency official, also informed that a child is missing after being swept away when floodwaters crashed into a vehicle in the northern section of the county, near Paso Robles. The search operation for the child was called off because of the severe weather conditions, a spokesperson for the San Luis Obispo County Sheriff's Office informed. For now, there's no clarity on when the rescue operation will resume.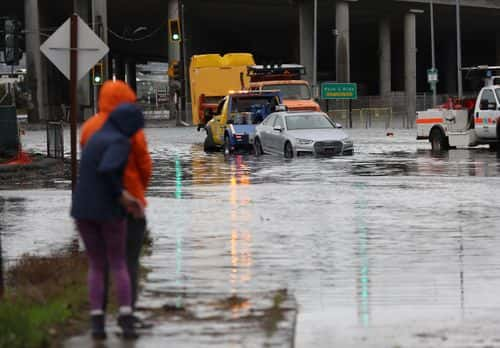 Montecito, which is home to many well-known personalities, including Prince Harry and his wife, Meghan Markle, issued an official warning to evacuate on Monday, January 9. The order was issued because Santa Barbara County Sheriff Bill Brown said on Monday afternoon that "based on the continuing high rate of rainfall," there was "no indication" that the situation is going to change before nightfall.
"The endless onslaught of potent systems with atmospheric rivers of moisture continue to inundate California," said the National Weather Service. The weather forced the Santa Barbara Airport to close, the airport revealed through a tweet on Monday, January 9. It read, "The Santa Barbara Airport is currently CLOSED due to flooding. All commercial flights are cancelled until further notice, and the terminal is closed. For the latest local alerts, visit http://readysbc.org. For info about specific flights, please contact your airline directly." The weather service in the state is predicting an 'enormous cyclone' will hit the state on Wednesday, January 11, "When all is said and done, precipitation totals over the next few days will be in the 3-7 inch range through the Transverse Range of southern California, northward along the central to northern California coast ranges and through the Sierra."