'The Handmaid's Tale' Season 4 Episode 7: After meeting Serena, will June alienate her friends and Luke? 'The Handmaid's Tale' Season 4 Episode 7 begins with June (Elizabeth Moss) stepping into a country that is so different from Gilead. She is in Canada where she is free, but that is far from how she is feeling. She feels trapped in the memories of the past, and it is an intense pain that she felt when she had to give up on her friend Janine (Madeline Brewer) and her daughter Hannah. So it is going to be much harder for June to give up on seeking vengeance.
While the others — Emily (Alexis Bledel), Moira (Samira Wiley), and Rita (Amanda Brugel) — have found ways to adjust to their life in Canada, June is still not ready to move past what happened to her and forgiveness is not something that she is ready to hand out anytime soon either. She does attempt to do her best, be it in inviting her friends over, or in visiting a supermarket, but over all of this, she is haunted by what happened to her Gilead.
RELATED ARTICLES
'The Handmaid's Tale' Season 4 Episode 5: Is Janine dead? After blast in the end, June meets a shocked Moira
'The Handmaid's Tale' Season 4 Episode 6: Will Luke forgive June for returning without Hannah to Canada?
She sees the handmaids everywhere, experiences panic attack but hides it all from Luke (OT Fagbenle) and Moira. She revels in the anger that she feels, and when she learns that Serena is in Canada too, June decides that the best possible way to move on would be to see Fred Waterford (Joseph Fiennes) and Serena Joy Waterford (Yvonne Strahovski) punished. If she were to appear as a witness against the Waterfords, the charges against him could be confirmed and he would be brought to trial.
The meeting between Serena and June is intense, heartbreaking, and at the same time dark. It is the moment that we believe June has stepped into the shoes of the monsters that she had been fighting all along. When June refuses to forgive Serena, she does so with hatred spilling out of her eyes. When June tells Serena that the reason God made her pregnant was to ensure that she would feel "a fraction of" what June and others felt when their kids were taken away from their arms, it is clear that June will not give up on exacting revenge.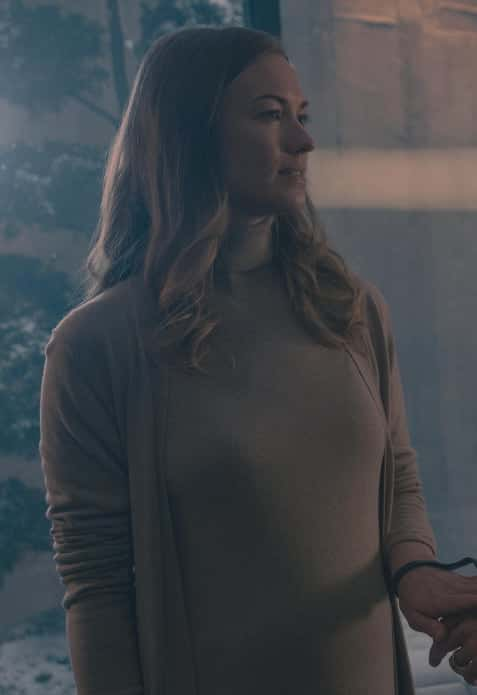 Also, the reason why we think June has stepped into the shoes of the same monsters she is fighting, is a moment that alludes to June's transformation. It is when June comes back home to Luke after having met Serena and there is a lot of hatred that is still left in her. She decides to bury it all in Luke and forces herself on her. Shockingly enough, when he attempts to get her to stop, to tell her to slow down, she doesn't just speed up but also covers his mouth to ensure that she doesn't hear his voice. It is unnerving to watching this unfold and so we wonder, will June alienate her friends in Canada and Luke in the process of exacting revenge?
'The Handmaid's Tale' Season 4 streams on Hulu on Wednesdays.
Share this article:
the handmaids tale season 4 episode 7 after meeting serena june alienate luke friends