'Shark Tank' Season 14: Mark Cuban calls Cabinet Health's company plan 'BS', gets schooled by co-founders LOS ANGELES, CALIFORNIA: Cabinet Health made an appearance on 'Shark Tank' on January 13, 2023. They informed Sharks of a genuine problem in the pharmaceutical sector and pitched their cabinet glass container as a remedy. Despite impressing a few investors with their sustainable strategy, not all were convinced especially Shark Mark Cuban who didn't seem a fan of the business model. Finally, Sharks Kevin O'Leary and Tony Xu jumped in to give them a royalty deal.
Close friends Russ Gong and Achal Patel observed how the market and pharmacy aisles are crowded with billions of single-use plastic prescription bottles, with a vision for a brighter future that includes less plastic waste in the seas and landfills. Given their experience in the healthcare field, the two friends became entrepreneurs and launched Cabinet Health with the intention of replacing such bottles with environmentally friendly solutions. They presented their pitch on 'Shark Tank' Season 14, Episode 11 to grow their firm.
READ MORE
'Fake pitch': 'Shark Tank' slammed after guest shark Tony Xu recognizes Wildwonder founder from school
'Shark Tank' Season 14: Metric Mate turns down hungry shark Kevin O'Leary's offer to join as 4th partner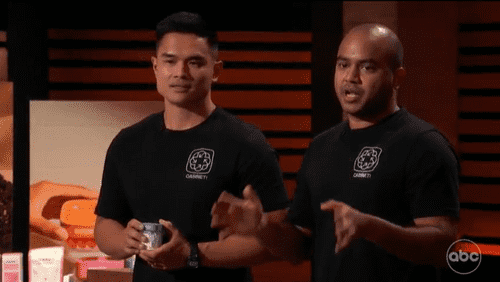 Cabinet Health entered the Tank with a $500k investment for a 2.5% stake. A starter kit from Cabinet Health costs between $10 and $20. When clients buy glass bottles, they get them only once, and the company generates a 60-80% product margin on them. They presently have 700,000 clients. They provide superior value, and clients can save money on refills in the long run. When asked about their high valuation, Achal stated that they expect $14 million in sales this year (2022). They are now profitable on a unit basis, but they are actively spending on R&D. Their net profit was -20% this year, but they expect to break even in the third quarter of next year (2023). They are spending $2.5 million on research and development. Mark was quick to label these statistics 'BS', but the founders swiftly corrected him when they emphasized that each of their products must be FDA-approved.
Shark Barbara Corcoran believes this is the type of business where she will have to wait long to receive her money back, so she retracts. Cabinet Health predicts that during the next 12 months, sales of $25 million will provide a -10% net profit, with a break-even point in October 2023. When they stated that they had also secured $13 million from multiple investors, most Sharks, particularly Mark, were put off. Their most recent valuation was $81 million, implying that they were providing a better deal to the Sharks. Mark, while appreciating the sustainability approach, professes to be having difficulty putting his brain around their business and hence backs out.
Kevin, who was taken in by the sustainability strategy, was hesitant about whether he could invest at such a high value. Kevin offers them $500k in exchange for a 12.5% interest. Tony loves the packaging and the fact that they are operating in a highly recurring business field. He adds that he believes in sustainability in general, but he is willing to pay $500k for 10% of the company. He believes Cabinet Health may benefit from Tony's assistance with operations and ramping up. Tony and Kevin are welcomed by Cabinet Health to reach an agreement with Shark Lori Greiner. When Lori refuses their offer, Achal makes a fresh one for Tony and Kevin. He offers $500k in exchange for a 7% share and a 2% royalty till the $500k is paid. Kevin and Tony's counter offer is $500k each for a 7% interest and a 2% royalty until the first million dollars is paid. Cabinet Health accepts!
'Shark Tank' Season 14 airs every Friday at 8/7c on ABC. Missed an episode? Been wanting to catch up? Episodes can also be viewed the next day on demand and on Hulu. Not just that, you can also watch old seasons and episodes on Amazon Prime Video and iTunes.
Share this article:
'Shark Tank' Season 14: Mark Cuban calls Cabinet Health's company plan 'BS', gets schooled by co-founders