'My 600-lb Life': Where is Shannon Lowery now? Here are all signs that prove she is getting weight loss surgery The Wednesday night, March 3 episode of 'My 600-lb Life' titled 'Shannon's Journey' is being branded as one of the most frustrating episodes from the season. Discovery Plus allows users to catch the episodes of this show hours in advance than its television premiere and fans who have caught up with the 85-minute-long episode have taken to Reddit and they don't have a lot of nice things to say about it. First things first, Shannon Lowery from Tuscon Arizona's weight loss journey was chronicled in the episode and at the end of it, she was way too far from her goal weight and Dr. Now didn't qualify her for surgery. He sent her off asking her to keep working towards losing more pounds and maybe if she did lose enough, he would consider approving her for surgery.
Most of the episodes from this season have ended with the patient's not getting the surgery at the end of the dragged-out episodes leaving audiences frustrated and Redditors have been complaining that this episode too turned out to be the same. Even though the recent episode established that Shannon didn't get the surgery, her Facebook account hints that she is about to do so, sooner than expected. More about that in a bit, but before that a quick summary of what went down during the 14-month long weight loss program that she enrolled for with Dr Nowzaradan.
RELATED ARTICLES
'My 600-lb Life': What happened to Shannon Lowery? Inside tragedies that led Arizona woman, 39, to weigh 750 lbs
'My 600-lb Life': Where is Isaac Martinez now? Here's how much weight he lost after Dr Now approved his surgery
Shannon Lowery's efforts to drop weight
After her first weigh-in at Dr Now's clinic, Shannon weighed 748 pounds. She had to stay at the hospital because her body was strained from all the travel and during the two and a half weeks she was at the hospital, Shannon was down by 70 pounds. Upon discharge, she was asked to lose 150 pounds in the next two months however, she couldn't return for her second appointment due to the coronavirus restrictions. But somewhere around September, she did make that 17-hour road journey from Tuscon to Houston once again to meet with the bariatric specialist but she was big to a point where she couldn't fit on the weighing scale.
Shannon had not lost any weight in those months, instead, she had gained back the 70 pounds she had lost and then some. Dr Now warned her to not return to the clinic next time if she hadn't lost enough weight because it was a waste of resources and Shannon was enduring unnecessary stress for nothing. Shannon had left the clinic this time with a renewed determination at losing weight and kept pushing herself to workout and do everything else in her capacity to do so. She even joined the gym and enrolled with a personal trainer for help. Shannon had put in the work and this time she did manage to fit on the scale but unfortunately, she still weighed 698 pounds and Dr Now didn't clear her for surgery.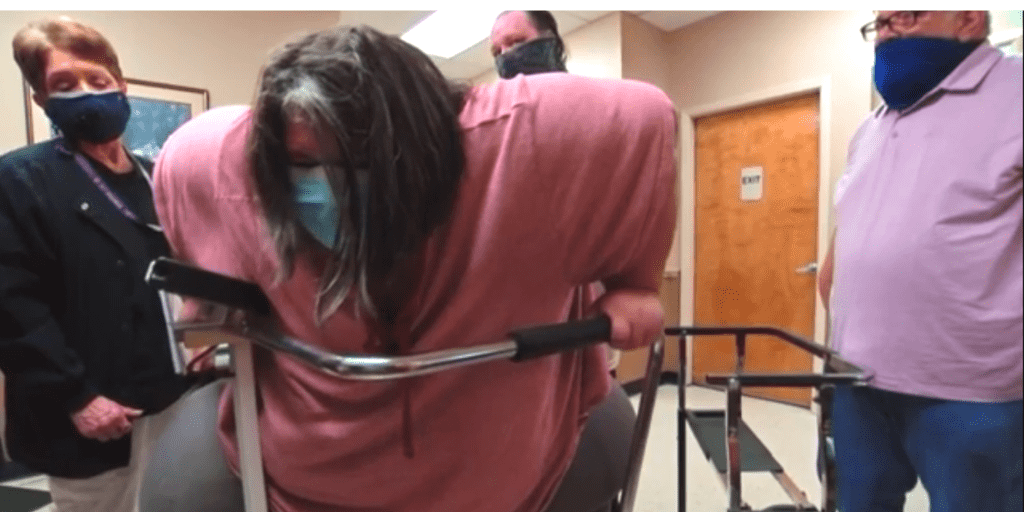 How much weight has Shannon Lowery lost since appearing on the show?
People who appear on 'My 600-lb Life' generally keep their profiles locked or wipe it clean but Shannon has done no such thing and she's using her account to update her loved ones and friends about her weight loss journey. Shannon has continued to work out with her trainer who she likes a lot and has stuck to a low-calorie diet and even though it's not a lot of weight that she's lost, she's holding herself accountable by posting pictures of her progress from time to time. "This is for my records to keep track and see progress from my workouts. If you can't say something nice don't say it at all thanks," she wrote in the caption of one of her posts. Check out some of the pictures below and head to her account to see the rest.
Did Shannon Lowery get the weight loss surgery?
Shannon Lowery's posts on Facebook hint that she is actively working towards losing the weight required to get surgery. On one of her posts, she had asked her friends about Supplemental Security Income in Texas. "Can anyone tell me how much you get for SSI in texas? I need to know it's important cuz I have to start trying to plan a move," she wrote on 19th February. In the final minutes of the episode, Shannon was heard saying that she plans to move to Texas with her husband Simon and was already in the process of narrowing down accommodations.
Judging by her regular updates regarding her 400 calorie meals and seeking help from her friends regarding her move to Texas on her page, it's not wrong to assume that Shannon is very close to making her goal weight and soon enough she will be sharing her post-surgery transformation on her page if everything goes the way it's been for the past couple of months.
Catch new episodes of 'My 600-lb Life' Wednesdays at 8 pm ET on TLC.