'Shadowhunters' Clary Fray is a ray of hope for anyone niggled by self-doubt and struggling to fit in
Despite being a prodigy of sort, Clary falters, but then she gets back on track with an undefeatable attitude about herself, and that's what makes her so worthy of admiration.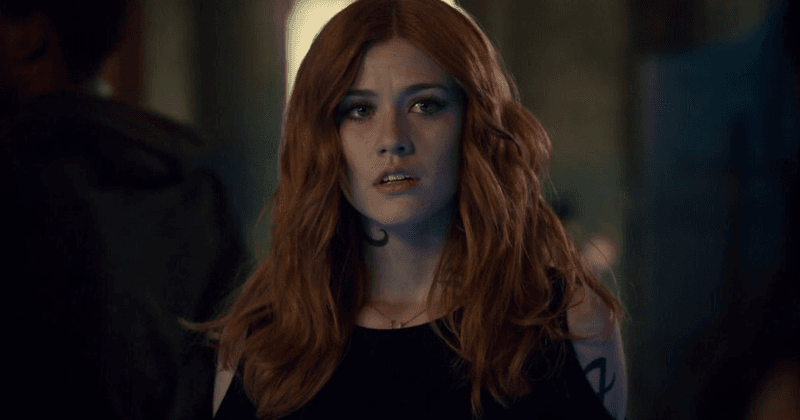 It is one thing to be born under the influence and guidance of a community that has been tasked with the responsibility of making the world a better place to live in. It is completely another thing to be introduced to the world out of the blue - without a single forewarning - and be expected to execute your duties to the planet, especially when it involves fighting supernatural creatures.
This is where Clary Fray (Katherine McNamara) from the highly popular Freeform fantasy series 'Shadowhunters' steps in and becomes a ray of hope for anyone riddled with self-doubt and is struggling to fit in, in what has been deemed as their calling.
Over the last three years, we have seen her grow, evolve, and transform into a powerful, kick-ass demon slayer on the show and it only goes further to prove that no goal is unachievable once you're fully devoted to it. 
Despite having been the protagonist of the show, Clary was introduced to the idea of the supernaturally charged titular Shadowhunters much like we viewers were. While she was born in the shadow world to a woman shadowhunter herself - it is also to be noted that at an early age -  Clary's memories were also blocked and wiped after she had almost gotten attacked by a demon.  Clary didn't even remember who her real father was. Granted that must have ensured a pretty secure childhood for her, the peace and calm of it all didn't last long.
Now we know what makes a layered protagonist of a strong story is a traumatic past, but Clary's induction into a Shadowhunter's life, doesn't make her appear a victim in any manner.
It all goes down on her 18th birthday when she comes face to face with people of the shadow world and reveals it to her mother.
What follows is that the Circle - or the community of said Shadowhunters - arrive at their home and this causes Clary's mother to send her through a portal, out of harm's way.
It's true, Clary just seems like a prop people are toying with - tampering her memories and bolstering her through portals - but she doesn't accept her fate and stay hidden. Clary comes back to find her mother missing, and even gets attacked by a demon at the same time, yet somehow her story was meant to grow because her character signifies that essence of hope and belonging right from the start.
Even with her memories blocked and facing the loss of the only parental figure she had known, Clary - aided by chance and fate - finds her way to the New York Institute of Shadowhunters and thus her journey begins.
The best aspect of Clary's progression as a character on the show is how she never once falters from her task. She doesn't wait around lamenting the traumatic incidents that befell her in the recent past, even as she recuperates from the demon attack in the Shadowhunters institute.
Sure she is rescued by Jace (Dominic Sherwood) just in time and he acts as the first initiation of her into the shadow world, but she doesn't wait around cursing her blocked memories from achieving her goal. At this point she has found out about her half angel, and Nephilim traits, and driven by the mission of finding her mother, she even goes with the rest of the Shadowhunters to the City of Bones, where they believe her memories could be retrieved.
At this point, it also becomes clear that Clary is the binding force keeping the new age Shadowhunters together. Granted, Jace and the Lightwood siblings - Alec (Matthew Daddario) and Isabelle (Emeraude Toubia) were friends at the institute since childhood, but Clary introduces to them her childhood friend, Simon Lewis (Alberto Rosende) who eventually ends up turning into a shadowhunter. It is also Clary who reveals that Magnus Bane (Harry Shum Jr.) was the one who had wiped her memories - thus taking the gang to the High Warlock of Brooklyn, and the two joining forces. 
After everything, it might seem like Clary's graph on the series based on Cassandra Clare's bestselling novel, 'The Mortal Instruments', has soared ever since she found out about her supernatural abilities, but it's not without a fair share of doubts stemming from the others in her circle.
With Alec blaming Clary for all the troubles she seems to have dragged in with her presence, Clary sort of starts reeling in self-doubt and loses her sense of belonging. Even when she was kidnapped and taken to the antagonistic Valentine's ship, Clary managed to fight through the forces keeping her caged and even aided her and Jace's escape once the latter had arrived there to rescue the two.
Even after Clary was able to rescue her mother - the one person she had been willingly fighting all these external and internal wars for - Clary's true potential and ability to be a shadowhunter won her desperate need to live with her mother. Clary does consider moving away from the Institute to be reunited with her for a brief time but eventually refuses, with the reason that she wanted to stick around and learn to be a better shadowhunter. 
Things, however, had just started getting murkier and preparing her for darker times ahead. With a new demon infiltrating the ranks, Alec was possessed and that led to him killing Clary's mother. This left a devastating effect on the young girl.
But true to her character, she avenges her mother's death and vanquishes the demon, and more drama unfolds. Driven with the vendetta and desperate to bring her mother back from the dead, Clary signs a blood oath with the warlock, Iris Rouse.
And this is a turning point because she was able to fight off the demon set to infiltrate her, as a price for the blood oath. This is also where Clary realizes her powers of being able to create new runes to benefit her agenda.
So this petite red haired girl with a closeted nature does turn out to be pretty badass at the end of the day. From rescuing her mother, the Mortal Cup, and even herself and the love of her life, Jace, to being the binding force between her friends - Clary sort of emerges as the voice of dedicated reason.
She's a talented artist and a skilled fighter. Armed with Nephilim philosophy, heavenly weapons, and angel blood coursing through her veins, one would assume that Clary is a prodigy of sorts. But she falters, and she gets back on track with an undefeatable attitude about herself, and that's what makes her so worthy of admiration.
Disclaimer : The views expressed in this article belong to the writer and are not necessarily shared by MEAWW.