'SCOOB!': New trailer introduces the famous five, crossover characters and villain, eager fans want more "Well gang, it looks like we've got another mystery on our hands!" The nostalgia is strong, with this one.
The famous five of Mystery Inc. have a new avatar in the upcoming computer-animated adventure-comedy film 'SCOOB!', which is slated to open in theatres globally on May 15. Warner Bros have released its final trailer and "Zoinks", does it look good.
'SCOOB!' seems to be a rather delightful Scooby-verse reboot. Through a series of flashbacks, the gang's story is retold — how each of them met and got together to form Crystal Cove's famed mystery-solving, ghost-busting Mystery Inc. It is also a trip back in time to when Shaggy first met Scooby-Doo.
The film is an earnest attempt at a Hanna-Barbera Productions cinematic crossover. In that, it features some of HB's other beloved characters, including both heroes and villains.
The trailer for the film shows Scooby and Shaggy joined at the hip as always. The inseparable duo unexpectedly gets beamed up to the Falcon Fury's ship and is recruited to help the superheroes solve a mystery.
Meanwhile, Fred, Daphne and Velma go into panic mode when they learn about the disappearance of Scooby and Shaggy. They work together to find them and aid the others in solving the mystery.
Scooby, Shaggy, Daphne, Fred, Velma, Blue Falcon, Dog Wonder, Dee Dee Sykes and Captain Caveman come together in the new 'SCOOB!' to capture the notorious Dick Dastardly. Dastardly's evil plans include unleashing the devilish dog ghost Cereberus, to cause a "Dogpocalypse" and Scooby and his friends are on a mission to stop him.
Jinkies! We sure can't wait to crack Mystery Inc.'s new case.
The cast for 'SCOOB!' comprises Frank Welker (Scooby), Will Forte (Shaggy), Amanda Seyfried (Daphne), Zac Efron (Fred) and Gina Rodrigues (Velma). Mark Wahlberg and Ken Jeong voice Blue Falcon and Dynomutt respectively.
Tracy Morgan and Kiersey Clemons are Captain Caveman and Dee Dee Sykes. Jason Isaacs is Dick Dastardly. The film reportedly includes cameos from SYCO's Simon Cowell and American radio personality, Ira Glass. Welker is a Scooby-Doo veteran, having voiced Scooby as well as Shaggy since 2002.
Blue Falcon and Dynomutt, HB's version of 'Batman and Robin', play crucial roles in the film. Originally from HB's 1976 animated series, 'Dynomutt, Dog Wonder', Blue Falcon is a millionaire art dealer turned masked-vigilante and Dog Wonder is his robotic dog.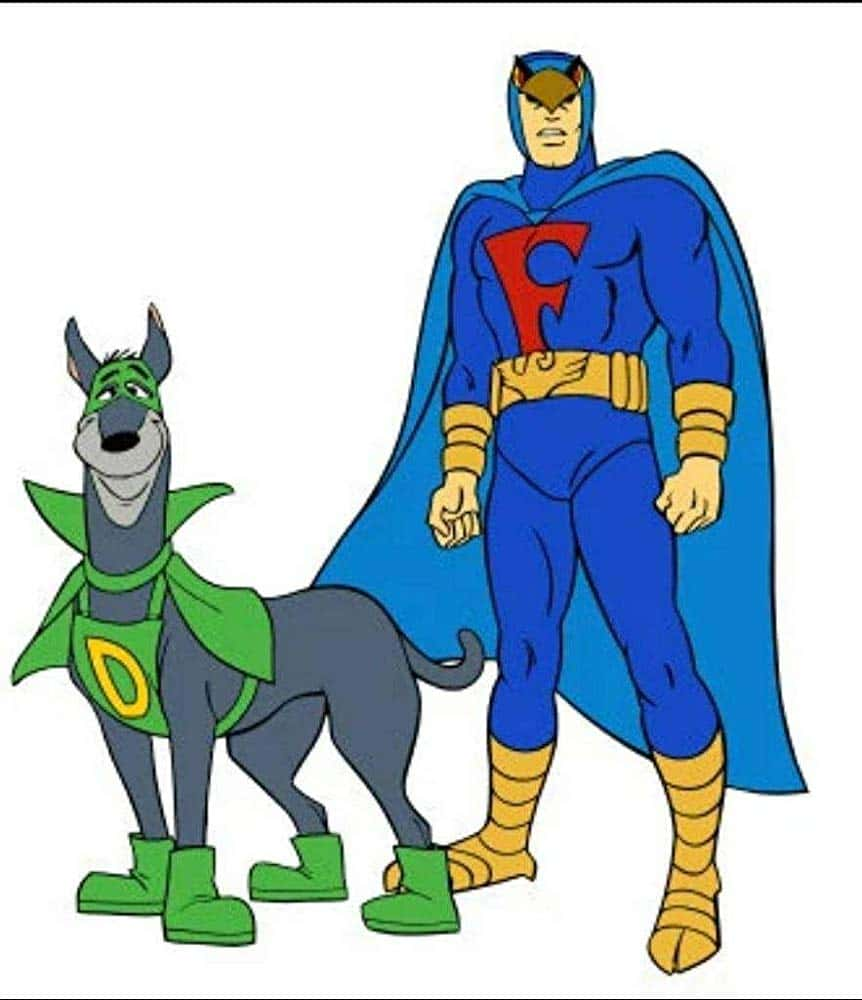 Captain Caveman and Dee Dee Sykes from another HB production, 'Captain Caveman and the Teen Angels' (1977) are also a part of the film.
The original series is a parody of famed crime drama, 'Charlie's Angels'. Dee-Dee is a mystery-solving expert, who with the two other angels, turned a prehistoric caveman into a modern super-sleuth.
The common link between the two is that both the animated shows featured crossovers with the characters from the original Scooby-Doo (1969) series.
Dick Dastardly is the perpetually infamous antagonist that has appeared across several HB animated productions. He headlines 'Wacky Races' (1968) and 'Dastardly and Muttley in Their Flying Machines' (1969).
Scooby-doo fans' excitement has been sky-high since the trailer dropped. Twitter has been flooded with unconditional love and support for the animated show that defined the childhood of umpteen number of people, yet some have perplexing reactions to the reboot.
Some have expressed how their favorite character's new voices sound a bit too uncanny. The well-established voices have sounded the same for over 50 years now and so the change seems to have put them off. "Looks pretty good, but I need to get used to their voices! #SCOOB," said one fan.
Another fan thinks that the new avatar works well with Scooby-Doo's original storyline: "I appreciate how Scoob makes the characters look younger. Every other incarnation I felt like they looked more like mid-20-somethings. Here they actually look like teenagers," the fan shared.
Many are thrilled to see their other favorite HB characters making a long-awaited comeback. "I'm a little embarrassed by how excited I was to learn that @scoob features the Blue Falcon and Dyno-Mutt", another fan quipped.
Dick Dastardly is a beloved character as well. It looks like this fan is in it for the villain. "So dick dastardly is going to be in the new scooby doo movie... I may have to watch it", they added.
But here's the part that's a major blow. We'd always assumed that Scooby's real name was 'Scoobert-Doo' and that 'Scooby's Snacks' were in fact, named after the Great Dane. But the reboot is setting things straight for us, and this fan finds it to be a hard pill to swallow:
"If I got one nitpick with the upcoming Scoob movie, it's the retcon that Scooby's named after the snacks, not the other way around. I honestly like the casual weirdness of Shaggy eating dog food", they tweeted.
Jeepers! It sure looks like we won't be getting away with it, thanks to those meddling kids and their mangy mutt.
Catch 'Scoob!' in theatres on May 15.