YSL's Fall/Winter 2020 Menswear Collection oozes masculinity in effeminate silk satins, jackets and bold tones Saint Laurent has embodied in its Parisian clothing empire, a perpetual sense of femininity and confidence since it was established, as portrayed in many of its eminent collections. This season, however, curator Anthony Vaccarello, who took over the reins of the fashion house in 2016, went to town by incorporating some really scintillating styles and blending them with rock motives and hippie silhouettes.
Invoking the '80s nightlife as his inspiration, Vaccarello has stuck to the essence of Saint Laurent with its classic body-hugging intricacy and tailoring and enhanced the designs with luxurious jewel tones, enticing detailing, and latex. Lots of it. The Fall/Winter 2020 Menswear collection, in particular, oozes the bad boy vibe, with leather and latex making up most of the apparel.
The collection boasts some of the best designs by YSL, ranging from exquisite winter coats and jackets, mostly-double breasted, characterized by gilded buttons and crafted from fine materials like cashmere and silk-satin. There is also plenty of velvet and latex to go around. Abandoning his mostly black go-to, Vaccarello embraces a quintessential YSL palette sporting bold patterns like the leopard print and sensuous shades like red and Fuschia.
In addition to the terrific jackets featuring corduroy, flannels, and leather designs, the YSL staple silk satin blouses in fine print and accompanied by charming pussy-bows or ascots also form the core of the collection. The designer's collection also features high-rise pants and form-fitting latex trousers, both that would seamlessly complement the oversized, sharp blazers. Lest we forget the shoes, the YSL trademark Chelsea boots, classic sneakers embellished with the house's branding, and the sophisticated Derbies in polished leather. The Winter Fall collection displays a perfect ensemble of clothing for the season, with matching contrasting colors, large fur coats, and warm woolen turtle-necks exuding the masculinity of a YSL man.
Here are our five favorites from Saint Laurent's new season. Shop the Fall/Winter '20 Menswear collection here.
Spotted lavallière-neck shirt in silk satin
Manifesting the YSL man in all his glory, the gorgeous short lavallière-neck shirt adds a perfect touch of sophistication to your winter wardrobe. Pair it with a warm tan coat, and you're ready to strut down the streets like it is your personal runway. The shirt comes with concealed buttons featuring lavallière-necktie with pointed ends. Made from 100 percent silk, the shirt has a straight shoulder cut and side slits, along with one-button cuffs.
Tailored coat in Sablé wool felt
The gorgeous tan single-breasted, two-button tailor coat sports a notched lapel and is the perfect warm fall accompaniment for your clothing. It comes with padded shoulders and four-button cuffs. The coat features two jetted pockets with flaps on the front, two inner jetted pockets and a welt breast pocket. Made from 100 percent wool, the jacket embodies fall in its design and color, making it a decisive addition to your winter wardrobe.
Pleated pants in shadow striped velvet
These high-waisted cigarette trousers sport a single pleat and slant pockets. But what makes it stand out as an elegant and coveted piece of winter fashion is its velvety texture.
Marceau Derbies in woven patent and smooth leather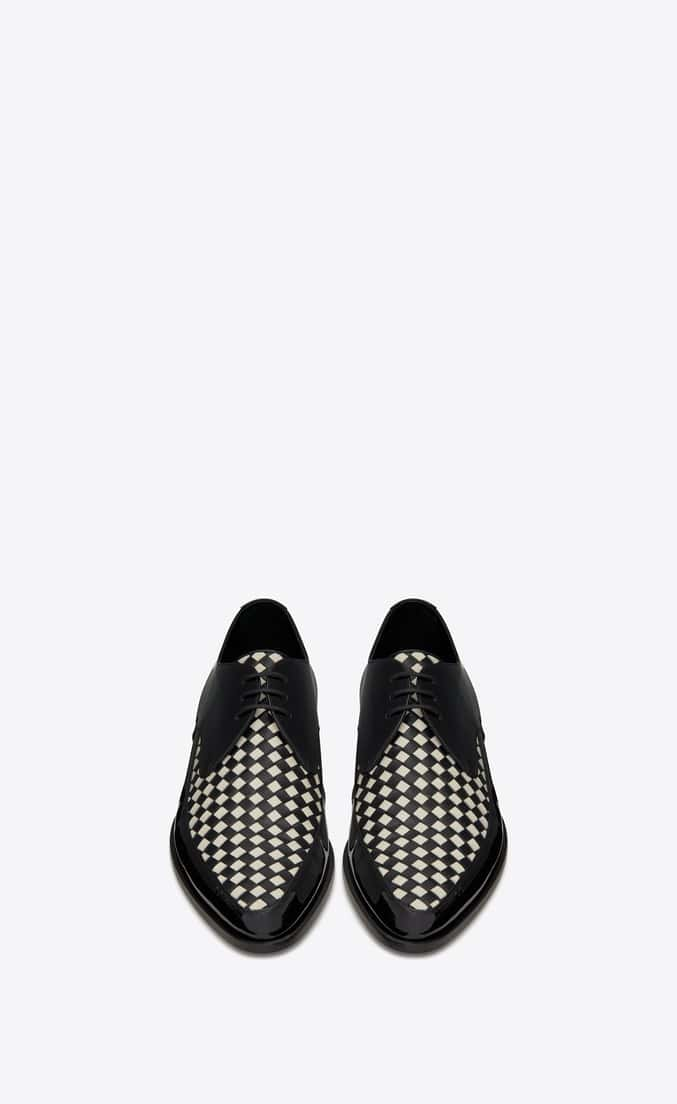 One of Saint Laurent's most sought after footwear, these laced derbies come in a two-tone woven pattern. Sporting a leather moc-toe construction, a pointed toe and stacked heel its is made from calfskin leather and is a perfect addition to any professional or sem-professional outfit ensemble.
Small ascot tie in silk satin
Saint Laurent never falls short when it comes to accessorizing. An outfit is incomplete without accessories and this simple yet gorgeous ascot tie with wide pointed ends is bound to enhance a formal or semi-casual outfit. Made from 100 percent silk, it is satiny soft and a perfect addition to a silk-satin blouse or shirt.
Share this article:
saint laurent fall winter 20 menswear collection masculinity effiminate silk satin jacket bold tones