Who is Paul Farthing? Ex-marine vows not to leave Afghanistan without his animal rescue staff A Royal Marine veteran has made an impassioned plea to the British government to help the local staff at his animal sanctuary in Afghanistan leave the war-torn country.
Paul "Pen" Farthing has vowed to not leave his workers behind to "suffer a fate" that the West had forced upon them. He launched a charity, Nowzad, which is urging ministers to "do the right thing" by flying 71 people to the UK from Afghanistan after the Taliban seized the capital city of Kabul. The British Foreign Office said it was in contact with Farthing to offer help, the BBC reported.

READ MORE
From comparing himself to NIXON and opposing Osama assassination, Biden's Afghan farce unravels
Is Taliban 2.0 any different? 'Horrifying reasons' Afghan women are terrified of group's return
Who is Paul Farthing?
Farthing set up his charity almost 15 years ago to promote animal welfare in the country and thereby rescue stray dogs and abused donkeys. Despite his clinic having trained the country's first fully qualified female veterinarians, he now fears for their futures.
"I don't think there are words to describe what they are feeling right now," he told the BBC News, from Kabul. "What do you say to someone who is probably going to be told they will have to marry a Taliban fighter and end up living at home, never being allowed to leave and just raising children with someone they absolutely detest?"
Farthing, who originally served as a commando with the Royal Marines in the Afghan province of Helmand in the mid-2000s, said the West "should hang our heads in shame for what we have just done to this country. We gave people hope, aspirations, dreams for the future. In a matter of weeks, we have just ripped them from them."
The veteran expressed anger towards both Britain and America for abandoning innocent Afghan civilians to the "medieval" regime of the Taliban. "Boris Johnson should be absolutely ashamed of what we have done. He should have pressured the Americans to do an orderly withdrawal," Farthing told the Daily Mail. "I have a British passport and I can leave. But none of my Afghan team or the ordinary Afghan people can do that."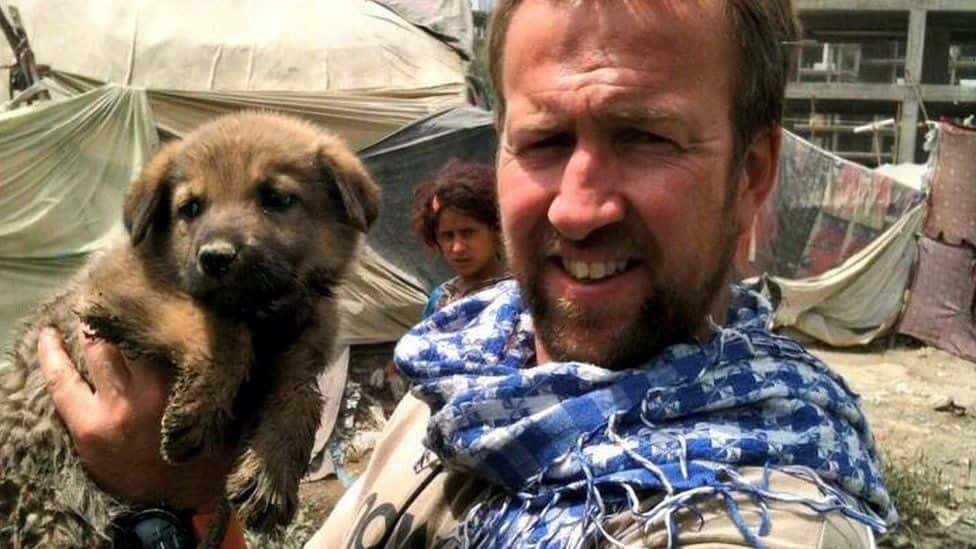 Originally from Essex, Farthing spent the past decade running Nowzad, the first official animal sanctuary in the country that takes care of more than 140 dogs, 60 cats, 24 donkeys, and a couple of horses. He is accompanied by his Norwegian wife Kaisa and their 23 local staff, all of whom are reportedly terrified of being targeted by the Taliban. The extremist group has previously been known to execute locals who worked for Western companies.
"There is no way I'm just going to walk out on my staff and say, 'there you go, get on with it,'" Farthing explained. "We're trying desperately now with different means to see if we can help them get visas and help them get out."
Farthing, who was deployed in 2006 as part of a troop of 42 Commando Royal Marines, declared that the deaths of 454 British soldiers in the country were now "in vain." Kaisa Farthing left the country as the situation deteriorated and is fearful for her female staff members under a Taliban regime.
"The girls have heard stories from their relatives in other cities of Taliban fighters knocking on doors and asking if families have unmarried girls," she told the Daily Mail on Sunday, August 15. "One girl said she will kill herself rather than marry a Taliban fighter. She has a knife ready," she added.