'The Lincoln Lawyer' Episode 9: Is Mickey OK? Lawyer brutally attacked by mystery man Spoilers for 'The Lincoln Lawyer' Episode 9
In the previous episode of the Netflix series 'The Lincoln Lawyer', Mickey Haller showed why he is still to be a force to be reckoned with when it comes to courtroom drama. He managed to prove that the Gunshot Residue on Trevor Elliott's clothes and hands came when he was taken into custody by police. That changed the entire case because the police and the prosecution didn't have anything to prove now.
However, things change when Trevor (Christopher Gorham) asks Mickey (Manuel Garcia-Rulfo) to testify so that he could win the "public opinion" as well. As soon as Trevor took the stand, Mickey asked him simple questions about what he does and what kind of relationship Trevor had with his wife. Trevor said that he was really lucky that Lara was still with her because he stepped out of the marriage too and went to the beach house so that he could make everything right.
RELATED ARTICLES
Netflix 'The Lincoln Lawyer': 5 things you didn't know about Manuel Garcia-Rulfo
Netflix 'The Lincoln Lawyer': 5 things to know about the legal drama
But the prosecution went hard on him, asking him about what happened that day and presenting some evidence that could pose a threat. When it came to closing arguments, Golantz told the jury that the case is simple and that Trevor killed his wife in a fit of rage because she was having an affair with someone else. She could have taken the divorce and taken half of Trevor's fortune as they didn't have a prenup agreement. Meanwhile, Mickey ditched his written closing argument and told the jury through math that Trevor couldn't have murdered both of them in seven minutes and cleaned the crime scene as well.
Before the jury could make a decision, Cisco met Haller and told him that Trevor's story about the Russian mobster on his a** is a lie because he talked to one of Trevor's previous roommates at Stanford. A few moments later, the jury announces the verdict "NOT GUILTY". Trevor is so happy to learn that, but Mickey was not feeling it. So, he goes down and meets Eli Wyms, telling him that he is free to go now because Jerry put him there as collateral damage. Before leaving, Wyms tells Mickey that Jerry did all the dirty and you took all the glory.
That's when Mickey understood what he couldn't see during the case. He confronted Trevor and told him that he did kill both of them because it was Lara who did the coding and it was becoming unbearable for her to see him taking all the accolades. He also alleged that Trevor cleaned up the crime scene with the help of his drone and that's why no one could find blood on his body. Also, the gun was never found.
Trevor tells him that he can shut his mouth and take all the money he needs. Mickey refuses to take the money and says that Trevor is good at making things look real. The episode ends with Mickey getting a call that Izzy, his driver, has taken drugs again and the police have her in custody. He reaches the place only to get attacked by someone from behind. So, who attacked him? Is Mickey okay? And is that something that Trevor has done to keep Mickey down?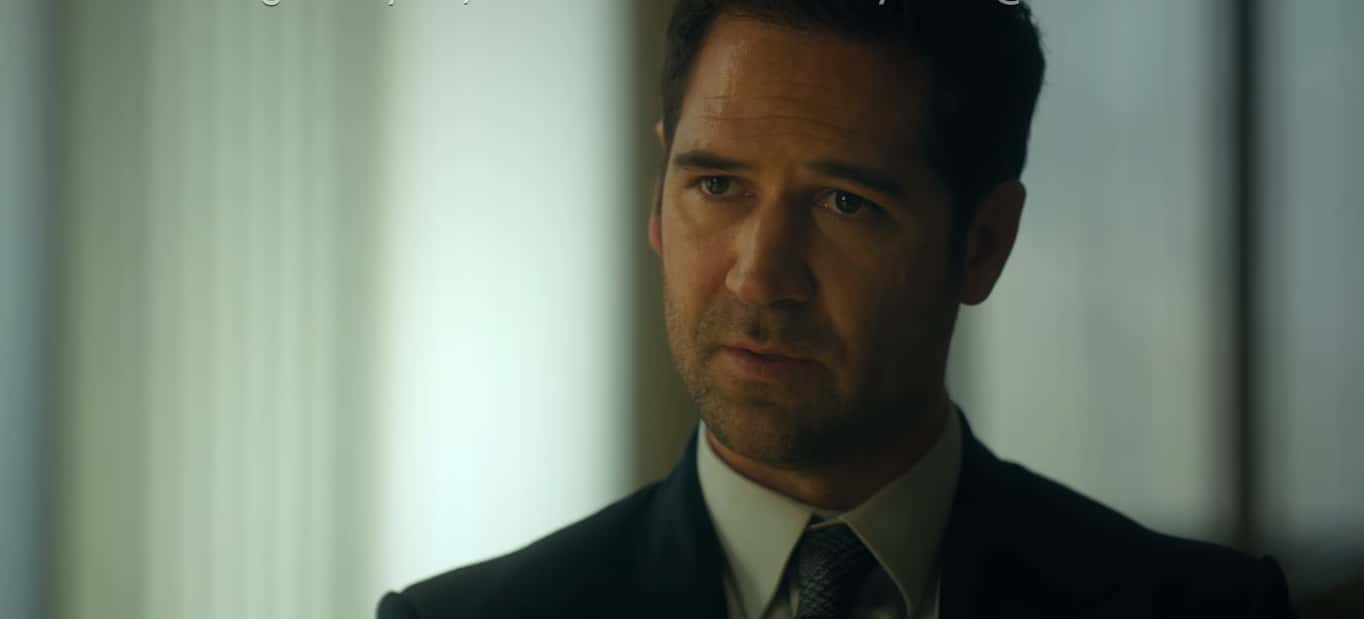 The last episode is surely going to reveal some facts and it would be interesting to see how Mickey gets out of this dangerous situation.