'Mourning my 20s': Influencer goes viral with funeral-themed 30th birthday party Birthdays are usually celebrated colorfully, but a TikTok and Instagram influencer decided to become the exception by holding a birthday bash with a rather somber theme. Jessica Luxe went viral on social media after throwing a 'funeral' themed party for her 30th birthday.
While black is typically reserved to pay homage to the deceased, Luxe went ahead with the color as the theme for a rather unusual event in an attempt to bury her 20s. The dress code for the event was: "Widow grieving her rich ex-husband".
READ MORE
Influencer Stella Barey, 23, recalls how she SLEPT with her dad's best man at his wedding
How much does Kylie Jenner make from each social media post? Star comes second among celeb influencers
Jessica posted a clip on her social media handles, captioned "episode 30: Mourning my 20s." She posed with a smile in front of a black balloon display in a glittery gold mini dress with a sleeveless design. The text on the balloon in the background read, "RIP to my twenties."
"We're mourning my 20s in my apartment turned funeral home", she said via a photo of candles and decorative gravestones displayed in her home.
In keeping with the theme of the party, the influencer decorated her cake with flying bats. "RIP Jessica's twenties," read the writing on the cake. She also served a blood-red punch for her guests.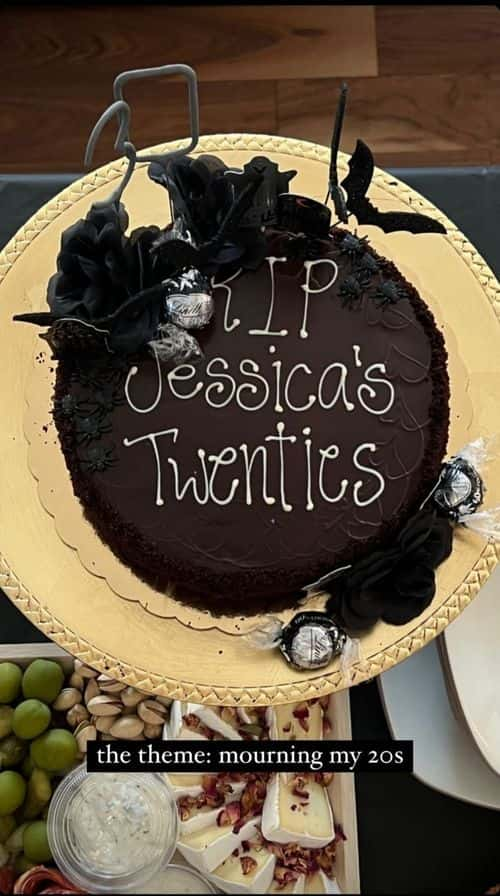 Although the influencer chose to wear gold, her friends were given a slightly different instruction. They wore skin-tight dark clothing while sticking to the theme. In the moments she shared with her friends, Jessica can be seen acting like they are weeping.
Following dinner, Jessica planned out a murder mystery game and watched a scary movie. Even though it had a morbid theme, the influencer still gave out some goody bags to her guests.
"Back from the dead party recovery kit", she proudly labeled the treats. The party quickly went viral on Instagram and TikTok, and Jessica received a lot of praise in the birthday's wake.
Someone commented, "This is a fantastic idea! Hope you had a good birthday." Another wrote, "JESSICA!!! Love the theme, love the vibe, love love love!! Happy birthday." "I am obsessed with you," a third said.
Jessica Luxe is the founder of yesdogtreats and has 46K followers on Instagram, and 95K on TikTok.