'Metal Shop Masters': Release date and all about Netflix's welding competition Reality competitions are not for the faint of heart. Between the pressure, high-stakes and the fact that people's reputations are on the line, it's easy for anyone to crack and crumble under the heat. But, sometimes, the heat isn't always a bad thing, especially if it helps you bring your creations to life. And the contestants of 'Metal Shop Masters' will certainly agree with that.
A brand new skill-based reality competition, 'Metal Shop Masters' sees pro welders put the pedal to the metal, as they put together unique creations in hopes of winning the $50,000 grand prize. If you're looking for similar shows, you might want to check out 'Lego Masters', 'MasterChef: Legends', 'The Masked Dancer' and 'The Masked Singer'.
READ MORE
Who is Suu on 'MasterChef: Legends'? Houston food blogger impresses judges with sweet story and Burmese soup
Who is Kelsey Murphy? 'MasterChef: Legends' fans predict mom-of-three could win show
Release date
'Metal Shop Masters' preimeres on September 10, 2021.
Where to watch
You can catch Season 1 of 'Metal Shop Masters' on Netflix.
Plot
As per the official synopsis, "Sparks fly and tensions flare in Metal Shop Masters, a fierce, fiery competition between 7 of America's top welding legends. Hosted by Jo Koy, over the course of six episodes, these iron men and women race against the clock in challenging builds ranging from epic, one-of-a-kind grills to futuristic vehicles, all judged on both form and function. Pressure, heat and hustle makes for grinding work, and in the end, only one will forge a path to victory and the title of Metal Shop Master."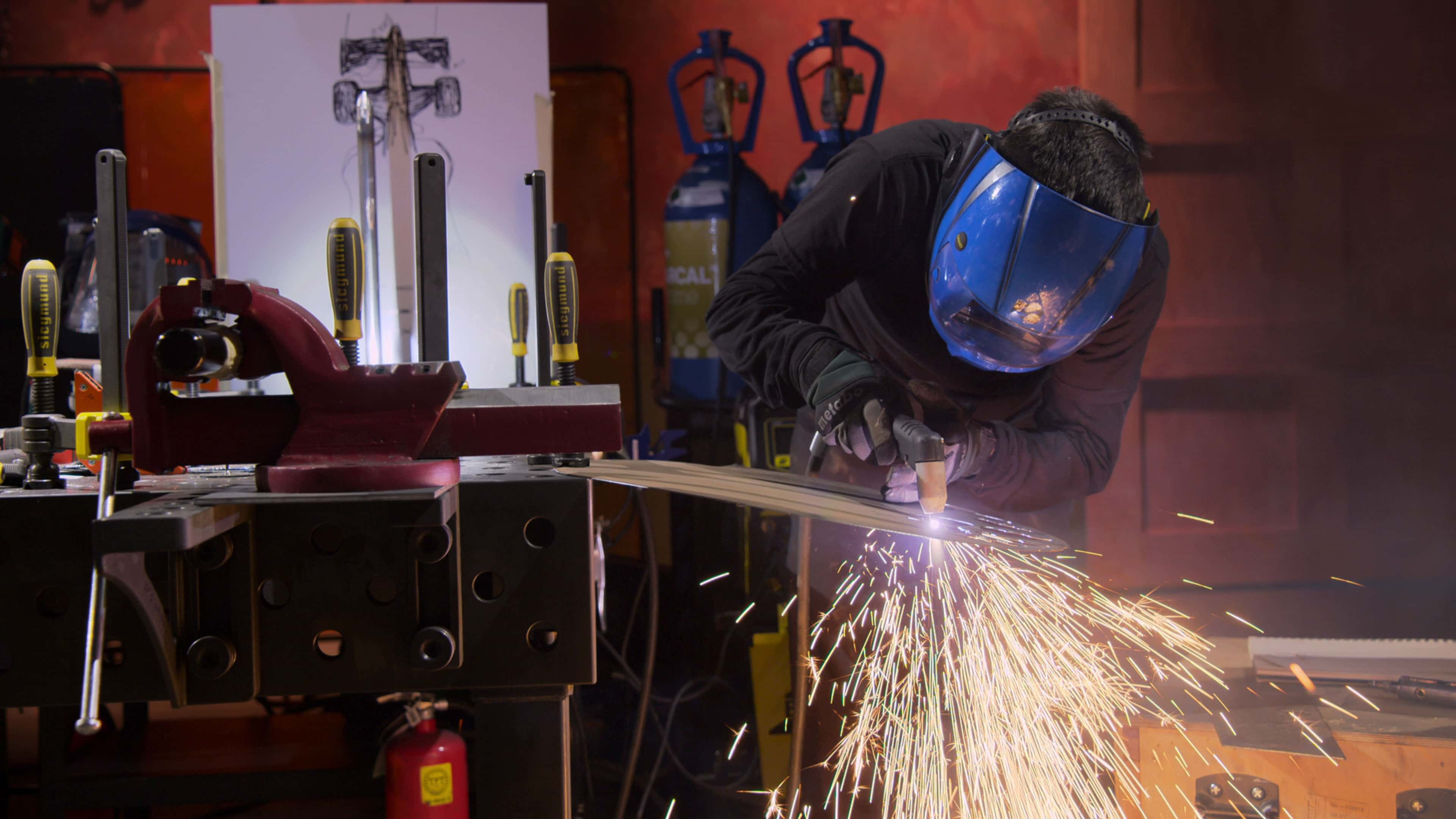 Cast
Jo Koy
Joseph Glenn Herbert Sr, known as Jo Koy, is a stand-up comedian and the host of 'Metal Shop Masters'. He is an American-Filipino -- his father was in the United States Air Force stationed in the Philippines, where he met and married Koy's mother. Koy attended Spanaway Lake High School and then later Foss High School in Tacoma. He enrolled in the University of Nevada, Las Vegas, but decided to pursue comedy instead. His works include 'Mr. Iglesias', 'Anastasia', 'Wake.', 'Family Tools', 'Kevin Nealon: Now Hear Me Out!' and 'Virginia'.
Stephanie Hoffman
Stephanie Hoffman is a certified welder and a US Army veteran, and the owner of UnderGround Metal Works, a fabrication company specializing in tattoo-inspired creations. She also has her own YouTube channel, known as UnderGround Metal Works. Hoffman worked as a pipe welder before joining the Army, where she served as an Intelligence Analyst. At the end of her service, she resumed welding and went on to study at Stockton University and earned a bachelor's degree in education. She then went to become a welding instructor position at a Salem County Vocational-Technical School. She is also an ambassador for the American Welding Society. Hoffman will be serving as one of the judges on the show.
David Madero
An artist, David Madero is famous for his realistic metal sculptures. As reported by The Fabricator, he was introduced to the art form at 5 years old by his father. He has been sculpting for over 15 years and has also been teaching and encouraging people to take up the art form. Madero will be serving as one of the judges on the show.
Trailers
From sculptures to crazy innovations, watch as welders compete to earn the 'Metal Shop Master' title, as they face over-the-top challenges.
As per the caption shared alongside the trailer -- "On this competition show, a group of metal artists torch, cut and weld epic, badass creations from hardened steel. Only one will win a $50,000 prize."
If you like this, you'll love these
'Forged in Fire'
'Ink Master'
'Face Off'
'Lego Masters'