Prince William calls Martin Bashir's Princess Diana interview 'deceitful', Harry says she 'lost life because of this' A furious Prince William claimed Martin Bashir's "lurid and false claims" to secure the 1995 BBC Panorama interview with Princess Diana fueled their mother's "paranoia and isolation while Prince Harry slammed it as "unethical", saying his mother "lost her life because of this"
Prince William expressed his "indescribable sadness" that his precious final years with his mother had been marred by the isolation caused by the historic Panorama interview in a statement released on May 20. What "saddens" him the most is that if a 1996 investigation into allegations that Diana was duped by Bashir had been conducted "properly," the princess would have known she had been 'deceived' prior to her death 1997.
RELATED ARTICLES
William and Harry 'may not present united front' at Diana's statue unveiling, will give separate speeches: Source
Princess Diana conspiracy film: Meghan Markle and Harry's Archewell Productions head owns rights to 'Inquest'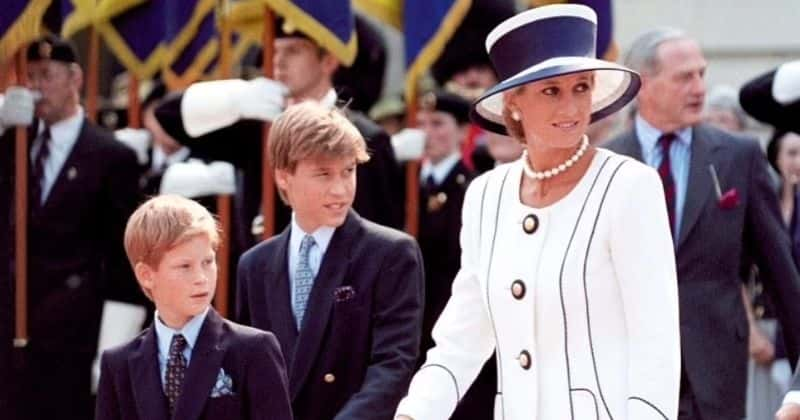 Martin Bashir's interview was 'deceitful': William
Earl Spencer, the princess's brother, spoke in a new Panorama special titled 'Princess Diana, Martin Bashir, and the BBC,' which aimed to expose the full scope of the scandal last night, May 20, the Daily Mail reported. Speaking on the show, he linked his sister's death to the BBC and the crisis of trust that engulfed her after she was deceived by Bashir. His shocking verdict came after a judge ruled that the disgraced journalist deceived the princess by fabricating a story that painted some of her closest friends as traitors.
The 'rogue reporter' paid for fake bank statements in order to secure an interview with Princess Diana, but then covered up his 'deceitful behavior' in a 'shocking blot' on the BBC's near-century-long history. The statements incorrectly implied that Earl Spencer's security chief was on the payroll of tabloid journalists and a shadowy security firm. His "lies", the Mail said, earned him the interview of the century and numerous awards, but they also hastened the end of Diana's marriage to Prince Charles and saw her stripped of her HRH status just two years before her death.
Diana 'conned' into the talk
Bashir, who was the BBC News religion editor until last week when he announced his departure due to health reasons, is accused of fabricating bank statements to gain access to her brother and Diana, then spinning a web of lies to dupe her into an interview that would hasten the end of her marriage and the removal of her HRH status.
Diana's friends claimed to The Sun that she would still be alive today if she hadn't spoken to Bashir, whom they dubbed 'The Poison Dwarf' after his betrayal was revealed. Bashir allegedly "conned" the royal into giving the interview, according to Simone Simmons, 61, who also testified during the investigation. "He was an out and out b*****d. He destroyed her psychologically and made her paranoid — saying the royals wanted to bump her off and distrust her loyal staff and friends," Simmons said. "We nicknamed Martin Bashir the Poison Dwarf. The interview led to her divorce and losing her HRH titles. There is no doubt in my mind that Diana would still be alive today if she hadn't spoken to Bashir. I hope they throw the book at him. Justice should be done," she added.
'False narrative'
William claimed the interview had 'no legitimacy' now, that it had established a 'false narrative' for 25 years, and that the BBC's failures had disappointed his mother, family, and the general public. In a courtyard at Kensington Palace, the Duke of Cambridge read his shocking statement to the camera. Kensington Palace is his London residence and the home of his late mother.
In a televised statement, Prince William thanked Lord Dyson and his team for the report. He said: "It is welcome that the BBC accepts Lord Dyson's findings in full – which are extremely concerning – that BBC employees: Lied and used fake documents to obtain the interview with my mother; Made lurid and false claims about the Royal Family which played on her fears and fuelled paranoia; Displayed woeful incompetence when investigating complaints and concerns about the programme; and were evasive in their reporting to the media and covered up what they knew from their internal investigation."
Interview obtained in 'deceitful' way
"It is my view that the deceitful way the interview was obtained substantially influenced what my mother said. The interview was a major contribution to making my parents' relationship worse and has since hurt countless others. It brings indescribable sadness to know that the BBC's failures contributed significantly to her fear, paranoia and isolation that I remember from those final years with her," he said.
"But what saddens me most, is that if the BBC had properly investigated the complaints and concerns first raised in 1995, my mother would have known that she had been deceived," the Duke of Cambridge added. "She was failed not just by a rogue reporter, but by leaders at the BBC who looked the other way rather than asking the tough questions."
"It is my firm view that this Panorama programme holds no legitimacy and should never be aired again. It effectively established a false narrative which, for over a quarter of a century, has been commercialized by the BBC and others. This settled narrative now needs to be addressed by the BBC and anyone else who has written or intends to write about these events," he added.
"In an era of fake news, public service broadcasting and a free press have never been more important. These failings, identified by investigative journalists, not only let my mother down, and my family down; they let the public down too," he said.
'Mother lost her life because of this'
The Duke of Sussex also spoke on the matter. "Our mother was an incredible woman who dedicated her life to service. She was resilient, brave, and unquestionably honest," Prince Harry said. "The ripple effect of a culture of exploitation and unethical practices ultimately took her life," he added.
"To those who have taken some form of accountability, thank you for owning it. That is the first step towards justice and truth. Yet what deeply concerns me is that practices like these - and even worse- are still widespread today. Then, and now, it's bigger than one outlet, one network, or one publication," he said. "Our mother lost her life because of this, and nothing has changed. By protecting her legacy, we protect everyone, and uphold the dignity with which she lived her life. Let's remember who she was and what she stood for," he added.