Prince William invited Harry and Meghan to join walkabout at 11th hour after ORDER from King Charles
A palace source says the walkabout reunion of the two royal couples came after the newly-crowned King Charles III laid down the law to his sons WINDSOR, ENGLAND: Warring brothers Prince William and Prince Harry accompanied by their wives Catherine Middleton and Meghan Markle respectively, delivered an incredible show of unity while making a rare joint appearance outside Windsor castle on Saturday, September 10, to inspect the floral tributes left by the royal well-wishers to honor Queen Elizabeth II. The reunion of the brothers reportedly came after newly-crowned King Charles III ordered his sons to keep their feud aside and reunite for the sake of their late grandmother.
The audience, who was just expecting to see and greet the newly-appointed Prince and Princess of Wales outside the Windsor castle was left astonished when they saw the Sussexes emerging from a black Audi late in the afternoon. Dubbed the 'Fab Four', the two couples, dressed in black spent 40 minutes inspecting the floral tributes and shaking hands with well-wishers. This was the first time in the last two years when Williams and Catherine publicly reunited with Harry and Meghan after they decided to step down from their royal duties and move to their new mansion in California.
RELATED NEWS
King Charles III extends olive branch by 'expressing love for Harry and Meghan' in first address as monarch
Prince Charles is now King Charles III, here's when he will wear the crown
On arrival, the brothers were seen greeting each other and exchanging a few words, though Catherine and Meghan remained aloof and chose to stay quiet. Then, the couples moved separately along the crowds, the Sussexes on one side, the Wales' on the other. The walkabout was slated to start around 4.30 pm but was delayed until 5.15 pm to ensure that the Sussexes had enough time to get ready.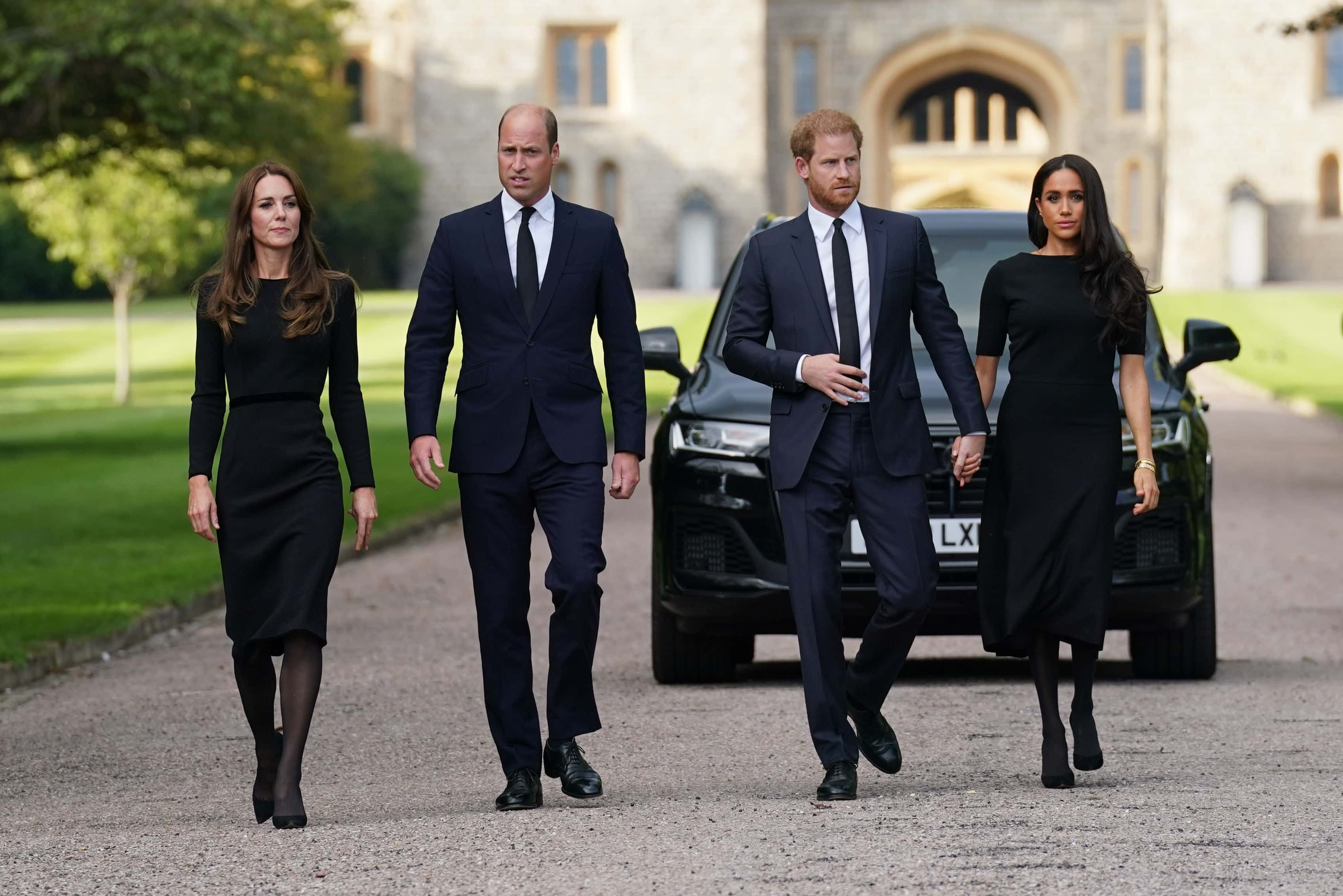 A palace source revealed that the walkabout reunion of the two royal couples came after the new King Charles III ordered his warring son to keep their feud aside and reunite for the sake of their late beloved grandmother, Queen Elizabeth II, who passed away on September 8, 2022. The source even revealed William had extended the olive branch to Harry after a chat with the King.
The new King is going all out to thaw the ice between the two royal couples. He even made a peace offering to Harry and Meghan during his first address to the nation as Monarch. The King said, "I want also to express my love for Harry and Meghan as they continue to build their lives overseas."
Share this article:
Prince William invited Harry and Meghan to join walkabout at 11th hour after ORDER from King Charles