Anti-masker attacks parent at Minnesota school board meeting for praising mask rules Security has been beefed up at school board meetings in Eastern Carver County, Minnesota, after a September 27 meeting turned violent. Video footage shows a parent, later identified as Jonas Sjoberg, being attacked by another unmasked person after he praised the board's decision to continue implementing a mask mandate. The unmasked attacker hasn't been identified, but the Chaska Police Department confirmed an investigation was underway.
This is the latest in a string of incidents at school board meetings, which have become particularly tense over mask mandates. At a September 20 meeting of the Richardson Independent School District board, one mom dubbed unmasked children "loaded firearms". In early September, Florida dad Jeff James went viral for calling vaccines a "deep State conspiracy to depopulate the world." At an August meeting of the Dripping Springs Independent School District, parent James Akers made headlines for stripping down to his underwear to promote mask mandates.
RELATED ARTICLES
Eileen Dover: Henrico County Public Schools gets pranked Bart Simpson style
Kara Bell: Texas mom slams school board over anal sex references in library book
So far, bizarre claims and brazen acts of protests have been the only results of the great divide over masks, but now we can confirm things have escalated to physical violence. Sjoberg was attacked by an unmasked man at the September 27 meeting, leading to a Chaska PD officer intervening. However, rather than being disheartened, it appears the incident has only emboldened Sjoberg further.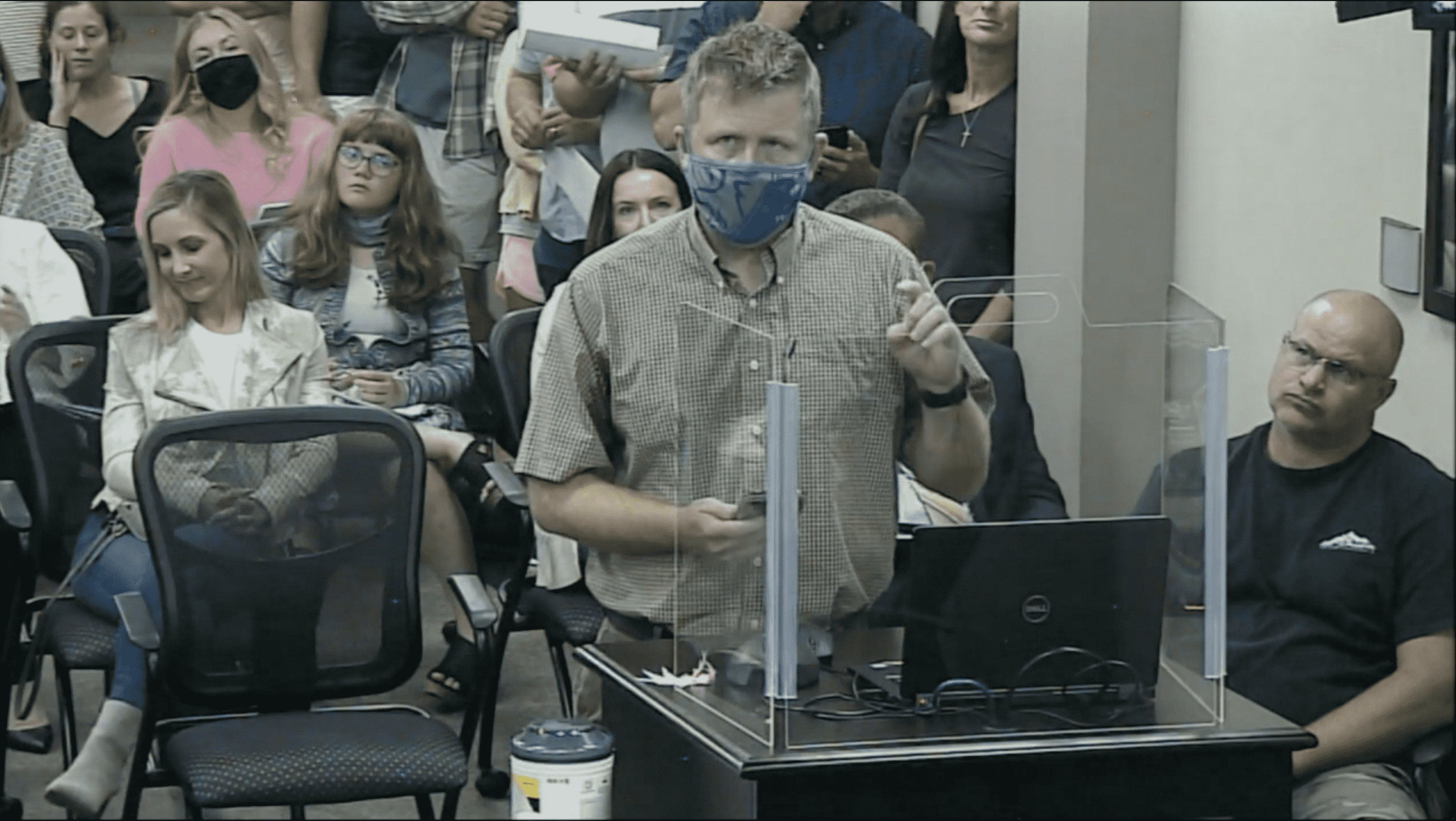 Sjoberg, man fight over photo
Video from the meeting shows that masks were indeed a very divisive issue, many parents who spoke before Sjoberg came forward to slam mask mandates. Sjoberg appeared to be one of the very few at the meeting with a mask. "I didn't really think about speaking about the mask issue," he began. The 48-year-old claimed a Facebook poll he conducted saw 70% of respondents support the board's decision to implement a mask mandate, leading him to say, "the community that you see in the room might not be representative of the community that we serve."
"From the bottom of my heart I wanted to express gratitude to you—being in the position of taking hard decisions," he continued. As he stepped away from the podium, a man wheeled his chair up to Sjoberg and said something about "lying to the board". Sjoberg then got up and moved away as the crowd began to yell. He then approaches the man, leading to two other men to intervene while the board appeals for calm.
Sjoberg then makes a crying face action at the other man, and a few minutes later snaps a photo of him. A woman then approaches Sjoberg and asks him to delete the photo, which leads the other man to attempt to snatch Sjoberg's phone away from him. That leads to a physical altercation, stopped seconds later by others in the room. Sjoberg appears to leave the room, as the meeting continues after the interruption. A while later, the other man is also seen leaving.
Attack 'really emboldened me more'
On September 28, the Chaska Police Department issued a statement saying one of their officers "escorted one of the individuals from the boardroom." They then add, "Additional officers arrived shortly after the altercation and helped gather information from witnesses and involved parties." "The Chaska Police Department is currently investigating the incident. At this point, no formal charges have been filed," the statement concludes.
Sjoberg, for his part, doesn't appear concerned. In an interview with The Daily Beast, he said, "In school boards all over the state in Minnesota, people are going and just completely hammering the school boards, and just being rude and mean, and just sharing negativity." He added that the man was "trying to intimidate me from speaking, but in a way that really emboldened me more—that made me feel more engaged to want to make sure to speak for the people who would be afraid of speaking in that scenario."
The board also weighed in on the interaction, with a letter to parents on September 28. "The behavior and conduct on display in our boardroom this week was unacceptable. It is healthy for us to disagree and to seek out more information. It is not okay, and not acceptable, to resort to violence or accuse decision-makers of being Nazis," it said. The board added, "Protocols will be enforced and those who do not follow them will be removed. As a result of safety concerns, police presence will be increased at our meetings."
That decision was confirmed by the Chaska PD, who noted, "we are working with Eastern Carver County Schools to ensure that future meetings remain civil and safe," in their statement. The heated meeting was called over the board's decision to extend its mask mandate for pre-K to 6th grade students through the end of October and through at least October 15 for students in grades 7-12 irrespective of vaccination status.