Jeopardy!'s Alex Trebek says he's 'feeling good' amid cancer battle, plans to return to hosting in September Alex Trebek, the host of NBC's Merv Griffin-created game show, 'Jeopardy!', has given his fans every reason to respect him as he claims to have been feeling good amid his battle with pancreatic cancer. The 78-year-old was diagnosed with stage 4 pancreatic cancer back in March and ever since, has always kept his spirits up, hoping that he will return a victor in this battle. Pancreatic cancer, on average and across all stages, has a 5-year survival rate of 9%, according to the American Cancer Society.
Now Trebek shared the experience of living with the cancer and it must be said he has been approaching it quite positively. He shared the news with his fans on his last day of taping at the show's 35th-anniversary season. In the video posted on Twitter, Trebek says, "Some of you may recall that at the beginning of this season I promised you that we had some surprises in store for you. Well, of course, I had no idea at that time that there were some surprises in store for me as well." Taking a moment to thank fans for their support he further mentioned, "I wanted to once again thank you for your continuing messages of encouragement and support particularly the many cards I've received from young people. I'm touched beyond word."
The 78-year-old went on to say, "I've always tried to be straight with you and I'm not going to stop now, so despite what you may have heard, I'm feeling good. I'm continuing with my therapy and we — by we, the staff — is already working on our next season. ... So I look forward to seeing you once again in September with all kinds of good stuff." Regarding the state of health of the man who has been hosting 'Jeopardy!' since 1984, Sony Pictures Television chairman Mike Hopkins said in a statement Wednesday, "If anyone can beat this it's Alex. He has our full support as he tackles this challenge head-on." As for Trebek himself, he stated, "Truth told, I have to [keep hosting] because under the terms of my contract, I have to host 'Jeopardy' for three more years. So help me. Keep the faith, and we'll win. We'll get it done."
Fans were quick to comment on the emotional video, but most of them were concerned with the post's heading which simply says, "That's a wrap!". One fan on Twitter claimed, "Don't do that man. Change the caption or something. I thought y'all were announcing he died man. Don't do that!" Another stated, "Alex, it has been a great season and I hope you can enjoy your summer despite your therapies.... Can't wait for season 36 and watching you host it. Be well, stay strong!" Some fans got truly nostalgic as they recalled the show from 1984, "Being an immigrant in the 80s, it was great watching your show with my family and learning all sorts of things about the culture and history of our new continent. Still love trivia to do this day because of your show."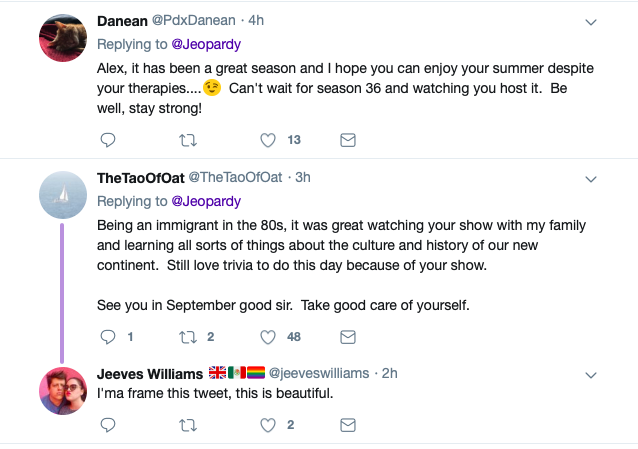 Hopefully, Trebek will be back soon and once again take his place as one of the most iconic hosts on television.