Who is Jayne Rivera? Model slammed for 'disgusting' photoshoot with dad's casket Of the long list of things not to do at a funeral, a photoshoot is probably one of the most important. But, that's exactly what fitness model Jayne Rivera did. On October 25, the 20-year-old uploaded a series of snaps with her dad's coffin, after he died the previous week. Rivera can be seen smirking as she posed for the eight photos she uploaded to Instagram. Swift criticism followed, leading Rivera to shut down her Instagram.
In a bid to outdo each other, models have often resorted to highly controversial photoshoots online, most of which have been met with heavy criticism. In March 2020, a Russian model posed in a bikini made from respirators, as the world was suffering from an acute shortage of them. Back in January 2019, Playboy model Marisa Papen was arrested for posing nude at the Vatican. In January 2021, Brazilian model Luana Sandien posed topless in Dubai, which is against the law in the city.
RELATED ARTICLES
Playboy model walks naked through Orthodox Jewish neighborhood in New York City, sparks outrage
Bikini model Natalie Schlater quits social media after backlash over 'insensitive' Indonesia rice farmer post
Rivera's photos were not just slammed on Instagram, but also on Twitter after news of her snaps made its way across the internet. The widespread condemnation led Rivera to shut her Instagram down.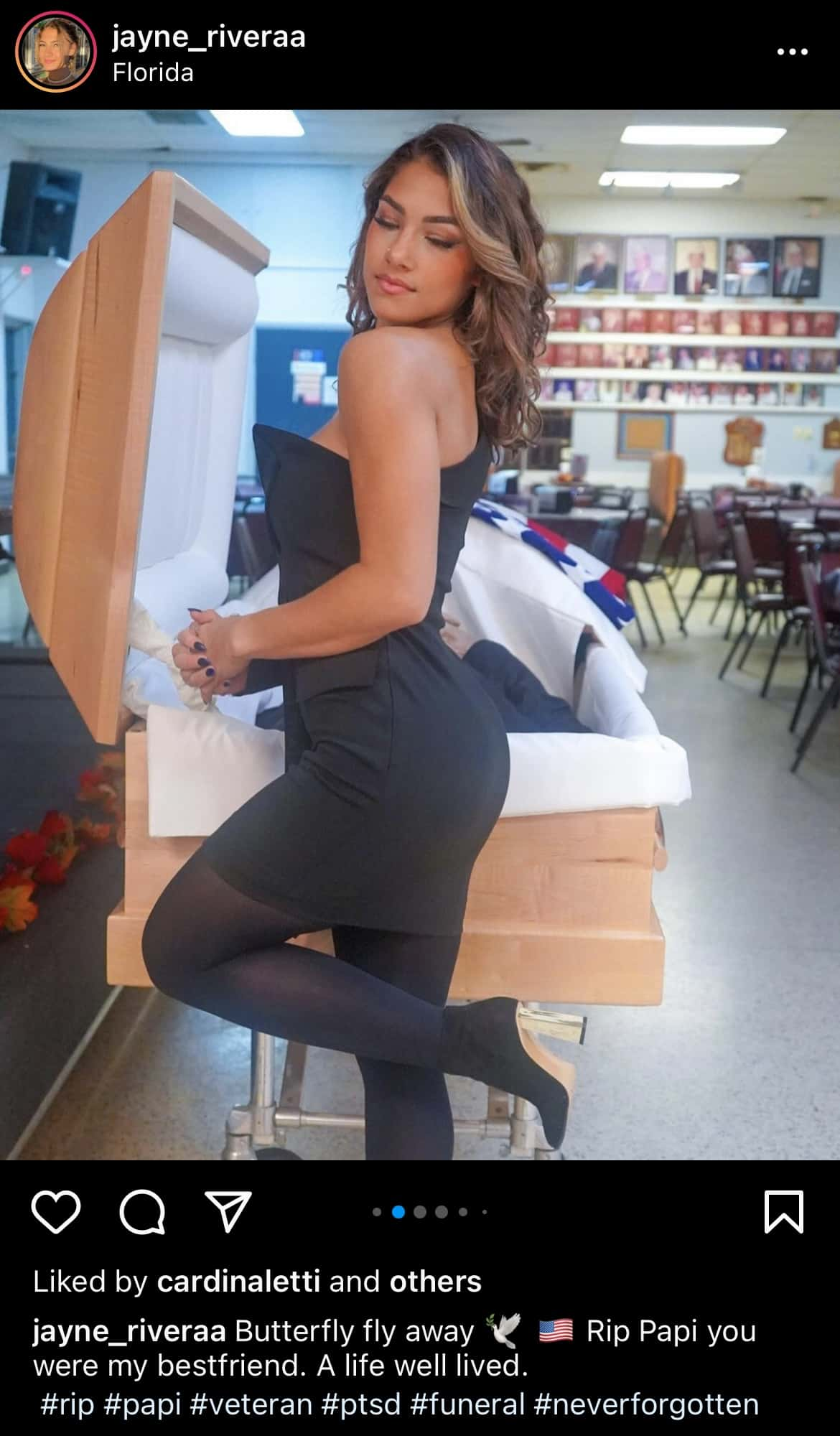 Who is Jayne Rivera?
Not much is known about the 20-year-old model. The Florida native reportedly has a huge following on TikTok as well as Instagram, where she frequently poses in bikinis. She also has an OnlyFans page, where she charges her subscribers $17.99. Her website describes her as a "pro athlete" based in Miami. Before shutting her Instagram, she had over 80k followers on the platform. Rivera's father is reportedly a veteran, but it's unclear which branch of the military he served in.
On October 25, she uploaded a series of photos from the funeral, in front of her dad's casket. Seen in a short black dress with stockings, Rivera tastefully blocks her dad's face by posing in front of it, while smirking. "Butterfly fly away. Rip Papi you were my bestfriend. A life well lived. #rip #papi #veteran #ptsd #funeral #neverforgotten," she captioned the post, which racked up around 12,000 likes before her account was shut. But Rivera reportedly lost a "large chunk" of her followers, while others slammed her over the photoshoot. While she hasn't issued an explanation for the photos, Rivera has since shut her Instagram down.
We did find a GoFundMe page set up by Rivera for her dad. She claims her father is a disabled veteran and is seeking $1,000 to "help the family". So far, she has raised over $700. It's unclear how much Rivera makes through her modeling, and why she needs to raise funds.
'I have finally seen the worst social media'
Here's just a small sample of the criticism Rivera faced online. One user tweeted, "Okay, so, I have finally seen the worst social media post of all-time, and I need to share it just so y'all know how far the bar has been crushed into the ground." Another said, "She deactivated her account. Thats what you get for dressing and posing in slutty fashion at a damn funeral!"
---
Okay, so, I have finally seen the worst social media post of all-time, and I need to share it just so y'all know how far the bar has been crushed into the ground: https://t.co/4jgf3rm8jm

— Henry GRAVES Abrams 🧟‍♂️🪦☯️ (@Seven16) October 26, 2021
---
Before her Instagram went down, some users also left critical comments on the post. "Jayne, delete these pics, apologize for your lack of discretion or I will stop following you and I hope others will do the same," one fan wrote. Another replied, "Not cool Jayne, ur dad was a decorated vet, a photo shot by his casket should be beneath you. May he rest in eternal peace." One person said, "S--t is just vile and downright disgusting."
While Rivera's Instagram is down, her other profiles appear to still be up. That said, she hasn't posted anything on TikTok or YouTube since October 25.