Jamie Cail: Cops to investigate shocking death of US swimming champion who was found unconscious on floor by boyfriend US VIRGIN ISLANDS: Authorities in the US Virgin Islands are looking into the death of a former swimming champion who was discovered unresponsive by her boyfriend. In the early hours of February 21, Jamie Cail, 42, was discovered unconscious on the floor of the home she shared with her partner.
At about 12.08 in the morning, the boyfriend, whose name has not been revealed, "left a local bar to check on his girlfriend at their residence," according to the police. He "discovered his girlfriend on the floor" when he arrived.
READ MORE
Thomas H Lee: Billionaire banker found dead in NYC office from self-inflicted gunshot wound was a 'pioneer in private equity'
Curtis Arnold: Man who filmed Nicola Bulley being pulled from river tricked women into taking gym pics
Jamie's death under investigation by Criminal Investigation Bureau
As per The Independent, with the assistance of a friend, the boyfriend hurried the Pan Pacific gold medalist to the Myrah Keating-Smith Clinic. Police said that Cail "succumbed to her ailment" despite receiving CPR at the clinic. At 2.39 am, the Virgin Islands police department was informed of a "dead on arrival" case at the clinic. "This case is presently under investigation by the Criminal Investigation Bureau," the police said in a statement. There hasn't been any more information released by the police so far.
In the 1990s, Cail, a native of Claremont, New Hampshire, won the teenage swimming championship. In 1998–1999, she competed for the US national B team in the FINA World Cup in Brazil, where she took home a silver medal in the 800m freestyle. Afterward, She relocated to Huntington Beach, California, where she joined the Golden West Swim Club for training. She won multiple high school state titles there. At the Pan Pacific Swimming Championships in 1997, she took home a gold medal. Cail also competed for the women's swim team at the University of Maine in the early 2000s.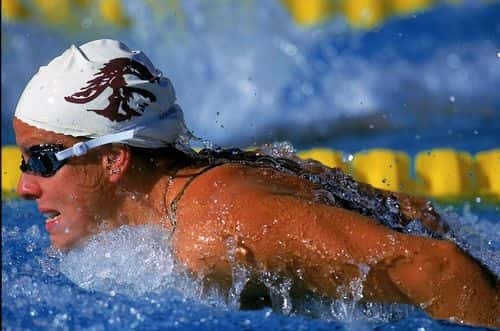 'She was a very beautiful person'
According to her friends, the swimming star had worked at a coffee shop where she was friendly with people from all around the neighborhood, as reported by local TV station WMUR. "She was a very beautiful person," one friend said. "She had a huge heart. She was really loving and kind and well-loved and popular on the island and everybody knows her. Everyone from you know, older generational, local families to the younger people, everybody loved her."
Share this article:
Jamie Cail: Cops to investigate sudden death of US swimming champion who was found unconscious by BF