What is 'blow or blow'? Indiana University suspends sorority over hazing game involving 'oral sex and cocaine' Operations at the Delta Chapter of the Kappa Kappa Gamma sorority at Indiana University Bloomington have been suspended after a former sorority member alleged episodes of hazing while she was a pledge. Student Langdan Willoughby, 19, spoke to the student newspaper to say her pledge class was hazed in 2020, with four other women describing similar experiences starting in 2017.
Willoughby spoke to the Indiana Daily Student of the events on Kappa Kappa Gamma's Big Little Night, an annual event for the sorority when pledges find out which older member of the sorority is their "Big Sister" and mentor. However, Willoughby describes that the night began on less friendly terms.
READ MORE
Who was Stone Foltz? Ohio frat boy, 20, dies after 'downing 40 shots' of alcohol in hazing ritual gone wrong
Hazing, rape and racism: Swarthmore College fraternities disband after leaked documents reveal homophobic, misogynistic behavior
Willoughby was with 50 other pledges when they were led into the dark basement of Indiana University's Kappa Kappa Gamma house on a February night in 2020. The pledges were allegedly told to shut up and face the wall in silence. Senior sorority members clad in lingerie then ran around the pledges screaming and laughing, according to Willoughby.
The senior sisters allegedly wielded wooden paddles, hitting the walls in front of the pledges to startle them. Willoughby said that one sister came over to her and smacked her butt with a paddle. While Willoughby felt "numb and confused," things were only going to get more startling, according to her account.
The sisters then allegedly passed around rubber bands to the pledges who were told to tie their hair up. They were then told that it was time for "blow or blow" – the pledges were told that fraternity men were on their way and pledges had to choose between doing a line of cocaine or give a blowjob.
Willoughby heard a sister shout, "Get on your knees! The boys are coming!" She began scanning the room for an escape in the dark and she could not call for help as the senior members had taken the pledges' phones before leading to the basement. Before she could find an exit, the lights were switched on and the senior members laughed and said, "Just kidding!" The pledges were then told that they were lucky that they did not have to do anything worse as pledges for a top-tier sorority.
Kappa Kappa Gamma was founded in 1870, according to the sorority's website, and has been present at the Indiana University Bloomington campus since 1872. Following Willoughby's allegations, the Delta Chapter at the university has been suspended. The sorority's national organization told IndyStar in a statement, "Delta Chapter of Kappa Kappa Gamma at Indiana University is one of our longest-standing chapters, yet we will not stand by while instances of violence or the threat of violence are perpetuated among our membership. The health and safety of our members are always our top priority."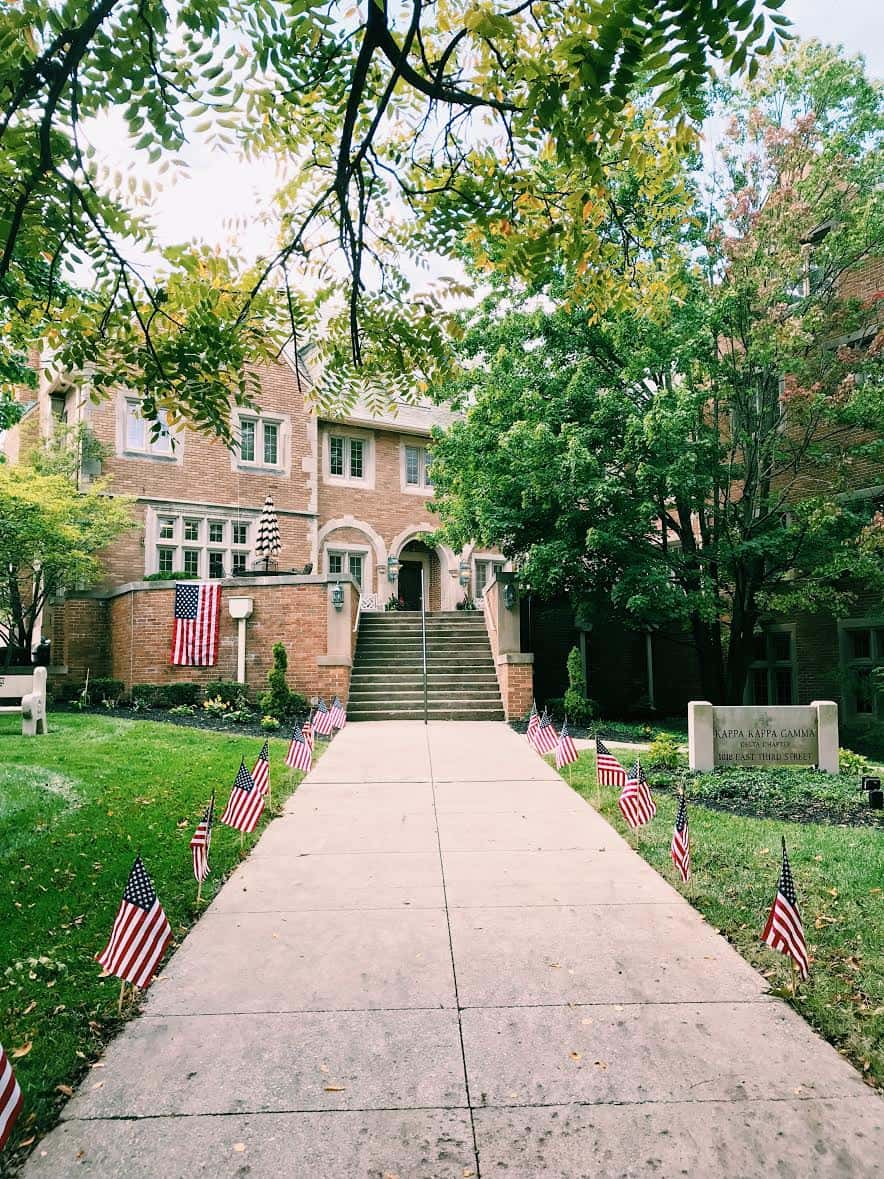 Indiana University spokesman Chuck Carney told the publication in an email that the university had placed the Delta Chapter on "cease and desist," something he described as an interim measure when there is an immediate threat or an ongoing investigation. Carney said, "It is a suspension of all organization activities."
Willoughby's accounts were corroborated by two other women who were present on the night of the events. Two other women who are affiliated with the chapter also described similar events happening on Kappa Kappa Gamma's Big Little Night event during separate years. During the 2017 version of the event, senior sisters wore lingerie and had paddles, and told the pledge class to strip naked and run into the woods. When one pledge cried, the sisters quickly told her it was a joke and that she would not have to do it.
While Willoughby's pledge class did not have to do drugs or perform sexual acts, Dr Susan Lipkins, a psychologist and expert witness in hazing cases told the Indiana Daily Student that the alleged events qualify as hazing because they are humiliating, degrading, and used to maintain hierarchy in the sorority. She said, "Being misinformed that you are going to have to perform a sexual act against your will is hazing, even if [the sexual act] doesn't occur."
Share this article:
indiana unversity bloomington kappa kappa gamma delta suspended hazing blow sex act cocaine pledges